New career center in engineering aims to strengthen placement rates
09/22/2016

The University of Akron officially unveiled its new College of Engineering Swagelok Career Center on Thursday, putting an exclamation point on a $1.25 million lead gift to the college from the Fred A. Lennon Charitable Trust, affiliated with the Swagelok Company, supporting both the engineering Swagelok Career Center and scholarships.
Arthur F. Anton, left, president and CEO of Swagelok, talks with students and visitors in the lobby where the Swagelok Career Center is located.
The new career center also houses three named interview rooms: Benjamin '58 and Shirley Ammons, Larry W. '70 and Susan Allen, and Cooper Tire & Rubber Company. The state-of-the-art career center in the Auburn Science and Engineering Center will enhance UA's nationally renowned engineering cooperative education program, while providing soon-to-graduate students with high-tech facilities for interviews and conferences with potential employers.
"We thank the Swagelok Company and all of our donors for making this investment in order to extend our capacity to meet the needs of our employers and students," said interim dean of the College of Engineering, Donald Visco Jr.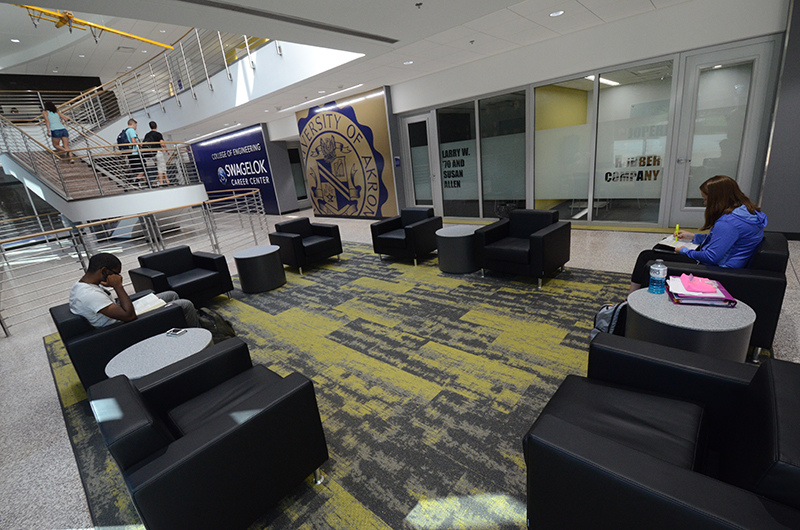 The Swagelok Career Center features a conference room and three interview rooms equipped with the latest technology.
More than 1,000 College of Engineering students enter the workforce each year, either as co-op students or graduates. The new career center also features areas for informal gatherings of students, along with expanded offices for career services staff.
"We are so thankful for our new center, which provides interview rooms that are technology enabled for a wide variety of uses from in-person meetings, to presentations, to remotely conducted video meetings," said Deanna Dunn, director of engineering co-op and placement. "The space has already delivered expanded services connecting employers with students that we would not have been able to accomplish at this early date into fall semester."
Scores of business and community leaders attended Thursday's event and toured the new facility. A number of Swagelok Scholars also participated. More than 90 UA students currently receive the Swagelok Engineering Scholarship, worth up to $2,000 for each student per year.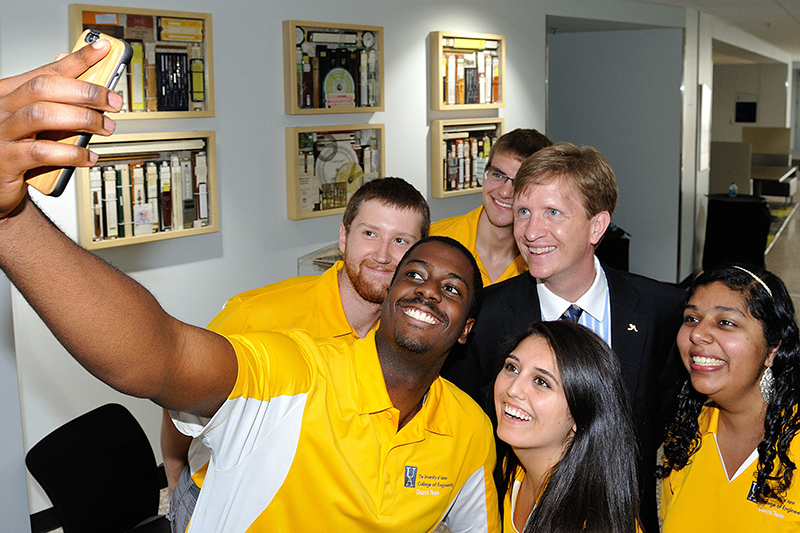 Interim President Matthew Wilson and several engineering students picked a great spot for a selfie — right by the special display of engineering instruments donated by 60 alumni and friends of the College of Engineering.
"At Swagelok we challenge our associates to continually develop their technical and emotional intelligence, particularly through collaboration," said Arthur F. Anton, president and CEO. "This investment in The University of Akron and the College of Engineering helps us expand this same philosophy to Akron students, our potential future associates."
A special display in the new career center attracted much attention from alumni. More than 60 engineering alumni and friends of UA donated their slide rules — some of them passed down for generations — which are now part of a permanent installation on view.
Along with comments by Anton and Visco, Thursday's unveiling included remarks by University of Akron Interim President Matthew J. Wilson; Timken Foundation executive director James Gresh; John Magill, assistant deputy chancellor, economic advancement for the Ohio Department of Higher Education; Patrick Majors, tire and material mechanics manager for the Cooper Tire and Rubber Company; and UA alumnus Larry Allen and Susan Allen.
---
Media contact: Dan Minnich, office: 330-972-6476, or cell: 330-604-1167, or dminnich@uakron.edu.