New leadership for the Ray C. Bliss Institute of Applied Politics
06/01/2020

Dr. David B. Cohen has been named interim director of The University of Akron's Ray C. Bliss Institute of Applied Politics, effective July 1, 2020. The appointment is pending Board of Trustees approval.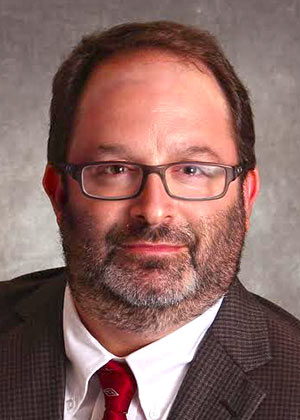 Dr. David B. Cohen
Cohen, a professor of political science who joined UA in 2000, has been serving as assistant director of the Bliss Institute since 2017. He earned a B.A. in Political Science and International Relations at the University of Wisconsin-Madison, an M.A. in Political Science at the University of Tennessee, and a Ph.D. in Political Science at the University of South Carolina.
Courses taught by Cohen focus on the American presidency, Congress and homeland security. He is co-author of "Buckeye Battleground: Ohio, Campaigns, and Elections in the Twenty-First Century" (2011), and is now co-authoring a manuscript to be published by University Press of Kansas titled "The President's Chief of Staff: Evolution of a White House Institution." Cohen also is a frequent media contributor and speaker on national and Ohio politics.
The Bliss Institute, established in 1986, is a nationally recognized bipartisan research and teaching institute dedicated to increasing understanding of the political process with special emphasis on political parties, grassroots activity and ethical behavior. It is named for alumnus Ray C. Bliss, who was involved in all levels of party politics during his lifetime, and equally involved with his alma mater.
Long-time director, Dr. John C. Green, who retired in December 2019 and was named director emeritus by UA's Board of Trustees, says that he looks forward to continuing his involvement with the institute. "Dr. Cohen and I worked together for many years, and I know that he will continue the strong teaching, research and student-focused emphasis that defines the Bliss Institute. I am excited about the future."
'AN IMPORTANT CALLING'
Cohen says he is honored to guide the Bliss Institute, one of the few applied politics programs in the country. Through the institute, UA students have opportunities for internships and experiential learning opportunities with local, state and federal elected officials, as well as in other politically related fields.
"Training the next generation of political leaders and citizens is an important calling," notes Cohen. "We educate our students in the 'nuts and bolts' of practical, applied politics, which is critical for informed participation in our political system. Our students are ready to step into a variety of politically related careers, which they often begin while students at The University of Akron. It works because our alumni are remarkably successful."
The Bliss Institute is known for its Master of Applied Politics (MAP) degree. Cohen, who has served as its academic advisor over the past year, will focus this year on revising the degree to make it more flexible for online and adult learners and applicable for a rapidly evolving political world. The revised MAP will be ready in fall 2021.
Dr. Matthew P. Akers, who has been serving as an assistant director of the Bliss Institute and is Public Liaison for the Office of the President, has been appointed the associate director of the institute to assist with the day-to-day running of the institute, pending Board approval. Akers handles government relations for the University and engages with local, state and federal elected officials and staff, which complements the Bliss Institute's role on practical, applied politics.
"I look forward to working with Dr. Cohen to connect our students with our elected officials and others who will complement their classroom instruction and introduce them to political careers," says Akers.
The Bliss Institute will have a busy fall semester as the country prepares for the 2020 presidential election.
"Make sure you connect with the Bliss Institute on social media and in other ways because we will have a number of events — virtual or in person — in preparation for a very important election," says Cohen.
RELATED
---
Media contact: Lisa Craig, 330-972-7429 or lmc91@uakron.edu.