Poetry performed is still powerful
02/01/2021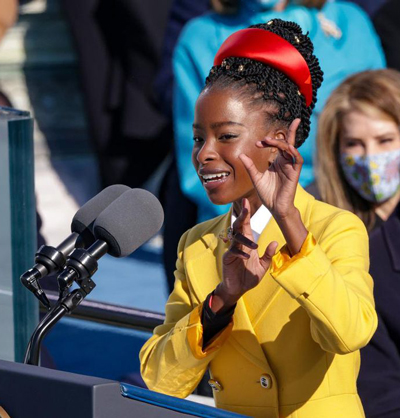 Amanda Gorman
Amanda Gorman, the 22-year-old former National Youth Poet Laureate, captivated audiences at the recent inauguration of President Joe Biden, reminding the nation of the power of poetry.
Gorman became the sixth and youngest poet to deliver a reading at a presidential inauguration. Reciting an original piece, "The Hill We Climb," Gorman mesmerized the live audience and the millions watching around the world with her moving depiction of the United States as it was on the cusp of President Biden's inauguration. Poets.org, one of the most visited poetry websites, reported an historic spike in traffic to its site the day of the inauguration, and Lin-Manuel Miranda tweeted out his congratulations on her performance (and her Hamilton references).
With that impression freshly in everyone's minds, the timing was right to revisit the power of poetry with UA students and alumni, and award-winning poet and UA faculty member Dr. Mary Biddinger. A professor and assistant chair of the English department at UA, Biddinger is also a faculty member in the Northeast Ohio Master of Fine Arts (NEOMFA) in Creative Writing program and editor of the Akron Series in Poetry for The University of Akron Press.
Gorman drew upon the contemporary style of spoken-word poetry, which emphasizes the rhythms and rhymes of the poet's voice as she speaks.
"Gorman's performance provided audiences from all walks of life with an opportunity to connect—or reconnect—with the idea that poetry is for everyone," Biddinger said. "By sharing her inaugural poem, with its attention to sound and compelling message, Gorman reminded us of the importance of listening to new voices."
In Biddinger's poetry writing classes, both at the graduate and undergraduate level, sharing poems aloud gives students the chance to use this art form as a way of communicating with others.
"I am thrilled that Gorman's inaugural poem is sparking new interest in poetry, and I look forward to reading the poems that it inspires," Biddinger concluded.
Mary Ozbolt, who holds an undergraduate degree from UA in education and English and is currently a second-year poetry student in the NEOMFA program, shared what Gorman's reading meant to her.
"Watching Amanda Gorman perform holds impact for writers of all genders, ethnicities, and ages who have advocated for justice and shown courage through their own writing, providing a moment of peace and resolution," said Ozbolt.
The performance approach works perfectly for an inauguration, making a poem an event in itself, something experienced together.
For more information:
---
Media contact: Lisa Craig, 330-972-7429 or lmc91@uakron.edu.