Polymer research has enduring effect on world: Part 3 — sustainability
05/26/2020
As part of The University of Akron's sesquicentennial celebration — honoring 150 years of our people, place and promises — we are hosting a "Celebration of Academic Excellence" to highlight the history and future of our many academic disciplines.
---
Professor Charles Knight introduced the world's first rubber chemistry course in 1909 at Buchtel College, precursor to The University of Akron (UA) — providing intellectual fuel for the city's high-powered rubber industry. In so doing, he also laid the foundation for what would become one of the world's leading programs in polymer science and polymer engineering.
Today, the University's polymer researchers — through innovations in health, advanced materials, biomimicry and sustainability — continue to elevate the region and improve the everyday lives of countless people. Here we're featuring research in sustainability.
Recycling plastics to protect the environment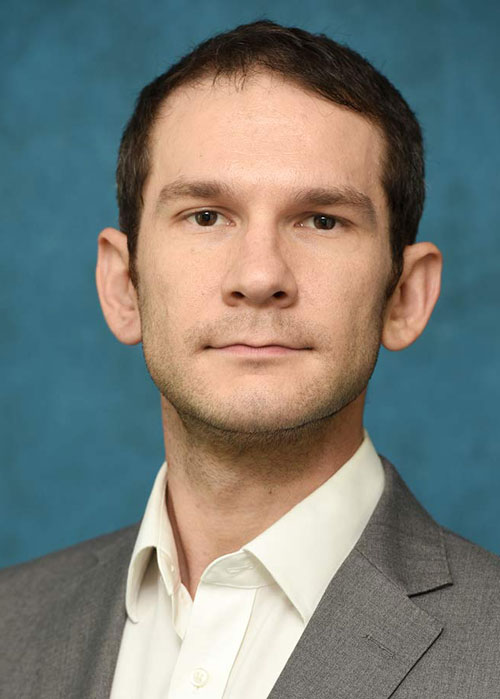 James Eagan, Ph.D., assistant professor of polymer science, studies plastics and sustainability. He says plastics are essential to modern life, but their careless disposal has been catastrophic to the environment.
Thus, research in the Eagan lab is focused on how plastics can be used pragmatically to address the needs of today, without compromising the future. One example of this is Eagan's effort to make the world's two most abundant plastics recyclable without the need for expensive and difficult sorting. When polyethylene and isotactic polypropylene are mixed (e.g. Tupperware mixed with a milk jug) the resulting plastic is brittle and low value. Eagan and his team are investigating additives, or "compatibilizers," that would improve the mechanical properties of these plastics and restore the economic incentive to recycle them.
The Eagan lab is also designing catalysts capable of polymerizing conventional feedstocks with greenhouse gases such as CO2. This goal is to chemically bind the carbon dioxide into the polymer backbone, both sequestering it from the atmosphere and imparting desirable properties into the resulting products.
Together these projects at UA will address existing plastic waste and aim for more ideal materials for the future through wholistic technoeconomic approaches.
Together these projects at UA will address existing plastic waste and aim for more ideal materials for the future through wholistic technoeconomic approaches.
Using biomass as reinforcement for plastics
Polymer Engineering Professor Erol Sancaktar, Ph.D. is focusing on bio fillers and reinforcement for plastics. Biomass obtained from agricultural products such as soybean hulls, sorghum and woodchips is used as a renewable, low-cost and eco-friendly material that has great potential for reinforcement, volume replacement or functionality-inducing (such as electrical, thermal conductivity) filler for polymeric materials.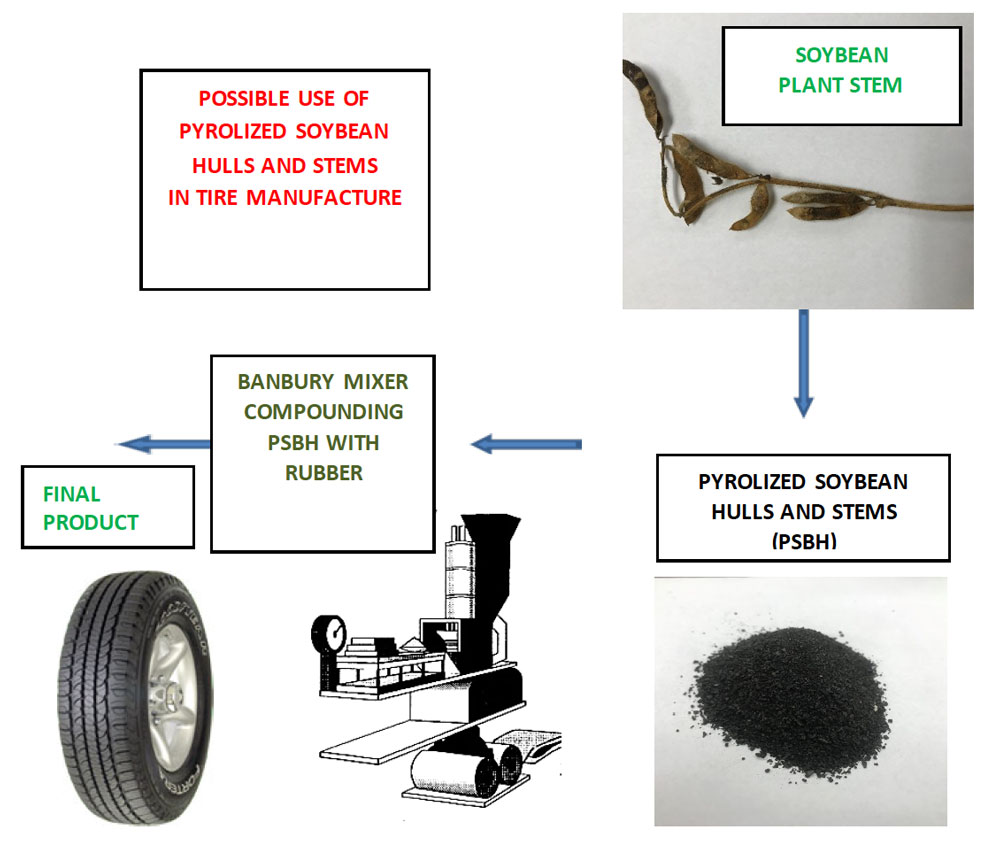 This graphic illustrates the possible use of pyrolyzed soybean hulls and steams in tire manufacturing.
Plant biomass can be converted into clean, renewable and economical fillers for thermoplastics by "pyrolysis," a process that uses heat in a low-oxygen environment. A specific form of the pyrolysis process for biomass is called "torrefaction," which is typically applied in a low-oxygen environment to convert biomass into higher quality and more attractive products. A low heating rate is typically applied in this technology to reduce operating costs and to provide a higher yield of solid products.
During heat-induced decomposition, oxygen and hydrogen are removed as H2O and CO2. Finally, high-moisture content and unstable biomass is converted to high-carbon content and chemically stable particles that have great potential as reinforcement fillers.
The low-density (weight) and low-cost properties of torrefied bio-fillers coupled with recycling concerns render them attractive fillers to be used as reinforcement for thermoplastics, especially for outdoor applications such as window framing and roof tiles, as well as interior decorating such as furniture, and in the automotive industry.
Sancaktar's group started to work on incorporation of biomass in polymers back in 2013. Since 2017, The Ohio Soybean Council (OSC) has been funding the lab on projects related to others: "Use of Torrefied Soy Bean Hulls (TSBH) as Extenders, Fillers and Colorants in Polyolefins" and "Use of TSBH as Fillers in Polyolefins; Phase 2: Commercialization."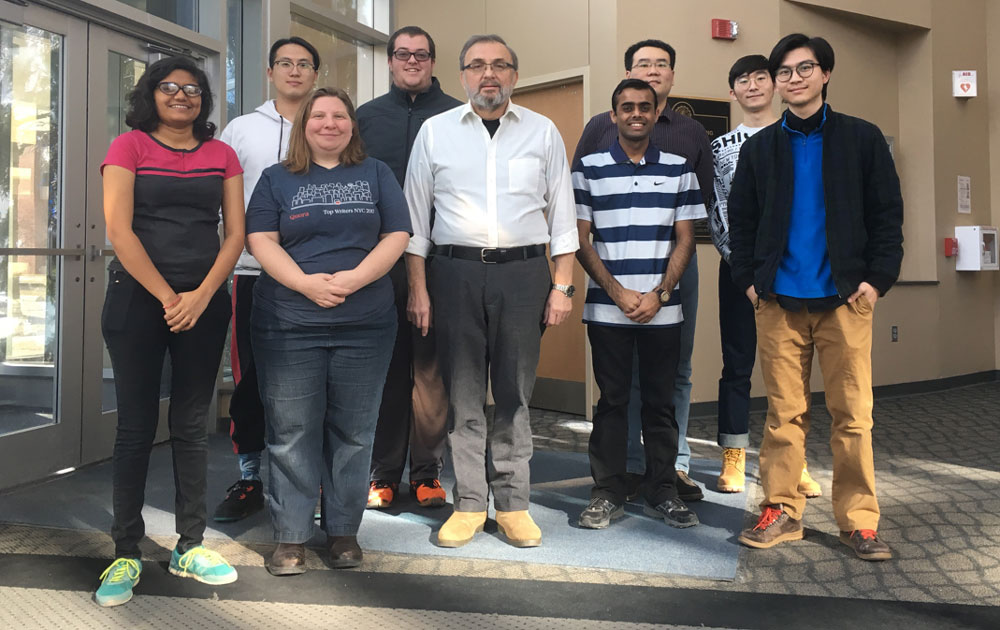 Dr. Erol Sancaktar (center) with polymer engineering graduate students who are part of his research group.
Previous:
Next:
---
Media contact: Alex Knisely, 330-972-6477 or aknisely@uakron.edu.
Share