Sheldon B. Wrice named vice president of inclusion and equity at UA
04/21/2021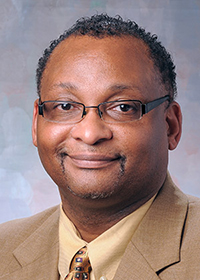 Dr. Sheldon B. Wrice
The University of Akron has named Sheldon B. Wrice, Ed.D. its new vice president of inclusion and equity and chief diversity officer following an internal search. Wrice has been serving in the role on an interim basis since October 2020 while also serving as associate dean for undergraduate studies and education in the Buchtel College of Arts and Sciences.
In this critical position within the University administration, Wrice will provide strategic leadership for campus diversity, program oversight, diversity advising and mentoring, community relations and outreach, and policy duties that result in a learning and workplace environment that is welcoming and supportive to all.
With experience in diversity and equity initiatives, Wrice will report to President Gary L. Miller, who in July 2020 appointed him as co-chair of the University's working group to evaluate racial equality at UA and promote social justice partnerships with the community. He has also taken a leadership role to transition the Black Male Summit to a successful online event during the pandemic. Wrice also will continue as director of the Pan African Studies Program.
"Dr. Wrice has a demonstrated record of responsible leadership with a strong commitment to diversity, equity and inclusion," said Miller. "As interim vice president he has shown strength as a leader who is able to mobilize and inspire others to action. We feel confident that he is the right person to lead UA in this area at this time."
Wrice is looking forward to the opportunity to continue in this critical role. "The issues of diversity, inclusion and equity are vital to the future of The University of Akron," said Wrice. "I recognize the University's priorities and, therefore, aim to lead collaborative stakeholder efforts within and outside the University community to develop and implement innovative ideas and best practices for a more welcoming, inclusive and equitable working and learning environment. I am humbled and motivated by this opportunity and responsibility to help the University achieve its utmost goals."
Wrice has taught full-time at the University since 1995 as a professor of technical writing and composition. He has chaired various academic departments, including Modern Languages, Anthropology and Classical Studies, English and Associate Studies.
Wrice earned his Doctor of Education in Higher Education Administration in 1995, Master of Science in Technical Education and Master of Arts in Multicultural Education in 1994, Master of Arts in Urban Studies in 2013 and Master of Public Administration in 2014, all from UA. He earned a Bachelor of Arts in English from South Carolina State University in 1988 and a Master of Library Science from Clark Atlanta University in 1990.
As chief diversity officer, Wrice will supervise the Office of Inclusion and Equity, Office of Multicultural Development, Multicultural Center and the Women's and Gender Resource Center. The Office of Accessibility has dual reporting lines to Student Affairs and the Office of Inclusion and Equity.
Related:
---
Media contact: Cristine Boyd, 330-972-6476 or cboyd@uakron.edu.
Share