Student designs 3D printed smart tire sensors that tell you when it is time to repair your tires
11/25/2019
Omar Faruk Emon, mechanical engineering Ph.D. student at The University of Akron, won first place and a prize of $3,000 in the Monte Jade Innovation Competition 2019 in the Future Tire category. Sponsored by the Monte Jade Science and Technology Association and Maxxis Tires, this national competition promotes innovation among college students in the fields of science and technology.
Omar designed a smart tire sensor that, using 3D printing technology, prints the sensor and tire tread together. Embedded into the tread of the tire, his sensor converts mechanical energy (from moving tires) into electrical energy (voltage generated under tire strain) and produces data on tread efficiency, slip, traction, speed, and road condition.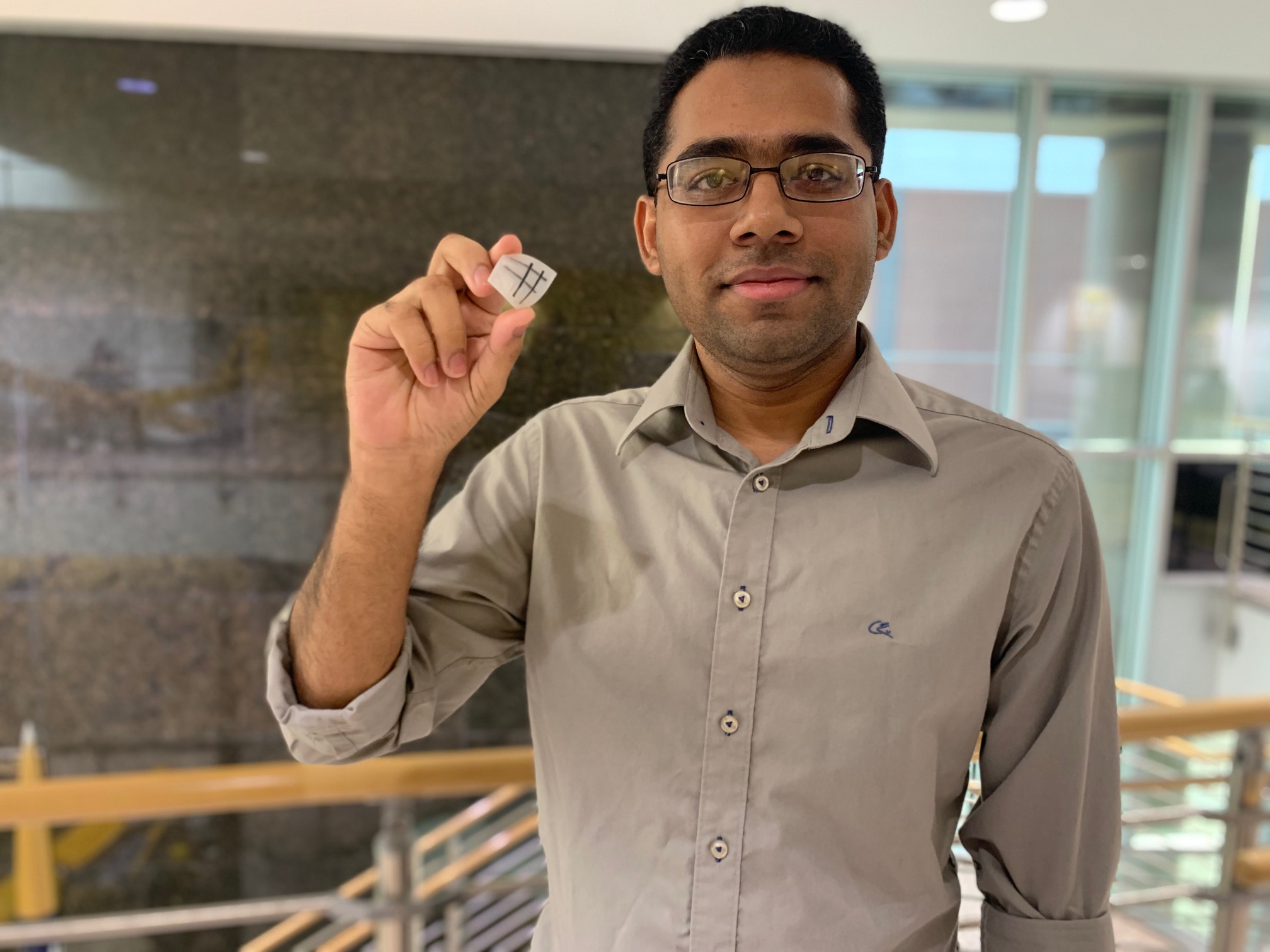 Omar Faruk Emon is holding his tire sensor made from polymer composites. He designed a piezoelectric sensor that generates electricity from mechanical deformation.
Tire manufacturers and drivers could learn important information about tires from this sensor. Manufacturers could use the sensor to test tire treads to ensure that their products meet certain specifications, and theoretically, the real-time road-tire interaction data reported by the sensor could be uploaded to the cloud and help drivers figure out if they need to repair their tires or purchase new ones.
Current technologies mostly rely on testing tire treads on pressure pads during the manufacturing phase, or, once they have been sold to consumers, eyeballing the tires before deciding to take the car into the shop.
Omar's work is a part of Dr. Jae-Won Choi's Advanced Additive Manufacturing Lab, where students and faculty perform cutting-edge research in the area of 3D printing and additive manufacturing. Omar and and Dr. Jae-Won Choi are in the process of filing a provisional patent application for this new technology.
Congratulations, Omar!
---
Related content:
Share