Our Biomedical Engineering Design Team makes a difference in peoples' lives. Their projects give students the opportunity to take what they learn in the classroom and use it to improve the lives of families in need.
About a year ago, the Summit County Developmental Disabilities Board presented three members of the design team with a new challenge.
The McInturff family had not one child, but two with cerebral palsy – Gabe, 15, and Josie, 4. Gabe already had his own wheelchair and Josie rode on her brother's lap on outings with their parents.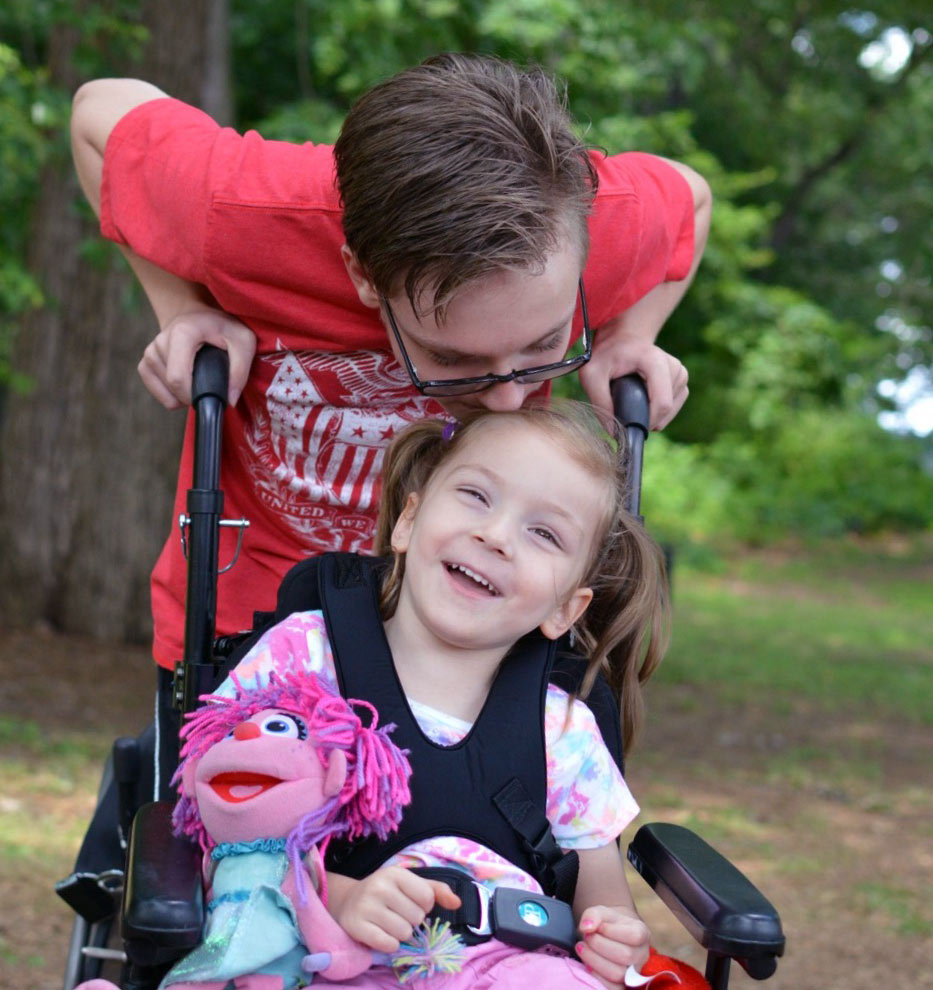 Gabe and Josie McInturff received a tandem wheelchair designed by students on The University of Akron's Biomedical Engineering Design Team.
Unfortunately, Josie was getting too big to sit on Gabe's lap — she needed her own wheelchair. Two children using wheelchairs required two parents for trips outside the home.
"Because retail chairs were too expensive and we couldn't find a company willing to donate one, we started out with the intention of designing and building our own custom wheelchair," says Andrew Soltisz, a spring biomedical engineering graduate, who led the project team. Working with him were Mariam Crow, who is earning a master's degree in biomedical engineering, and Luke Schmitt, a mechanical engineering major.
"After a few months of brainstorming, designing and consulting with machinists, we realized this approach would be incredibly time consuming and complicated," adds Soltisz. "Fortunately, we found a contact that takes in broken wheelchairs and repairs them to be donated."
That's where Garrett's gift comes in.
Garrett Bach, a child with the same condition as Gabe and Josie, died last September. His mother, Sharon Bach, reflected on the joy he would bring into others' lives. "Even though he couldn't walk and he couldn't talk, he could light up a room.
"Because he was such a cool, special kid, I wanted to make sure that all of his stuff went to another child that really needed it," adds his mother, who donated his wheelchair to the project.
The team combined Gabe's and Garrett's chairs to make one tandem wheelchair, which was presented to the McInturff family this spring. The new chair allows one parent to guide both children with ease.
The students involved in this recent project not only helped the McInturff family, but they were able to turn one family's loss into a gift.
Sharon Bach praised UA's program, saying, "Maybe that one kid who decides to go into this program has a great idea and helps more children with disabilities."
RELATED:
---
► Story by Hayden Grover
► Media contact: Lisa Craig, 330-972-7429 or lmc91@uakron.edu
---