Surveying students get experience staking Habitat for Humanity homes
05/24/2019
Students from the award-winning Surveying and Mapping Program at The University of Akron earned some real-world experience Wednesday by staking out the location for four new homes in Support of Habitat for Humanity of Summit County.
The students from the College of Applied Science and Technology marked the corners of the boundaries for the proposed structures for four new homes that will be located the corner of East and Chester avenues in Akron.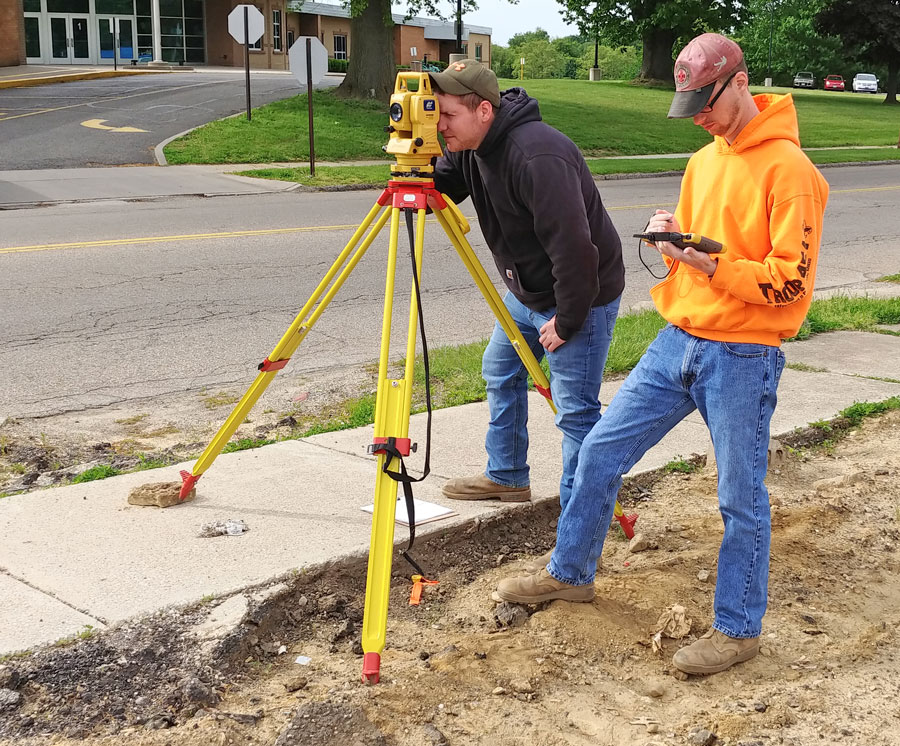 Aaron Jadwin (left) uses a Total Station instrument and Nicholas Ewart checks a field computer as they measure for a stakeout.
Precisely staking the house and the garage foundation is the last step in the surveying process for each new home. Earlier, surveying students collected topographic information and located all existing boundary monuments for the block that was recently acquired by Habitat for Humanity. New lots were created from the larger parcel of land and boundary monuments were set by the students under the supervision of degree program director Gary Schuller, professor of surveying and mapping, and professional surveyor. Boundary corner monuments must be visible for inspection purposes when building a home.
In addition to the house and garage locations, students will be staking for construction of a sewer extension needed to serve the new homes. This marks the 26th through 29th Habitat for Humanity home projects completed since 2003 by UA surveying students. The experience is part of the two-week inter­session Surveying Field Practice course. Last month, a team of surveying and mapping students won first place in the National Society of Professional Surveyors (NSPS) 18th Annual Student Competition.
Related
---
Media contact: Alex Knisely, 330-972-6477 or aknisely@uakron.edu.
Share