Synapse 15: Intersections of Art and Science | July 15–Sept. 30
08/05/2022
The Synapse program at The University of Akron (UA) is celebrating 15 years of connecting art and science professionals and disciplines with recent artworks on view in the Emily Davis Gallery located in Folk Hall, home to the Myers School of Art. "Synapse 15" will be running concurrently with FRONT International Cleveland Triennial for Contemporary art, presenting a newly commissioned work by artist Wong Kit Yi.
Synapse probes ideas, images and mutual interests connecting art and science disciplines. Highlighting Akron's location in the Cuyahoga Valley and its legacy as a city of invention and making, this year's exhibition focuses on artists, designers and science and engineering collaborators that explore the natural world to consider issues as challenging as the COVID-19 pandemic, climate change and sustainability or as fundamental as abstraction, mechanics, material processes and the perception of a viewer.
Ten artists and designers works will be on view in "Synapse 15" at the Emily Davis Gallery from July 15–Sept. 30, 2022: Judy Pfaff (Tivoli, N.Y.), Jenny Sabin (Ithaca, N.Y.), Terry Winters (New York, N.Y.), NERVOUS SYSTEM (Jessica Rosenkrantz and Jesse Louis-Rosenberg of Palenville, NY), Mark Dion (Copake, N.Y.), Stacy Levy (Spring Mills, Pa.), John Roloff (Oakland, Calif.), Diane Davis-Sikora (Akron, Ohio), Nathalie Miebach (Boston, Mass.), Wong Kit Yi (New York, N.Y. and Hong Kong).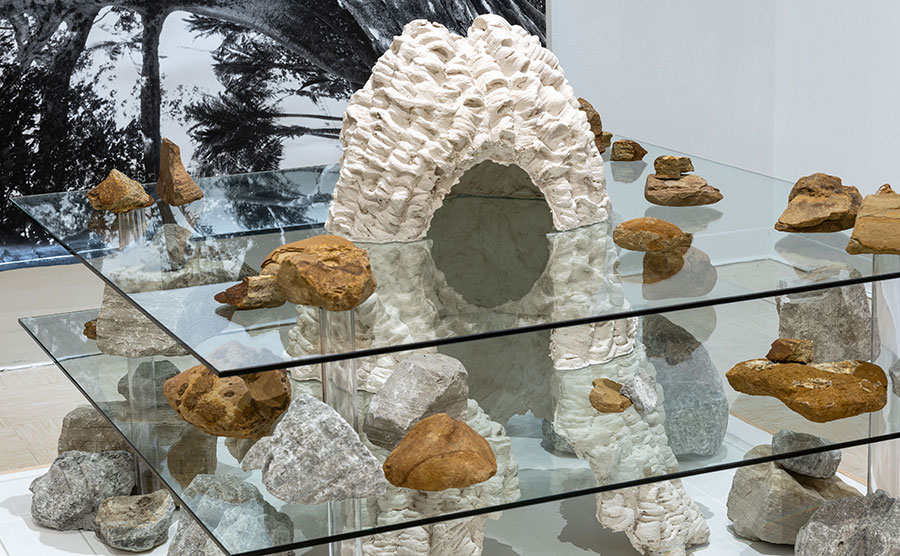 John Roloff, Landscape Projection: Third State, 2022
High strength gypsum, stainless steel, glass fiber, acrylic medium; B&W photo, ultra-white paint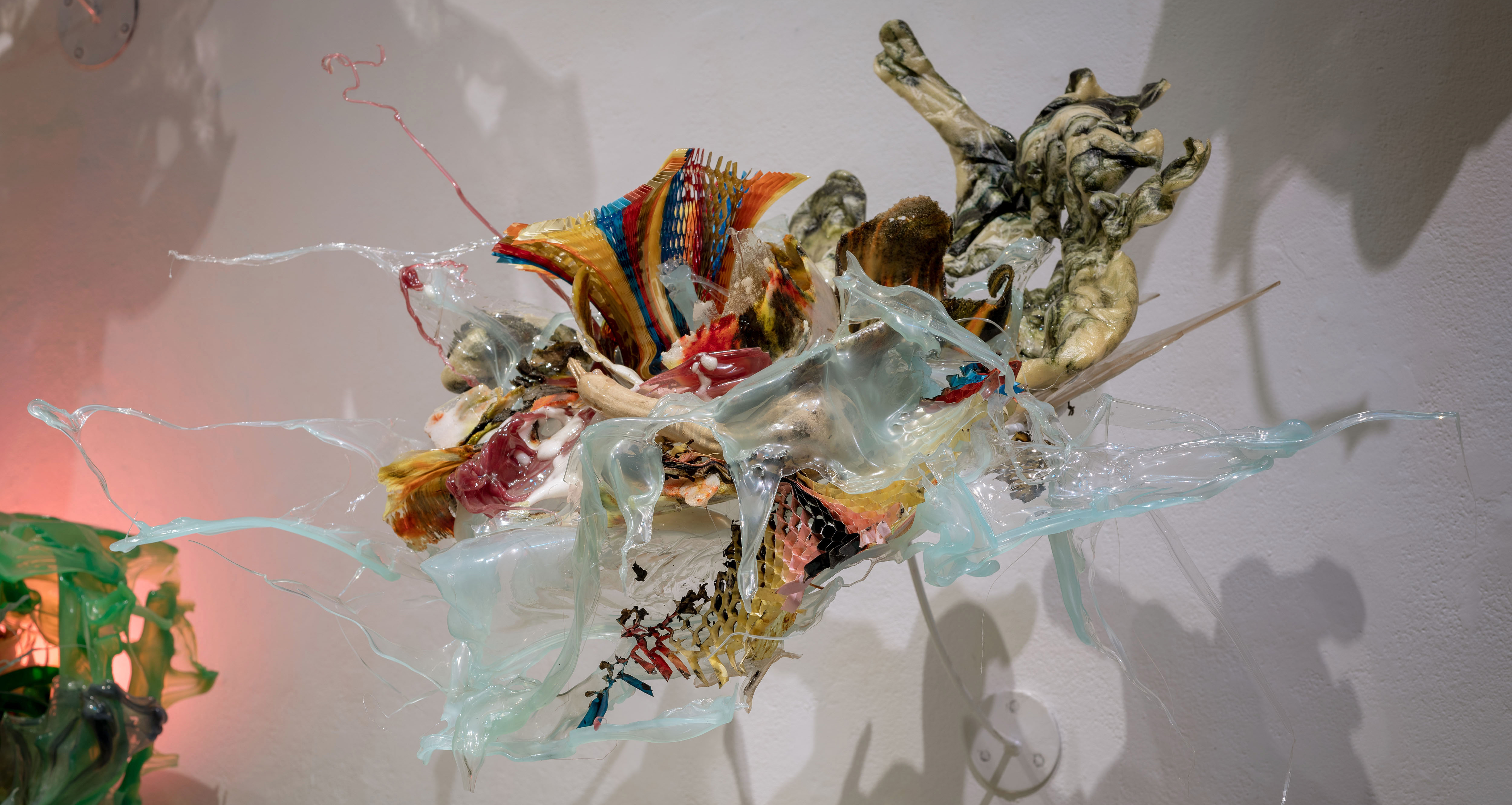 Judy Pfaff, Mud Dauber, 2021
Melted plastic, pigmented expanded foam, paper lantern, red wire, steel hardware
Artists choose materials and processes to convey meaning and to apply specific qualities to their work. The artists and designers in this exhibition look to nature's 3.8 billion years of strategies and design to show them what to choose and how to construct the forms they make. While some take a metaphorical or abstract approach and others an applied one, each respond and learn from the natural world to inform their efforts to invent and communicate who we are in this moment.
"It is exciting to explore the wide range of artistic processes and to make connections between traditional materials and new media. The show demonstrates how sharing multiple perspectives can open the imagination and spark change," explained series founder Matthew Kolodziej, curator of "Synapse 15" and distinguished professor of art at the Myers School of Art in the Buchtel College of Arts and Sciences.
"The intersection of art and science is one with which I have always had a fascination," said UA President Gary L. Miller. "As a biologist who spent years researching arachnids and their environments—which meant plenty of time around spider webs—I recognize that science can be breathtakingly beautiful, and that art can reveal much about the scientific world around us. I am gratified that the Myers School of Art is examining this topic in a new exhibition. In our role as a public urban research university, UA seeks to share with our community an exploration of the arts and sciences, and the convergence point between the two spaces."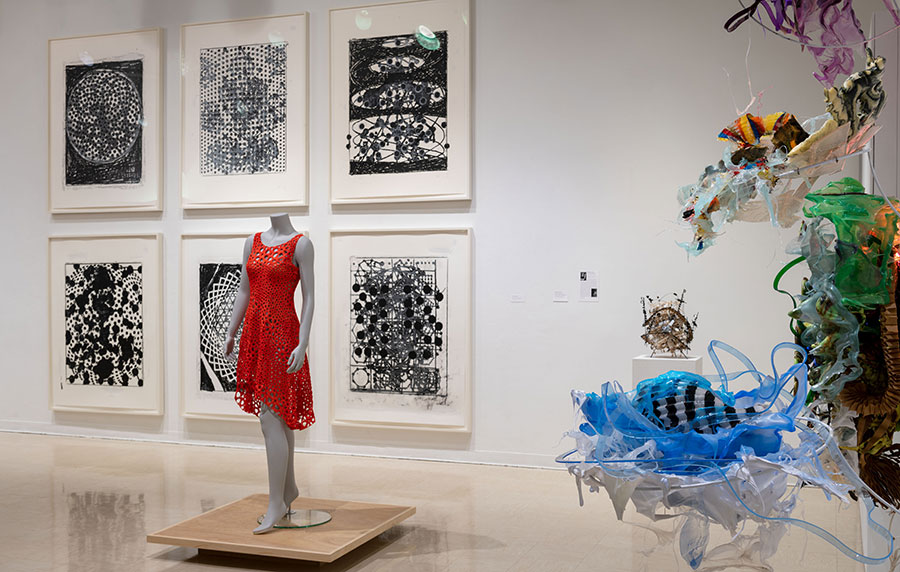 Emily Davis Gallery
Events
Gallery Reception, Aug. 25, 5–7:30 p.m., Emily Davis Gallery @ Myers School of Art
Enjoy extended gallery hours and a chance to snack and mingle with artists, students, curators and the curious. Free and open to the public.
Artist Panel, Sept. 15, 6–7 p.m., Folk Hall Room 165 @ Myers School of Art
Enjoy extended gallery hours before and after this panel discussion featuring two UA faculty members from the Department of Biology, Dr. Henry Astley and Dr. Hazel Barton, and two of the artists, John Roloff and Diane Sikora, with moderator Matthew Kolodziej. Free and open to the public.
Synapse 15 – Intersections of Art and Science
Exhibition Dates: July 15 – Sept. 30, 2022
Emily Davis Gallery
Myers School of Art, The University of Akron
150 E Exchange St. Akron, OH 44325
Gallery Hours: Monday – Friday 10 a.m. to 5 p.m.
For more information:
Curator: Matthew Kolodziej, Professor of Art, kolodzi@uakron.edu
Gallery Director: Arnold Tunstall, tarnold@uakron.edu
This exhibition is made possible with the generous support of the John S. and James L. Knight Foundation, GAR Foundation, Akron Community Foundation, the Myers School of Art Residency and numerous private donors. We are grateful for our partnership with FRONT International 2022.
For more information about exhibitions or events, contact 330-972-5950 or emilydavisgallery@gmail.com; or visit the Myers School of Art Emily Davis Gallery online or on Facebook.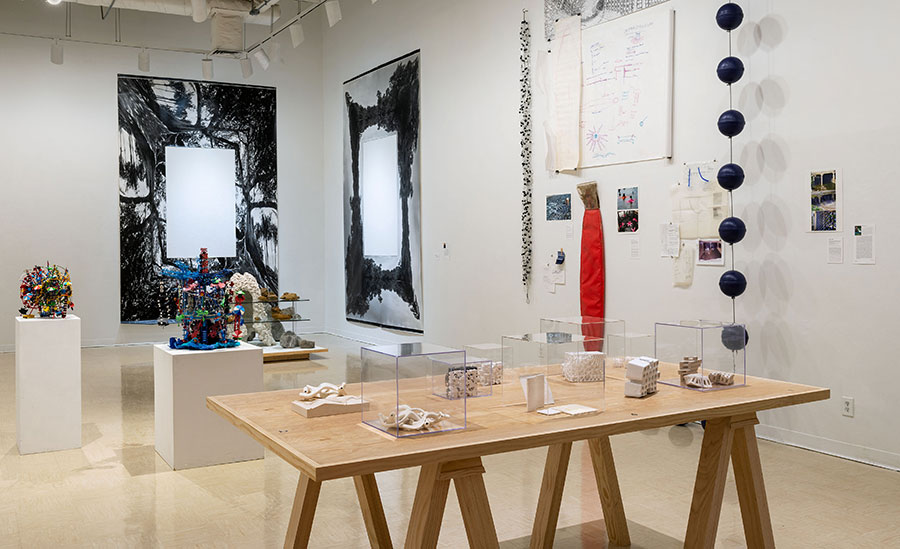 Emily Davis Gallery
About Synapse
Synapse develops new educational strategies, research initiatives, community enrichment and economic development. Synapse sparks interactions and insights among artists and scientists, campus and community, faculty, and students, practicing professionals and the simply curious. We are grateful for their pursuit of the unknown and a better world.
Open to all university disciplines and the public, Synapse events take the form of residencies, internships, collaborative projects, lectures, workshops, performances, publications, panel discussions and exhibitions. Synapse is a forum for entrepreneurship exploring enlightened collaborations and developing mutual understanding across disciplines on diverse topics ranging from artificial intelligence and evolution to psychology, physics, the environment and life on this planet.
Projects take place both at The University of Akron and within the surrounding community as a means for developing community and new audiences for the arts. Collaborative partners have included the Biomimicry Research and Innovation Center at The University of Akron, Bierce Library, UA Honors College, Cummings Center for the History of Psychology at UA, EJ Thomas Performing Arts Center, Akron Zoological Park, Akron Art Museum, Martin Center for Field Studies and Environmental Education, Cleveland Clinic Art Collection, Sculpture Center Cleveland, Kent State University, Cleveland State University, Museum of Contemporary Art Cleveland, Curated Storefront, Great Lakes Biomimicry and FRONT Triennial.
Founded in 2007, the Synapse series would not have been possible without the generosity of Rosalie Steiner. Rosalie's deep devotion to the environment, the arts and social justice made her the ideal supporter of the Synapse vision.
---
Media contact: Lisa Craig, 330-972-7429 or lmc91@uakron.edu.
Share