The Opportunistic Williams Honors Scholar: Shareef Awadallah
12/01/2022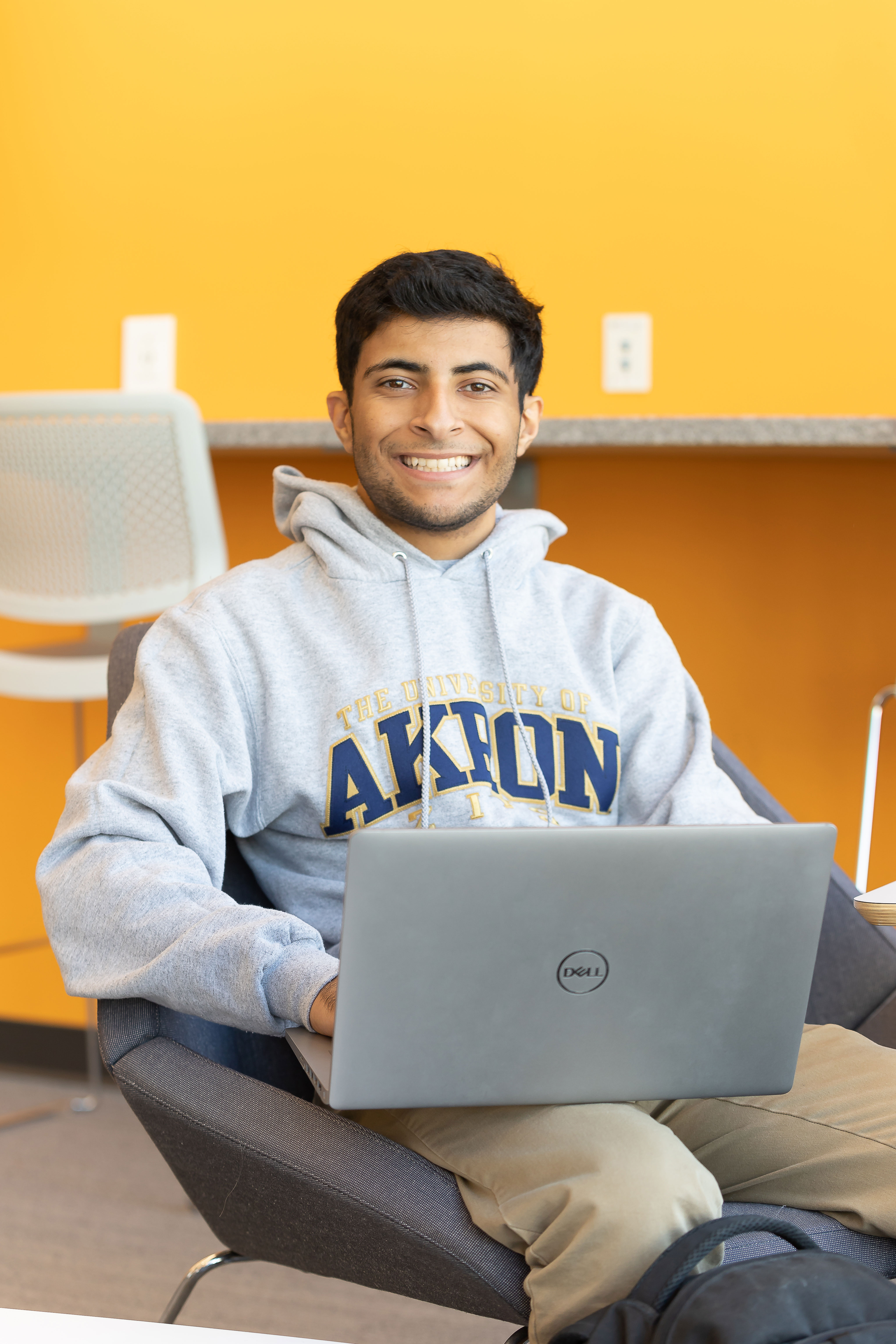 Shareef Awadallah
When it comes to taking advantage of opportunities, University of Akron (UA) student Shareef Awadallah knows how to get it done. The sophomore international business major is already working an internship with a Fortune 500 company headquartered in Akron, and he's involved in several organizations on campus, including UA Ambassadors, the College of Business Dean's Team and the Zips Recruiting Club.
"My motivation comes from the strong work ethic instilled in me by my parents from a very young age," said Awadallah, a graduate of Green High School in Green, Ohio. "I am blessed to be afforded such an amazing education, so I really enjoy taking in all the new experiences and opportunities that I can."
Awadallah is availing himself to another opportunity at UA — being a scholar in the Drs. Gary B. and Pamela S. Williams Honors College, where he and other high-achieving students are challenged and motivated inside and outside the classroom to promote excellence on campus, in the Akron community and throughout the country and world.
"As an honors student, I am constantly motivated to strive for greatness and surrounded by an unparalleled support system that excites me to make memories in a new place," he said. "It's incredibly rewarding to be held up to a higher standard, especially when it is paired with a strong foundation of support from Honors College faculty and peers."
Like Awadallah, all honors students get to benefit from exclusive academic benefits, such creating a capstone Honors Research Project. The Honors Distribution program requires students to complete courses in several disciplines; likewise, the college's Honors Colloquia courses bring together honors students from various majors to discuss timely topics in the sciences and humanities. More so, Honors students are not required to take some of the general education classes as other students, offering them opportunities to further explore their interests.
Influenced by his childhood enthusiasm for geography and traveling, Awadallah aspires to have a career in global procurement after he graduates in spring 2025, a career that would allow him to travel the world and meet with suppliers and stakeholders from different cultures and backgrounds.
"International Business is such a great way to connect the world, as business and trade across borders will always be in demand," said Awadallah. "The growing field and my past interests were my biggest motivators to pursue my degree."
Through the stellar experiential learning opportunities for students offered by UA and its College of Business, Awadallah is currently getting a peek behind the curtain of that field as he interns part time at Goodyear Tire and Rubber Co. He's working alongside supply chain specialists and assisting with a request for proposal that indicates the company's demand for specific materials. Awadallah is also working with Goodyear associates in Luxembourg on the company's sustainability efforts, which he said, "has been an exciting opportunity to delve into the world of international business."
"I am extremely fortunate to have an affordable education with cutting-edge opportunities," said Awadallah. "Being a part of the Williams Honors College has allowed me even more support in reaching my goals. I've been able to go over my degree progress report and talk about ways to receive college credit for my internship, which is an amazing opportunity to tie my educational career and internship career together. I take great pride in making the most of every opportunity."
---
Media contact: Cristine Boyd, 330-972-6476 or cboyd@uakron.edu
Share