UA construction students use their skills to build hope
11/18/2019
When members of StarkFresh, a nonprofit organization in Canton, Ohio, that tackles the causes of hunger, said it needed help turning a decaying building into a brand-new supermarket, students at The University of Akron answered the call.
Fifteen students in the College of Applied Science and Technology's Construction Engineering Technology program joined eight Air Force Junior ROTC Cadets from Buchtel High School on Oct. 26 to help renovate the future home for StarkFresh's community-led, nonprofit supermarket and café project at 1317 Gonder Ave. SE in Canton. During the six-hour workday, the construction engineering students mentored the Junior Cadets on how to safely and skillfully complete their part of the renovation project.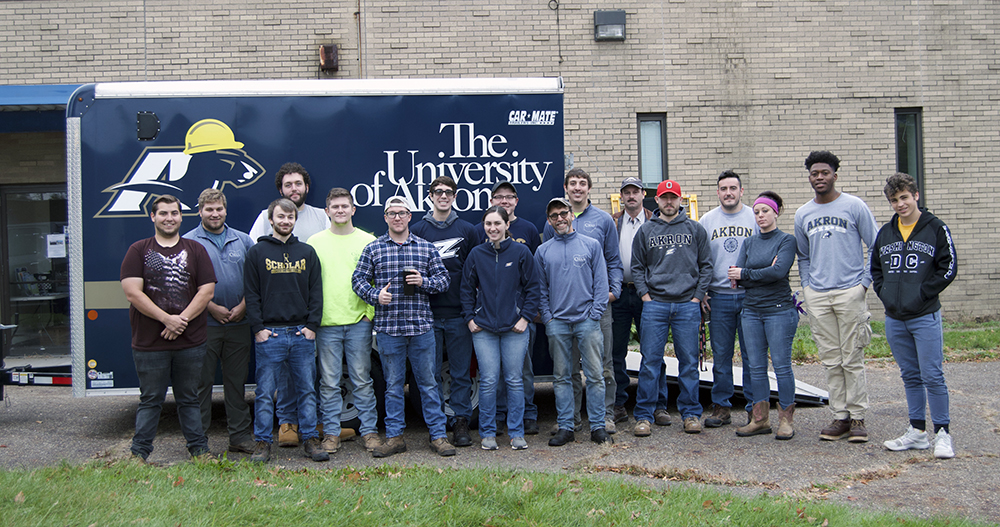 University of Akron construction engineering technology students at the site of the renovation project for StarkFresh's community-led, nonprofit supermarket and café project at 1317 Gonder Ave. SE in Canton. — Photo by UA student Ashlynn Rodgers.
The students, as part of their training to become construction engineers and project managers, completed two primary tasks — removing lighting fixtures and stripping walls bare of water-damaged drywall. The lighting task included accessing, disconnecting and capping off the wiring in addition to removing and safely storing fluorescent light fixtures from a drop-ceiling. For the demolition task, the students removed damaged drywall from the future office area of the store. Carpet and floor tiles were also removed.
The building, full of decay and debris, had been vacant for nearly a decade, according to Allison Beckinger, neighborhood grocery store development coordinator for StarkFresh. The goal is to turn the facility into an empty shell before winter so contractors are able to come in and provide accurate quotes as the renovation continues.
"My students light up when they immerse themselves in volunteer culture," said Craig Wise, associate professor of construction engineering technology at UA. "I think in part it's because they feel valued and useful, but more so they feel connection. They feel connected to a cause, to each other, to the folks they're helping and to a 'greater good.' I often try to sell them on the fact employer's love to see life experience and altruism on the resume, and I give them a certificate for participating, but that's not what gets them to put pen to the sign-up sheet. It's something more."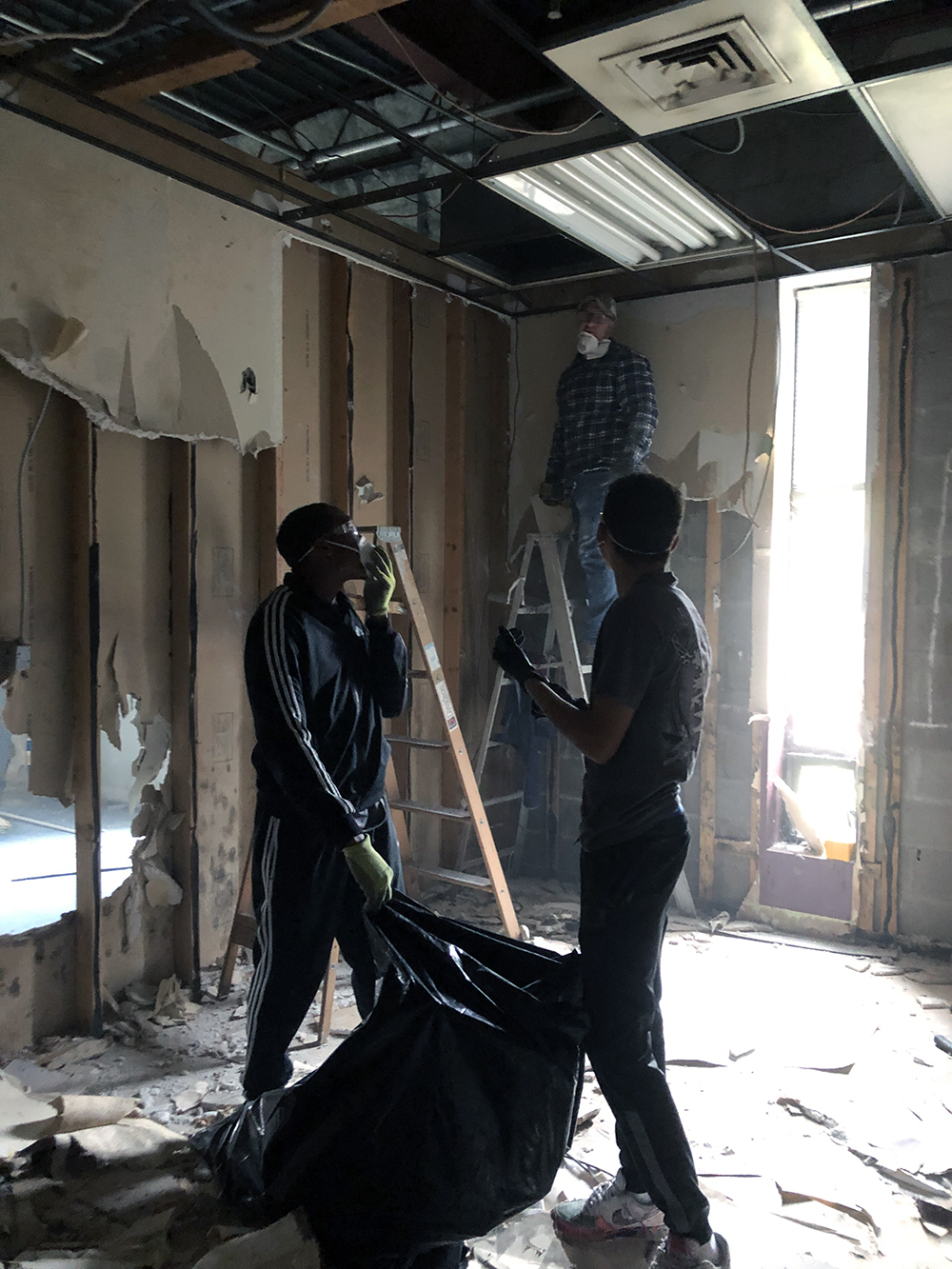 As part of their renovation work, UA construction engineering students and Air Force Junior ROTC Cadets removed damaged drywall from the future office area of StarkFresh's supermarket and café.
"StarkFresh enjoys collaborations and partnerships with organizations whose values align with our own and seek to create meaningful opportunities for their staff, clients, or, in UA's case, students. It helps them understand the awesome power and strength of small groups of individuals when they band together to work on a common goal," said Tom Phillips, executive director of StarkFresh. "A community-led, grass-roots effort to open up a supermarket is the perfect example of how neighboring communities can help each other out and we appreciate The University of Akron's commitment to helping with this project."
The supermarket is planned to be opened by the end of next year. Located in southeast Canton, it will provide area residents with an option for healthy, quality food at an affordable price.
"The southeast section of Canton has zero access to fresh or affordable food," said Beckinger. "With the only option being a convenience store that sells gallons of milk for $7, the closest grocery store to residents in this area is a 10-mile walk or a 20-minute bus ride."
More than 50 volunteers helped renovate the building that day. Along with UA and Buchtel High School students, volunteers also came from North Canton Chapel and the Stark Regional Community Corrections Center, as well as individual members of the community.
Along with Wise, the students were supervised by Paul Rawlings, visiting assistant professor of practice of engineering and science technology at UA; and retired Lt. Col. Colleen VanNatta, senior aerospace science instructor, and co-instructor Master Sgt. Al DeSarro, at Buchtel High School.
The construction engineering technology students who volunteered are members of the Ohio Student Chapter of the Construction Management Association of America at UA. In addition to volunteer events each fall, such as the StarkFresh project, the group has been traveling over spring breaks since 2009 to areas that have experienced devastating natural events. UA students have volunteered their construction skills and labor in places such as the 9th Ward in New Orleans; Joplin, Mo., New York City's Rockaway Peninsula, Charleston, S.C., and Rainelle, W. Va. Experiences like these prepare graduates to fill the gap between professional designers and the construction trades.
---
Media contact: Alex Knisely, 330-972-6477 or aknisely@uakron.edu.
Share