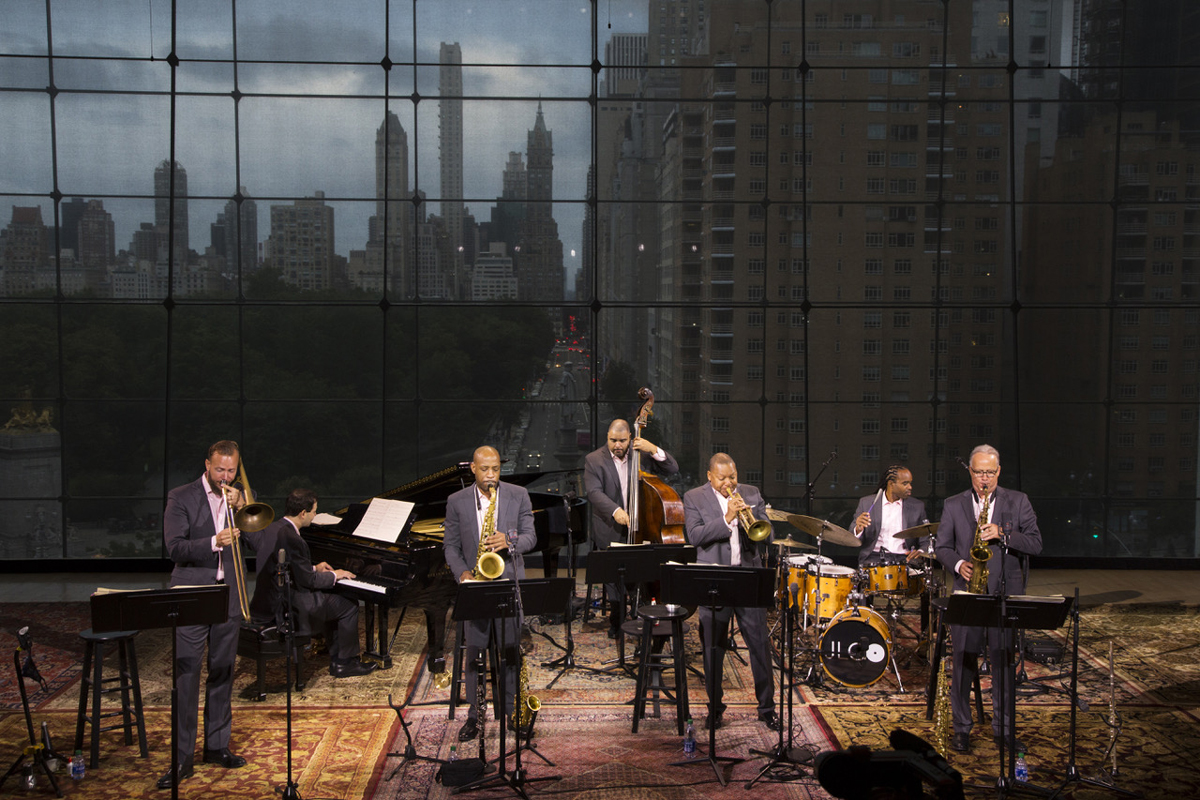 The Jazz at Lincoln Center Orchestra Septet with Wynton Marsalis perform The Demoracy! Suite as part of UA's Kulas Concert Series. Photo credit: Justin Bias
The Jazz at Lincoln Center Orchestra Septet with Wynton Marsalis takes the virtual stage on Wednesday, April 7, at 8 p.m. with a free viewing of The Democracy! Suite as part of The University of Akron's Kulas Concert Series.
In addition to the concert, Marsalis will take part in a live preview conversation on April 7 at 7 p.m., hosted by Dr. Sheldon Wrice, interim vice president for inclusion and equity and chief diversity officer at UA.
Led by trumpeter/composer Wynton Marsalis and featuring seven of jazz's finest soloists, the concert's unique repertoire celebrates jazz's embodiment of freedom and democracy.
The Democracy! Suite is a new Marsalis composition written during the ongoing COVID-19 crisis as a response to the political, social, and economic struggles facing our nation. The Democracy! Suite is a swinging and stimulating instrumental rumination on the issues that have recently dominated our lives as well as the beauty that could emerge from a collective effort to create a better future.
This concert was filmed on September 27, 2020 at Frederick P. Rose Hall in New York City in accordance with the New York State Department of Health Interim Guidance on Media Production during the COVID-19 Emergency.
Marsalis, a nine-time Grammy Award winner, is a trumpeter, composer and music educator as well as the artistic director of the JLCO. A native of New Orleans, he displayed his musical talent early in childhood. By age 14, he was performing with the New Orleans Philharmonic. At age 17, Marsalis became the youngest musician ever to be admitted to Tanglewood's Berkshire Music Center. He has gone on to perform with many of the world's leading orchestras, including the New York Philharmonic, Los Angeles Philharmonic, Toronto Symphony Orchestra and London's Royal Philharmonic. Marsalis has produced more than 80 records to date.
In addition to Marsalis, the septet features Elliot Mason, trombone, Ted Nash, alto saxophone and flute, Walter Blanding, tenor and soprano saxophones, Dan Nimmer, piano, Carlos Henriquez, bass, and Obed Calvaire, drums.
Registration is required for the live pre-show conversation. Watch the concert online on the School of Music web page. Both events are free, sponsored by The University of Akron's Office of Inclusion and Equity and the UA School of Music's Kulas Concert Series, generously supported by the Cleveland-based Kulas Foundation. For more information, call 330-972-8301 or email concerts@uakron.edu.
---
Media contact: Lisa Craig, 330-972-7429 or lmc91@uakron.edu.