UA launches two career-focused programs with a military flavor
07/02/2015
The University of Akron today announced several new student initiatives to create additional opportunities for student success and career preparation through the launch of a Corps of Cadets and Leadership Academy.
The new Corps of Cadets and Leadership Academy will leverage existing and planned leadership opportunities at UA, including those for academic credit offered by the various colleges. In addition, UA is adding some new leadership development and veteran-oriented scholarships.
"This marks the sixth initiative in the past four months to reposition the University as Ohio's Polytechnic University," said UA President Scott L. Scarborough. "The Corps of Cadets and Leadership Academy fit perfectly into the polytechnic identity by offering career-focused, highly experiential learning that will greatly benefit each student. It also will add an exciting new element to the life of campus."
Scarborough added, "We know that employers value the discipline and leadership training that the military instills in young men and women. These initiatives enable students who want to add those aspects to their college education to do so without taking on an obligation to serve in the armed forces."
---
University President Scott L. Scarborough announces the creation of the Corps of Cadets and the Leadership Academy, saying both would enhance the student experience and the university's polytechnic indentity.
---
The Corps of Cadets and Leadership Academy will be headed by Lt. Col. Bradley Harvey, a career U.S. Army officer and the recently retired and highly respected professor of military science for UA's Army Reserve Officer Training Corps (ROTC) program. He will begin his new duties July 13, 2015.
Unique in Ohio
The Corps of Cadets will be the only one of its kind in Ohio and will fit well with UA's established status as a military-friendly school. Only two universities in the country have similar programs – Virginia Tech and Texas A&M – both great public universities with polytechnic identities.
UA's ROTC program is one of the oldest in the country (founded in 1918), has produced more than 1,700 officers, and boasts alumni who have served in the general ranks. UA has one of the largest veteran populations at a four-year public institution in Ohio, along with one of the fastest-growing American Legion posts in the state. The newly formed and nationally recognized American Legion Post 808 is led entirely by students.
Career focused
The Corps of Cadets and Leadership Academy are designed to help UA students succeed in college and in life by instilling discipline, honor and respect, and by teaching valuable life skills, including personal decorum, time management and study skills. Other components will feature dedicated on-campus student housing; a student honor code; and Corps of Cadets medals, decorations, promotions and awards. The Corps of Cadets will march with the UA Marching Band and a Glee Club will be formed in 2016 to perform at various University functions.
Interested in the Corps of Cadets?
Fill out this interest form and we'll be in touch!
"The new Corps of Cadets will be a great complement to our existing ROTC program," said Harvey. "Cadets will experience many of the same leadership opportunities that are used by ROTC programs to train future military officers but without the service commitment. In addition, students who participate in the Corps of Cadets and Leadership Academy will live on campus, march at football games, have fun, and learn the disciplines of leadership that will make them successful in college and in life. The Corps will be a visible example of a great polytechnic university that develops students experientially, both inside and outside the classroom."
Scholarship opportunities for members
Corps of Cadets members will be eligible for up to $2,000 in annual scholarships, to recognize students who show high leadership potential. Or, for veterans who are members of the Corps of Cadets and whose UA bill already is covered in full from other sources, up to $1,200 annually will be applied as a Veteran Cadet Book Scholarship.
In addition to the Corps of Cadets, the Leadership Academy will include programs and academic courses from the ROTC Leadership Series and the Institute for Leadership Advancement offered through UA's College of Business Administration. Working in conjunction with the faculty in various colleges, a leadership minor and leadership certificates will be developed.
University initiatives that have been announced previously include:
low-cost general education courses that are offered at half of the average tuition rate at area community colleges;
a new Center for Choreography in partnership with DanceCleveland and the Knight Foundation;
a new Center for Data Science and Information Technology, led by former Microsoft executive Dr. Mario Garzia;
a new Center for Experiential Learning, Entrepreneurship and Civic Engagement, to be led by Priceline.com co-founder Jeff Hoffman; and
the provision of new success coaches for every UA student, beginning with the freshman class in the fall of 2015.
---
Student and veteran Ashley Gorbulja, the first commander of American Legion Post 808, describes how her military experiences enhanced her college life at Akron during an event announcing the Corps of Cadets and the Leadership Academy.
---
Media contact: Dan Minnich, 330-972-6476 or dminnich@uakron.edu
---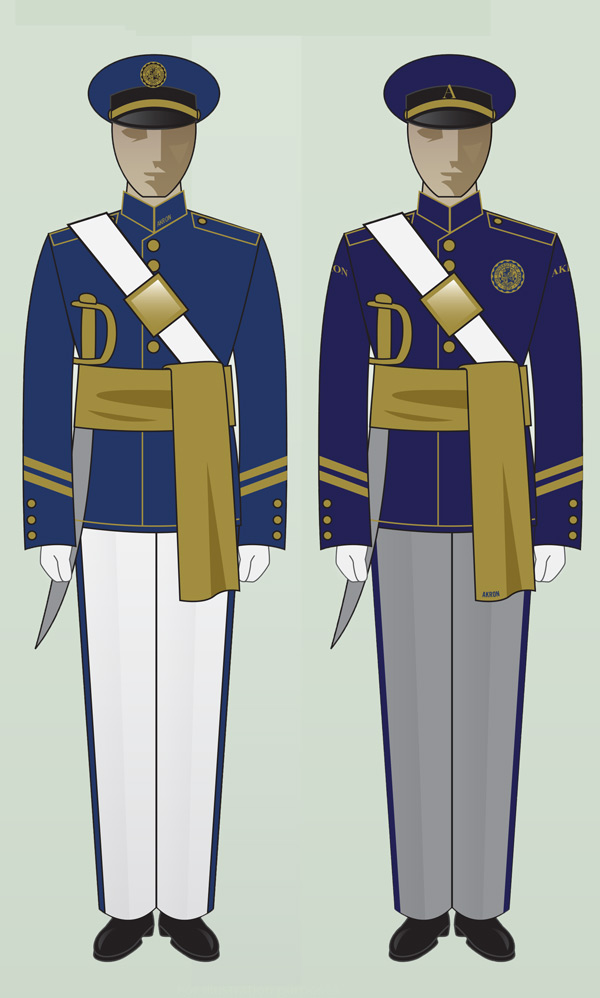 Proposed uniforms for the new Corps of Cadets are in UA's colors of blue, gold and white.
Share