UA names John Wiencek as executive vice president and provost
04/02/2020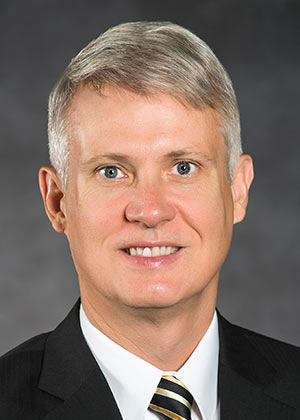 John Wiencek, Ph.D., an accomplished chemical and biochemical engineer, experienced academic administrator, and Northeast Ohio native, has been named executive vice president and provost. He will succeed Interim Provost Joseph Urgo, Ph.D.
As provost, Wiencek will assume the lead role in redefining and implementing the priorities for the Office of Academic Affairs and bolstering UA's research prominence and productivity. He will also hold responsibility for sharpening the University's enrollment strategy and practices including exploring new markets and expanding delivery models; assessing and optimizing the academic affairs structure and processes; recruiting and developing an exceptional academic leadership team; and contributing to UA's commitment to diversity and inclusion. As executive vice president, he will be the most senior administrator reporting to the president. 
'AN EXCELLENT MATCH'
"I am extremely pleased to have someone with such a strong background join the UA leadership team," said President Gary L. Miller. "Dr. Wiencek's tenure as a provost, combined with his experience as a dean of engineering, will allow him to easily connect with faculty and help us quickly move forward with academic strategic planning. This is a critical time for the University and his skillset is an excellent match for the work we have before us. We are very fortunate to have such an experienced leader join the University at this time."
The search committee was headed by Paul Levy, Ph.D., professor and chair of the Department of Psychology at UA, and was comprised of students, administrators, contract professionals, staff and respected faculty leaders from a variety of academic disciplines. Semi-finalists were interviewed by the committee, and three finalists were invited to campus to speak and answer questions at open campus conversations. The committee was supported by the Chicago-based search firm WittKieffer.
"We had a very strong applicant pool and three terrific finalists, but Dr. Wiencek stood out because of his experience as a sitting provost where he has demonstrated the skills and abilities that will serve us well as we continue implementing President Miller's vision for our university," added Levy. "He is a creative thinker who is eager to share his vast academic experiences with us at UA. We also appreciate his Akron connection and are confident that he will work extremely well with President Miller in strategic and practical ways in our quest to keep rising."
Wiencek grew up near the Portage Lakes and graduated from Walsh Jesuit High School. He spent summers employed at the famed Waterloo Restaurant "flipping eggs and burgers."
 "The University of Akron is a strong public urban research university that has a deep history and an extremely bright future," said Wiencek. "I grew up in Akron and have an affinity for the community and a profound respect for the students and employees who have chosen it as their home. I look forward to coming home and making an impact."
A STRONG BACKGROUND
An experienced academic leader, Wiencek currently serves as provost and executive vice president at the University of Idaho. There, he has developed and implemented a strategic plan and has executed new improvements in communication to build trust between the faculty and administration for a stronger campus community.
He previously served as interim provost and vice president of academic affairs at Virginia Commonwealth University. There he was the driving force behind many significant accomplishments, including resolving initiatives such as enrollment planning and fundraising; completing several searches for key roles; and establishing a Strategic Enrollment Council.
Prior to that, Wiencek served as dean of the College of Engineering at the University of South Florida. He also served in a variety of positions at The University of Iowa including department chair, graduate director, graduate admissions chair, and professor of chemical and biomedical engineering. He began his career as an associate professor in the Department of Chemical and Biomedical Engineering at Rutgers University.
Wiencek earned a Bachelor of Science in Chemical Engineering from the University of Cincinnati and a Master of Science and Doctor of Philosophy, both in Chemical Engineering, from Case Western Reserve University. As a researcher, he has focused on protein biophysics with applications to drug formulations.
RELATED
---
Media contact: Cristine Boyd, 330-972-6476 or cboyd@uakron.edu
Share