'Unclass' to explore vast and eclectic postcard collection
02/22/2018

In the archives of the Drs. Nicholas and Dorothy Cummings Center for the History of Psychology at The University of Akron sits a collection of more than 200,000 postcards that have been donated by nationally renowned psychologist David P. Campbell.

Filed under categories such as "Lovers," "Brutalities" and "European Countries" by the world-traveler himself, who continues to add to the collection, the postcards span several decades and have yet to be digitally cataloged. Until now.

This spring, students in an "unclass" called "Digital Humanities in the Archives" are in the process of digitizing books of postcards, which will soon be available on the center's website. Unclasses — for-credit experiential learning classes — allow interdisciplinary student groups to guide a course based on material availability and particular skills, rather than a predetermined curriculum.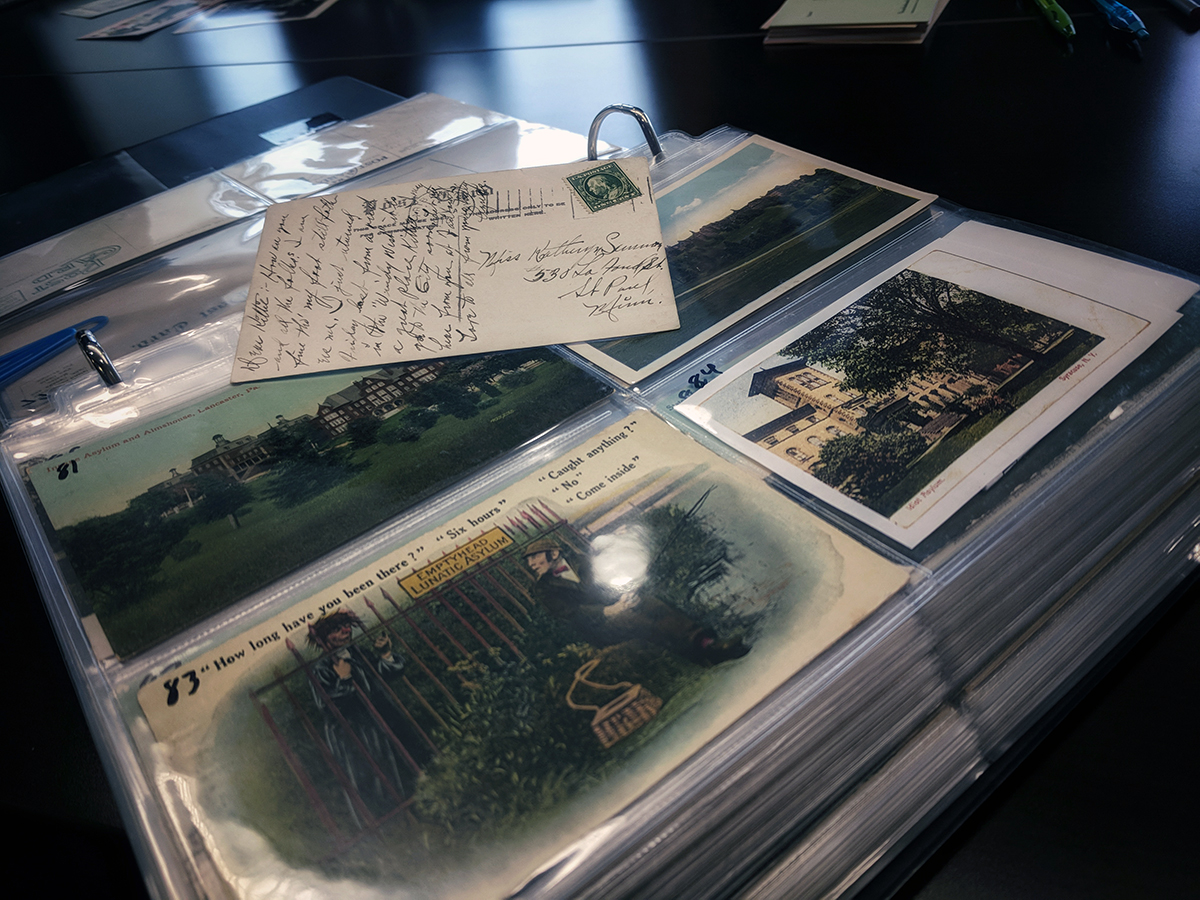 This unclass was developed by faculty from the center's Institute for Human Science and Culture and the Department of English, in collaboration with UA's Experiential Learning Center for Entrepreneurship and Civic Engagement (EX[L] Center).
This postcard, one of more than 200,000 in the collection, is illuminated to highlight its features.
Unclass participants are learning about the history of postcards in the United States, as well as the importance of metadata, or data that gives information about other data, and how it can be used. In addition, they are learning about the digital systems employed by the repository and how to streamline information.
Throughout the course, students will document the materials and their experiences in a series of blog posts and research reports, which will be made available on the Cummings Center website and through UA's IdeaExchange Institutional Repository.
"Students will be digitizing the cards and creating metadata to describe them in the online repository, including transcribing the beautiful handwriting on them," says Dr. Jodi Kearns, digital projects manager at the Cummings Center and co-instructor of the class. "Metadata might include postage date, language of origin, city of delivery, card designer, or the binder/category Dr. Campbell sorted the cards into, just to name a few."
"This program with the Cummings Center has been a huge success, and we look forward to continuing this work through the collection," says Dr. Hillary Nunn, professor of English and class co-instructor.
Related:
► Cleveland.com: University of Akron students begin digitizing, archiving 200K vintage postcards for searchable repository
► Akron Beacon Journal: Greetings from Everywhere: UA class scans collection of 200,000 postcards
---
► Story by Erica Cantrell
► Media contact: Dan Minnich, 330-972-6476 or dminnich@uakron.edu.
---