Unique experience for students, faculty
Hearing clinics for dogs like this are difficult to come by, which means students and faculty at UA have a unique opportunity for insight. Testing dogs offers students much-needed hands-on experience to prepare them for this kind of clinical testing. Not only is it a fun educational setting, but a necessary one. A high percentage of clients seen at FETCHLAB™ are breeders of dogs that have a significant prevalence of congenital hearing loss, such as dalmatians. Canine hearing testing can also be performed to identify the degree of hearing loss, if present.
"When the students do this type of testing, their expertise increases," says Sonstrom. "Their competency in auditory electrophysiology has improved since we started the program, along with their ability to run the testing and set up the protocol. The hands-on exposure that they're getting has greatly increased their proficiency in this diagnostic area of audiology."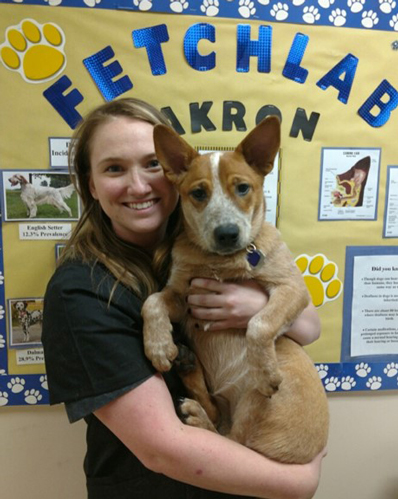 Cara Donovan, a doctoral audiology student, holding an Australian Cattle dog that had her hearing tested. She passed in both ears! Photo taken pre-pandemic.
Along with the two other FETCHLABs™, located at the University of Cincinnati (founder) and the University of Northern Colorado, the clinic is working on a number of research projects.
Sonstrom details one of the projects, explaining, "We're looking at establishing normative canine hearing results, because there really are no universal hearing standards for dogs like there are for humans, and we often see breed differences."
The kinds of research conducted by FETCHLAB™ can help breeders and veterinarians have a better understanding of canine hearing. More importantly, FETCHLAB™ Akron sets UA students up for success in the workplace.
"It's so much fun (working with dogs)," says student Miranda Hendrus. "It brings back all the knowledge of what you have learned in class, and you get to use it in a practical way as you prepare for your future."
---
Media contact: Cristine Boyd, 330-972-6476 or cboyd@uakron.edu