Zips Racing Team featured in Great Lakes Science Center exhibit
03/13/2019
Have you ever wanted to experience what it's like to sit in the driver's seat of a formula racecar? Or have you wondered what makes these fast machines able to zip across race tracks?
Starting March 15, visitors to the Great Lakes Science Center in Cleveland will have the opportunity to get an up-close look at three open-wheel formula racecars that will be on display as part of the attraction's "Vroom! A Car Adventure" exhibit. The featured racecars – the only ones to be included in the exhibit – were designed, built and raced by members of Zips Racing, the Society of Automotive Engineers (SAE) Formula Team in our College of Engineering. The "Vroom!" exhibit includes much more about automobiles and explores the science, technology, engineering and mathematics that makes them go vroom.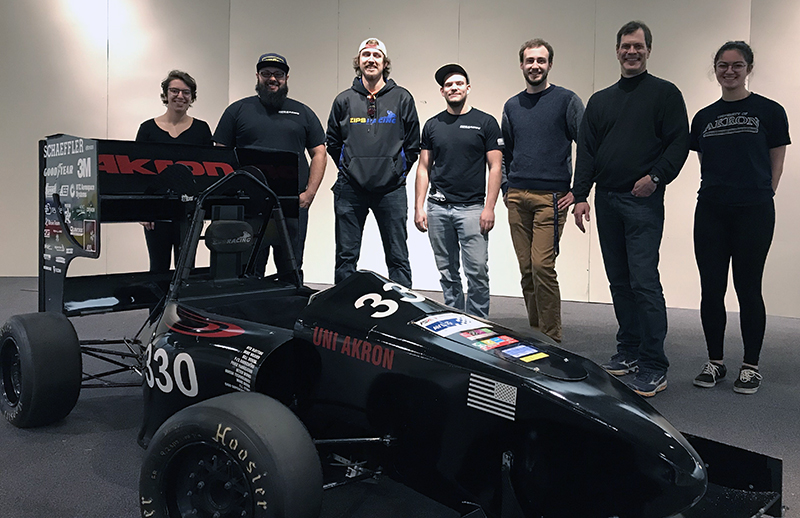 Members of Zips Racing pose with the 2017 model racecar that will be on display at the entrance of the Great Lakes Science Center's Vroom! A Car Adventure exhibit where visitors can get in the driver's seat for a photo. Team members are Maria Hatzis (left) Ezra Malernee, team captain; Jacob Greer, Clayton Brown, David McVan, Dr. Daniel Deckler, faculty advisor; and Sidney Mingle.
"The Zips Racing Team is extremely excited about having three of our cars featured in "Vroom!," said Zips Racing team captain Ezra Malernee, a senior mechanical engineering technology major. "We all remember going to the Science Center as kids, having a blast and learning a lot. It's a great feeling to know that our cars will help other kids discover more about automobiles."
Each Zips Racing car will serve a different purpose throughout the exhibit on the center's promenade level.
Visitors can get in the driver's seat of the 2017 model racecar at the entrance of the exhibit to get the driver's point of view and pose for a photo.
The inner workings of the 2012 model racer will be exposed and labeled to show off parts of the complex engine, allowing visitors to interact with the car parts to see how such components as differentials work, and view the interplay of cylinders and pistons.
Aerodynamic elements of the 2013 model car will be showcased against the Science Center's augmented reality backdrop. Curious visitors can tinker with scale silhouettes of the car and see how air flows around the vehicle's wings and spoilers.
"I'm thrilled that all the hard work the students put in year after year building these racecars and competing in them is being acknowledged in such a visible way," said Dr. Daniel Deckler, the team's faculty advisor and professor of mechanical engineering. "The students on the Zips Racing Team are some of the best student engineers in the country and this is a great way to showcase their incredible talents. I'm grateful to the Great Lakes Science Center for including the team and these cars in their latest exhibit."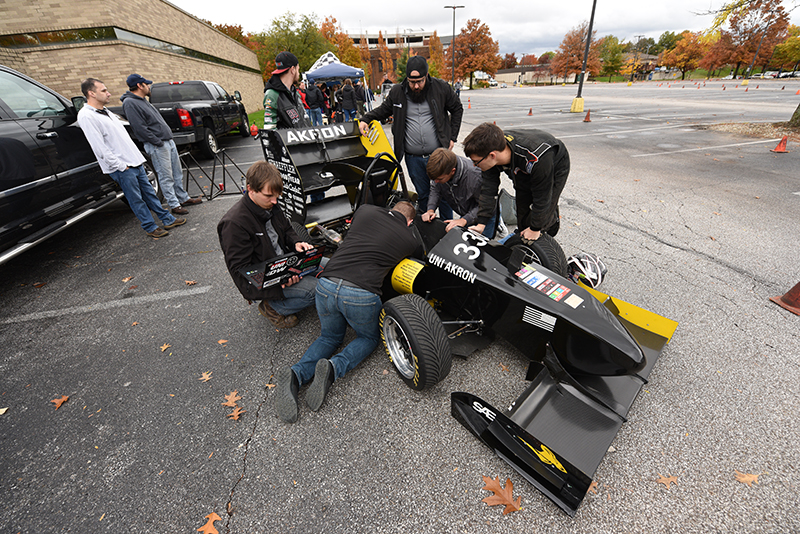 Members of Zips Racing work on their 2018 model racecar during last year's Sponsor Appreciation Day.
Zips Racing, now in its 30th year, will unveil its 2019 competition car in April. The 30-member team is registered to compete at Formula SAE Michigan at Michigan International Speedway in May and Formula Student East in Hungary in July, with plans to attend additional competitions in Austria and Germany.
Among the team's accomplishments last year, Zips Racing placed sixth out of 114 teams – outranking all U.S. university teams – at Formula SAE Michigan in Brooklyn, Mich. and ninth at Formula North 2018 in Ontario, Canada. UA's team was the only one from Ohio to finish in the top 10 in either competition. Overseas, Zips Racing placed 14th overall out of 58 at the Formula Student Germany competition in Hockenheim, Germany.
Zips Racing is one of several successful student design teams in the College of Engineering, which is the only university in the U.S. to have Formula, Baja, Human-Powered Vehicle, Concrete Canoe and Robotics teams all place in the top 10 in at least one of their respective competitions in the 2017-18 season.
The "Vroom!" exhibit is open March 15 through Labor Day weekend. The Science Center's normal winter operating hours are 10 a.m. to 5 p.m. Tuesday-Saturday and noon to 5 p.m. Sunday. The center will be open 10 a.m. to 5 p.m. on Mondays, beginning in May.
You can watch previous Zips Racing car unveiling and competition videos.
---
Media contact: Alex Knisely, 330-972-6477 or aknisely@uakron.edu.
Share