Rethinking Race Kicks off 17th year  
02/27/2023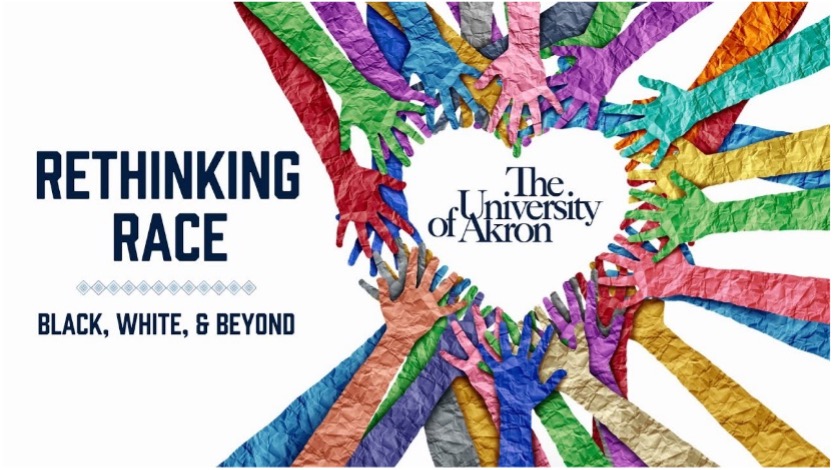 College is the perfect place to have courageous, but necessary, conversations regarding racial issues, and The University of Akron (UA) encourages its community of faculty, staff and students to discuss and think critically about racial topics. For the past 17 years, a series called Rethinking Race has provided specific programming to give individuals of all races the opportunity to listen and engage in meaningful discussion.
In 1997, President Bill Clinton chose Akron's town hall to discuss issues regarding race, becoming the first unofficial Rethinking Race speaker. Starting in 2007, Rethinking Race officially started at UA. Since then, each February, Rethinking Race features a variety of events including guest speakers, student-led discussions and film screenings for two weeks to improve upon the racial climate on campus.
"Each Rethinking Race is given its own theme by way of the committee members based on current events and issues posed in today's society," says Dr. Sandie Crawford director of the Office of Inclusion & Equity. "Each event and opportunity available to students and community members are therefore centered around the year's theme. This year's theme being Rethinking Race and the Criminal Justice System."
This year's keynote speaker for the event is Michelle Alexander, a New York Times Best Selling Author of The New Jim Crow: Mass Incarceration in the Age of Colorblindness. Alexander is also a legal scholar, social justice advocate, columnist at The New York Times and visiting professor at Union Theological Seminary. This is not the only year or speaker Rethinking Race has brought in with an extensive resume. Just last year, Rethinking Race featured UA alumnus Matthew Cherry, former NFL wide receiver who has gone on to a career in film, including winning an Oscar® for his animated short film "Hair Love" in 2020.
Obtaining speakers each year with such extensive resumes is no easy task. Through many sponsors and the dedication of Dr. Sheldon Wrice, vice president of inclusion and equity, Rethinking Race is able to obtain such prestigious speakers.
"We try to be intentional with our networking through communication, so we can build relationships with whoever decides to speak. Ultimately, so they can be a part of something, a part of the university", says Dr. Rice.
"We always strive to find people that are relevant and young, people who represent the times. We are specifically looking for people to have courageous conversations about race that hope to impact students", says Dr. Crawford.
For more information of Rethinking Race and its speakers visit here.
Share