Garden's new steel gates will have artists' flair
06/14/2012

The new community garden at the oldest church in Akron is getting an artistic entrance this summer, thanks to the talents of the Myers School of Art and 16 local high school students.

Arts LIFT, UA's award-winning summer arts apprenticeship program for students in the Akron Public Schools, is collaborating with nationally recognized sculptor John Comunale to create a series of steel gates for the entrance of the Feed My Sheep Garden at the First Congregational Church, 292 E. Market St., in Akron's University Park neighborhood.

The gateway will be unveiled July 8 during a free public celebration at the First Congregational Church from noon to 3 p. m. The event will also feature local eclectic Bluegrass band Fast Molasses and refreshments.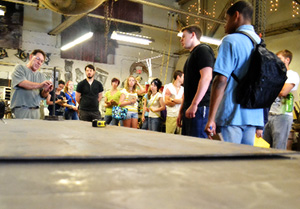 Artist John Comunale demonstrating welding techniques to the UA Arts LIFT students. [UA Arts LIFT/Dan Coffield]
---
This is the ninth summer that UA Arts LIFT is enhancing the Akron community with a permanent art project. UA Art Professor Elisa Gargarella is the originator and director of the program that also involves college students from the University's Art Education Program.
This summer's UA Arts LIFT program runs June 11-22 at Folk Hall, home of the UA Myers School of Art. In addition, the students will visit Comunale's downtown Akron studio to learn new welding techniques. They also will work with master gardener and church member Sarah Vradenburg to learn about community gardening, landscape design, conservation, and how art can help to grow a greener community.
Feed My Sheep Community Garden
Founded in 1833, First Congregational Church has developed its Feed My Sheep Garden to benefit Akron's University Park neighborhood in myriad ways. It will help to beautify East Market Street, supplement the church's food cupboard with fresh produce, and perhaps eventually provide seasonal produce for the free meal program at neighboring First United Methodist Church.
Supporters of Feed My Sheep include the youth and adult members of First Congregational Church, The University of Akron through its Arts LIFT Program, University Park Alliance, The Knight Foundation, Dominion Foundation, Filtrexx Corp. of Elyria, Nick's Landscaping of Copley, and other churches in inner-city Akron that do not have space for their own gardens.
UA Arts LIFT
Founded in 2002 with support from the Lola K. Isroff Arts Assistance Endowed Fund, The University of Akron's Arts LIFT program enables students to work with professional artists while also participating in collaborations that enhance the community, assist underserved populations, and address environmental and ecological issues.
Past UA Arts LIFT partners include the Akron Zoological Park, Crown Point Ecology Center, Corbin Conservatory at Stan Hywet Hall and Gardens, Cuyahoga Valley Environmental Education Center, Keep Akron Beautiful, and the Cuyahoga Valley National Park Association.
So far, UA Arts LIFT participants have created seven major installations that are used or visited annually by more than 20,000 people.
"Arts LIFT brings together local youth, teachers, artists, and prominent organizations to maximize their individual and collective potential for creating positive change in their communities through artwork," says program originator and director Elisa Gargarella, an associate professor of art at The University of Akron.
In 2005 Gargarella and Arts LIFT received the received the Collaborative Project Award from the Akron Area Arts Alliance. In 2009 they received the Charley Harper Award for contributions to Ohio's eco arts from the Environmental Education Council of Ohio.
For more information about the Arts LIFT program, call the UA Myers School of Art at 330-972-8325.