Academic leadership
Dr. John Wiencek
Executive Vice President and Provost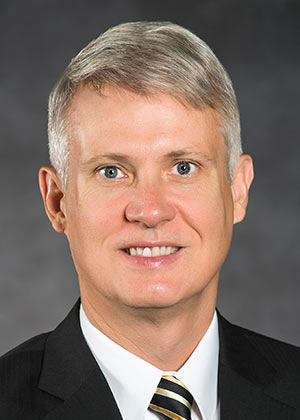 John Wiencek, Ph.D., an accomplished chemical and biochemical engineer, experienced academic administrator, and Northeast Ohio native, is UA's executive vice president and provost.
As provost, Wiencek (pronounced WIN-sek) will redefine and implement the priorities for the Office of Academic Affairs and bolster UA's research prominence and productivity. He is responsible for:
sharpening the University's enrollment strategy and practices, including exploring new markets and expanding delivery models;
assessing and optimizing the academic affairs structure and processes;
recruiting and developing an exceptional academic leadership team; and
contributing to UA's commitment to diversity and inclusion.
As executive vice president, he is the most senior administrator reporting to the president.
Wiencek grew up near the Portage Lakes and graduated from Walsh Jesuit High School. He spent summers employed at the famed Waterloo Restaurant "flipping eggs and burgers."
"The University of Akron is a strong public urban research university that has a deep history and an extremely bright future," said Wiencek. "I grew up in Akron and have an affinity for the community and a profound respect for the students and employees who have chosen it as their home."
An experienced academic leader, Wiencek most recently served as provost and executive vice president at the University of Idaho. There, he developed and implemented a strategic plan and executed new improvements in communication to build trust between the faculty and administration for a stronger campus community.
He previously served as interim provost and vice president of academic affairs at Virginia Commonwealth University. There he was the driving force behind many significant accomplishments, including resolving initiatives such as enrollment planning and fundraising; completing several searches for key roles; and establishing a Strategic Enrollment Council.
Prior to that, Wiencek served as dean of the College of Engineering at the University of South Florida. He also served in a variety of positions at The University of Iowa including department chair, graduate director, graduate admissions chair, and professor of chemical and biomedical engineering. He began his career as an associate professor in the Department of Chemical and Biomedical Engineering at Rutgers University.
Wiencek earned a Bachelor of Science in Chemical Engineering from the University of Cincinnati and a Master of Science and Doctor of Philosophy, both in Chemical Engineering, from Case Western Reserve University. As a researcher, he has focused on protein biophysics with applications to drug formulations.
More:
---
Dr. Fedearia Nicholson-Sweval
Dean of the Williams Honors College and vice provost of student pathways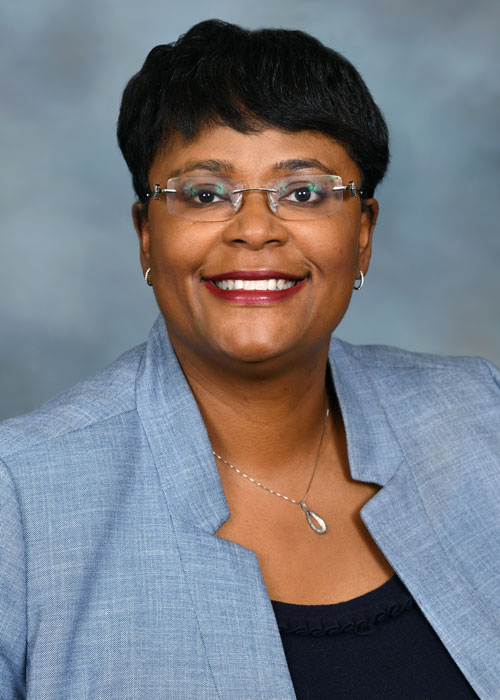 Dr. Fedearia Nicholson-Sweval is dean of the Williams Honors College and vice provost of student pathways in the Office of Academic Affairs. Nicholson-Sweval will lead efforts to attract and retain students who enter The University of Akron. Students come to UA via different pathways and with varied levels of preparation. Students can be young high schoolers or older adults, require augmentation of basic math or English skills, or ready to launch into an Honors thesis project. She is responsible for understanding and supporting each of these student groups so that they progress and graduate in a timely way.
Nicholson-Sweval has had extensive experience creating programs, attracting financial support from foundations and individuals, and reallocating internal budget priorities to better align with institutional goals and ambitions.
---
Deans
Dr. Aimée L. deChambeau
Dean, University Libraries
Associate Professor of Bibliography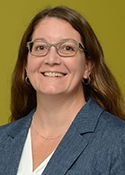 Dr. Aimée L. deChambeau was appointed on June 14, 2017, as the dean of University Libraries after serving for a year as interim dean. Previously, she was associate dean.
As associate dean, deChambeau's responsibilities included responding to changes in higher education, the academic environment and the library profession, and ensuring that the organization, management and skill levels of all library personnel evolved to meet new challenges.
A tenured associate professor of bibliography, deChambeau joined the University as head of electronic services in April 2011. Prior posts include serving as an associate librarian at the Frank Melville Jr. Memorial Library at Stony Brook University in Stony Brook, N.Y., and director of the Schmidt Family Information & Technology Center at The Knox School in St. James, N.Y. From 1997-2004 she also served as engineering librarian here at The University of Akron.
deChambeau holds a Ph.D. in Sustainability Education from Prescott College and an MLS from the University of Pittsburgh. She has extensive experience in managing library services and systems in higher education as well as K-12. Her research focuses on sustainable education and student success at the intersection of technology, communities of practice, and collaboration. deChambeau has additional research interests in the area of feminist pedagogy and collaboration.
Her service on campus includes membership on the Williams Honors College Advisory Council since 2015, the Diversity Council since 2013, and the University Council Information Technology Committee since 2011. More.
---
Robert J. (R.J.) Nemer
Dean, College of Business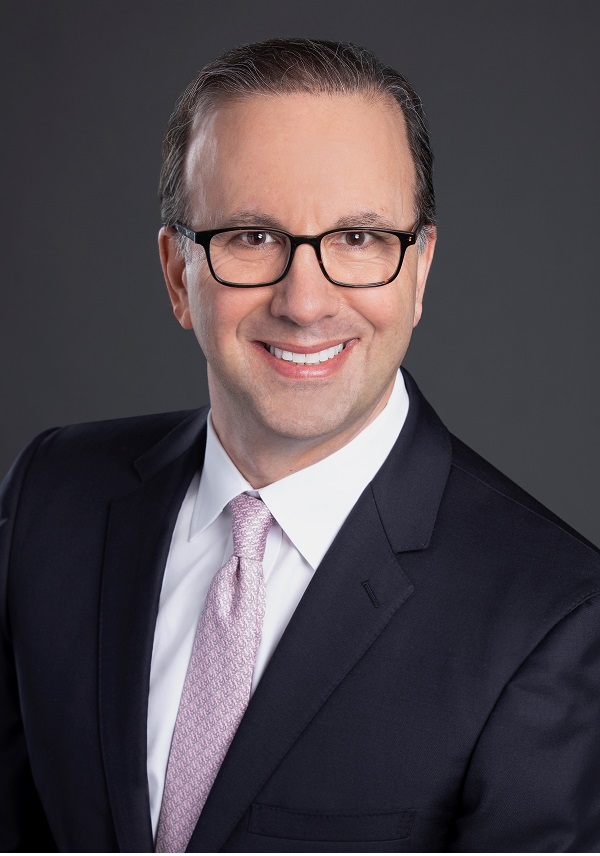 An attorney by education and entrepreneur by trade, Nemer is a two-time graduate of The University of Akron.
After earning a Bachelor of Science in Business Administration from The University of Akron in 1990, Nemer graduated from UA's School of Law in 1995. He worked as an estate tax attorney before founding a professional sports agency in 1998, which he grew into one of the largest independently owned golf management and marketing agencies in the world. Nemer sold the firm to William Morris Endeavor/IMG in 2015 and assumed global leadership of the company's IMG Golf brand.
He most recently served as chief marketing officer for MAI Capital Management in Cleveland, where he was responsible for establishing and building a comprehensive marketing platform, while overseeing and scaling new business development, communications and public relations.
Nemer is a long-time active member of the community, having served on the boards of the Greater Cleveland Sports Commission, Rock & Roll Hall of Fame and Stan Hywet Hall & Gardens. Currently, he serves on the executive board of the Northern Ohio Section of the PGA of America, and is a newly appointed board member for the First Tee of Akron and the Summit County Sports Hall of Fame. He is also a member of the 50 Club of Cleveland and routinely co-chairs and participates in numerous charitable and philanthropic endeavors locally and nationally.
---
Dr. Timothy McCarragher
Acting Dean, College of Health Professions
Associate Professor of Social Work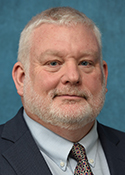 Dr. Timothy McCarragher has been appointed acting dean of the College of Health Professions.
The College of Health Professions is home to the School of Allied Health Technology, School of Counseling, School of Nursing, School of Nutrition and Dietetics, School of Social Work, School of Speech-Language Pathology and Audiology, and the School of Sport Science and Wellness Education.
Since joining UA in 2000, McCarragher, an associate professor of social work, has handled a several administrative roles, in addition to teaching a variety of undergraduate and graduate courses. He has been director of the School of Social Work and Master of Social Work coordinator since 2008. McCarragher also has been serving as associate dean of strategic operations and graduate studies.
McCarragher, who is licensed as an independent social worker in Ohio, earned a B.A. in English, magna cum laude, in 1986 at Pontifical College Josephinum in Columbus. He went on to earn a graduate degree in theology, cum laude, at Pontificia Universitas Gregoriana in Rome, Italy, in 1989, followed by a postgraduate degree in spiritual theology, magna cum laude in 1991 at Pontificia Universitas Gregoriana in Rome, Italy. McCarragher earned a Master's Degree in Social Work at Cleveland State University in 1994, and a Ph.D. in Social Welfare at the Mandel School of Applied Social Sciences at Case Western Reserve University in 2002.
---
Dr. Mitchell S. McKinney
Dean, Buchtel College of Arts and Sciences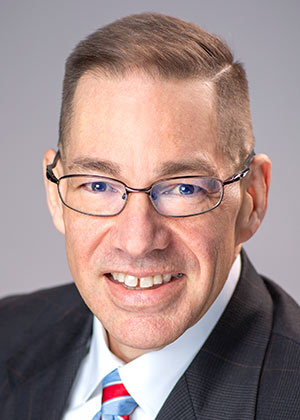 A renown political communication scholar, Mitchell S. McKinney, Ph.D., is dean of the Buchtel College of Arts and Sciences.
McKinney joined UA from the University of Missouri, where he served as professor of communication and director and founder of the Political Communication Institute.
During his tenure at Missouri, he was appointed to several academic leadership positions, including director of graduate studies, and both associate department chair and chair of the Department of Communication, one of MU's largest academic units. He also served as Faculty Fellow for academic affairs in the Office of the Provost.
Dr. Craig Menzemer
Dean, College of Engineering
Professor of Civil Engineering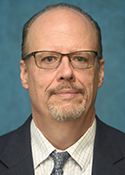 Dr. Craig Menzemer was appointed dean of the College of Engineering by The University of Akron Board of Trustees in 2022. He is responsible for the day to day functions of the college, including curriculum development, student assessment, recruitment and budget. He most recently served as acting dean and as associate dean for graduate studies in the college.
Menzemer joined UA in 1996 after serving more than a decade as a product design and senior technical specialist with Alcoa. Previously, Menzemer was a construction management field engineer for United States Steel Corp.
He earned his bachelor's, master's and Ph.D. degrees, all in civil engineering, at Lehigh University in Pennsylvania. His professional affiliations include the American Society of Civil Engineers, American Welding Society and Sigma Xi. More.
---
Emily Janoski-Haehlen
Dean, School of Law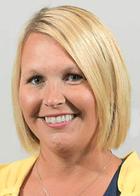 Emily Janoski-Haehlen is dean of The University of Akron School of Law, the school's first permanent female dean since its founding in 1921.
Janoski-Haehlen joined the Akron Law faculty in 2017 as the Associate Dean for Academic Affairs and the Director of the Law Library. She teaches Technology in Law, Social Media Law, Legal Drafting, and Legal Research. She researches and writes in the areas of social media law, internet privacy, legal research instruction strategies and technology in the practice of law. See Dean Janoski-Haehlen's legal innovators profile.
Prior to joining Akron Law, Janoski-Haehlen served as associate dean of the Law Library at Valparaiso University Law School and as a faculty member and librarian at Northern Kentucky University, Chase College of Law.
Janoski-Haehlen is a member of the Kentucky Bar, the Association of American Law Schools, the American Association of Law Libraries, Ohio Regional Association of Law Libraries, International Legal Technology Association, and she serves on accreditation teams for the American Bar Association. She earned a Bachelor of Science in History from the University of Kentucky, a Master of Science in Library Science from the University of Kentucky and a Juris Doctorate from Northern Kentucky University. See publications and the current article
---
Dr. Fedearia Nicholson-Sweval
Dean, Williams Honors College
See more about Dr. Fedearia Nicholson-Sweval higher on this page.
---