Anoo Vyas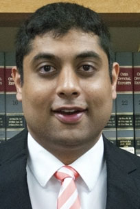 Title: Visiting Professor
Office: Quaker Square, Suite 401
Phone: 330-972-6789
Email: annal.vyas@uakron.edu

---
Biography
Anoo Vyas joined The University of Akron School of Law in 2012 as an Adjunct Professor, and now serves as a Visiting Professor of Clinical Law. He assists with both the Small Entrepreneur and Economic Development (SEED) Clinic and the Trademark Clinic. He also teaches Business Planning Law and Clinical Seminar II.
Professor Vyas received his undergraduate degree from The Ohio State University, where he graduated Phi Beta Kappa on a full-tuition academic scholarship. He graduated from The University of Cincinnati College of Law on a 90% academic scholarship and was a member of The University of Cincinnati Law Review. He also obtained an LL.M. in Intellectual Property Law from The University of Akron School of Law, where he graduated with highest honors and received full tuition coverage.
After receiving his J.D., Professor Vyas worked as an associate in the business litigation practice group at Thompson Hine LLP. After Thompson Hine, he served as a Supervising Attorney at a Domestic Violence Legal Clinic, where he advocated on behalf of victims of domestic violence and sexual assault.
Professor Vyas was recently profiled in Crain's Cleveland Business in the "Who to Watch in Law" section due to his experiences providing legal counsel to internet clients. Because he is fluent in various programming languages (HTML, CSS, JavaScript, PHP, and MySQL, among others), he provides a unique perspective when advising internet clients on legal matters.
Professor Vyas is a native of Northeast Ohio.
---