Martin H. Belsky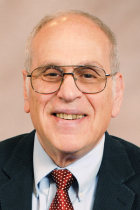 ---
Biography
Martin H. Belsky began his career in 1969 as a prosecutor, and then chief prosecutor in Philadelphia. Beginning in 1975, he served both as counsel to the Judiciary Committee of the House of Representatives and as chief counsel to the Special House Committee on the Outer Continental Shelf (offshore drilling). From 1979 to 1982, he served first as deputy general counsel and then assistant administrator of the Federal National Oceanic and Atmospheric Administration.
Dean Belsky began his academic career in 1982 as Associate Professor of Law and director of the multi-disciplinary Center for Governmental Responsibility at the University of Florida. From 1986 to 1995, he served as Dean and President and Professor at Albany Law School. From 1995 to 2007, he served as Dean and Professor at the University of Tulsa College of Law. Dean Belsky joined The University of Akron School of Law in January 2008 as Dean and Randolph Baxter Professor of Law. In 2012, he returned to the faculty full time as Randolph Baxter Professor of Law.
Active in the community, Professor Belsky is chair of the Ohio-Pennsylvania-Kentucky Anti-Defamation League; Chair of the Akron Community Relations Council; Board Member of the Jewish Community Board of Akron, of the Akron Bar Foundation; Vice-chair of Ohio Jewish Communities; Board of T.K. Wolf (a Native American Corporation); Chair of the National Advisory Council and Executive Committee member of the American Judicature Society; former vice-chair of the (National) Jewish Council on Public Affairs. While in Tulsa, he also served as president of the Tulsa Metropolitan Ministry, an interfaith understanding dialogue and advocacy agency; vice president and public policy chair of the Oklahoma Council for Community and Justice, He has served as vice president of the Urban League in Albany and Tulsa; officer of the Gainesville (President), Albany (President-elect) and Tulsa (President) Jewish Federations; and the Anti-Defamation League (New York State and Oklahoma chair).
In addition, he has served as board member and committee chair of many government advisory councils and civic and charitable organizations, including bar associations in Philadelphia, New York and Oklahoma; New York Judicial Commission (referee); Oklahoma Ethics Commission; Oklahoma Humanities Council; the American Law Institute; the Appleseed Foundation; Oklahoma Academy; the Child Abuse Network; Heritage Academy; the Sherwin Miller Museum; and Tulsa Jewish Retirement and Health Care Center.
He has chaired and served on many commissions, including ones on energy, privacy, legal services, ethics, ethnic and religious understanding, higher education, gerontology and aging, disabilities, fire services, criminal justice, and science and the law.
Professor Belsky has been a consultant to various law firms, state and federal government entities, and private corporations. He has also frequently served as an arbitrator and hearing officer.
A noted speaker and scholar, Professor Belsky has helped organize, as well as participate in, numerous conferences on criminal and civil justice; the administration of justice; judicial independence; ethics; international law, the United States Supreme Court; environmental law; and religious understanding. His most recent articles have focused on the Supreme Court and on law and religion; his most recent books are on The Rehnquist Court (Editor) (Oxford University Press 2002) and Law and Theology (co-author) (Carolina Academic Press 2005). He has written numerous articles and books on the administration of justice, civil rights, constitutional law, privacy, criminal law, international law, environmental law, oceans and coastal law, and professional responsibility.
Professor Belsky is a graduate of Temple University, College of Liberal Arts with a B.A., cum laude (1965); Columbia University School of Law with a J.D., cum laude (1968). He also has graduate diplomas from the Hague Academy of International Law and Cambridge University.
Professor Belsky is married to Professor Kathleen Waits, a retired Professor at the University of Tulsa College of Law. They have two children, Allen Frederick Belsky and Marcia Elizabeth Belsky.
---