Camilla Hrdy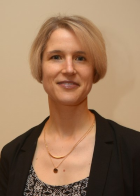 ---
Biography
Professor Camilla A. Hrdy is an Assistant Professor of Law at The University of Akron School of Law. Her primary teaching areas are Intellectual Property Law, Trade Secret Law, Trademark Law, Patent Law, Advanced IP Issues, State and Local Government Law, Civil Procedure (Due Process and Federalism), and Federal Courts.
Before coming to Akron Law she was a resident fellow at the Yale Law School Information Society Project and a teaching fellow at the University of Pennsylvania Law School Center for Innovation, Technology & Competition. She was also selected as a Thomas Edison Innovation Fellow at George Mason University School of Law. She is a regular blogger on the popular IP scholarship blog, Written Description.
Professor Hrdy's research focuses on the law and policy issues that arise in regional innovation economies, the role of federal, state, and local governments in promoting innovation and economic development, and the relationship between innovation governance and the private sector.
Professor Hrdy holds a J.D. from Berkeley Law, a B.S. from Harvard University, and an M. Phil. from the University of Cambridge, Department of History & Philosophy of Science. She has received various awards for her writing, including Harvard's Hoopes prize and a Redhead Prize from the University of Cambridge Department of History & Philosophy of Science. She clerked for U.S. District Judge Janis Graham Jack in the Southern District of Texas.
Office Hours (Fall 2016): Monday, 6:45 PM - 8:15 PM; Tuesday, 12:40 PM - 2:00 PM; Wednesday, 4:00 PM - 6:00 PM; otherwise by appointment.
---
Publications
The AIA Is Not a Taking: A Response to Dolin & Manta, 72 Wash. & Lee L. Rev. Online 472 (2016) (with Ben Picozzi).
Patent Nationally, Innovate Locally, 31 Berkeley Tech. L. J. 1 (2016).
Cluster Competition, 20 Lewis & Clark L. Rev. 961 (2016).
Commercialization Awards, 2015 Wis. L. Rev. 13 (2015), selected for reprint in Critical Concepts in Intellectual Property Law: Intellectual Property and Innovation (2016).
State Patents as a Solution to Underinvestment in Innovation, 62 U. Kan. L. Rev. 101 (2014).
Claim Construction or Statutory Construction?: A Response to Chiang & Solum, Yale L.J.F. (2014) (with Ben Picozzi).
The Trespass Fallacy's Limits - A Response to Adam Mossoff, 65 Fla. L. Rev. F. 42 (2014) (with Ben Picozzi).
Dissenting State Patent Regimes, 3 IP Theory 78 (2013).
State Patent Laws in the Age of Laissez-Faire, 28 Berkeley Tech. L.J. 45 (2013).
---
Courses
Fall 2016: Civil Procedure I: Constitutional Framework; Trade Secrets
---