Emily Michiko Morris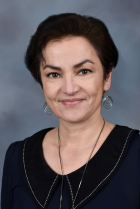 Title: David L. Brennan Endowed Chair, Associate Professor, and Associate Director of the Center for Intellectual Property Law & Technology
Dept/Program: School of Law Room 208
Office: Room 208 C. Blake McDowell Law Building
Phone: 330-972-6468
Email: emichikomorris@uakron.edu

---
Biography
Emily Michiko Morris, an experienced teacher and scholar in specializing in patent law, particularly as it relates to biotechnology and university research, and is an expert on intellectual property and regulatory issues related to the pharmaceutical industry. Her research also focuses on comparative law and comparative intellectual property law. Professor Morris' work has been published in books and leading journals, such as the Connecticut Law Review, the Stanford Technology Law Review, and the Harvard Journal of Gender and Law. Professor Morris is also currently a Scholar and Edison Fellow at the Center for Intellectual Property x Innovation Policy at George Mason University in Washington, D.C.
Professor Morris has been the recipient of numerous grants and awards, including a three-year, $250,000 fellowship as an Eastern Scholar at the Shanghai University of Political Science and Law, where she lived and worked for a year as a visiting professor. She has also taught as a visiting or guest professor at other universities in a number of other countries.
Before joining academia, Professor Morris earned her A.B., magna cum laude, from Harvard University and her J.D., magna cum laude, from the University of Michigan Law School, where she was an articles editor on the Michigan Law Review. Following graduation from law school, Professor Morris clerked for the Honorable Bruce M. Selya on the First Circuit Court of Appeals and practiced for three years as an associate in the Issue & Appeals group in the Washington D.C. office of Jones Day.
---