Matthew J. Wilson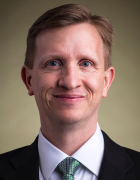 ---
Biography
President and Professor of Law Matthew J. Wilson, formerly the President of The University of Akron, has been with UA since 2014. He has 25 years of international experience in legal, business and educational matters in the United States, Japan, Korea, the Philippines, and the U.S. Commonwealth of the Northern Mariana Islands. President Wilson specializes in international business law, intellectual property law, commercial litigation, international dispute resolution, comparative law, and Japanese law. His publications include articles and books in both English and Japanese regarding jury trials, trial advocacy, cross-border litigation, and comparative law among other things.
President Wilson began his legal career as an associate at Akerman Senterfitt P.A. in Orlando, Florida. From 2001-2002, he served as general counsel at YPD.com/Advanced Telecommunication Network, Inc. before returning to Akerman as a senior associate. In 2003, he began his academic career at Temple University's Japan Campus serving first as its Law Program Director and Associate Professor of Law, and then as its General Counsel, Associate Dean and Senior Associate Dean. During his time at Temple University's campus in Tokyo, President Wilson oversaw academic, administrative, and legal matters related to all undergraduate, graduate, professional, and non-degree programs. He also implemented new marketing strategies, diversified curriculum offerings and modified program structures, which resulted in a nearly four-fold increase in enrollment and revenues in the Law Program in a six year period. During his time in Tokyo, President Wilson was appointed by the Japan Federation of Bar Associations to serve on its Jury Trial Advocacy Project Team (2005 – 2009) in conjunction with the adoption of quasi-jury trials in Japan. He also served as an interviewer and external evaluator for the Japan – U.S. Fulbright Program.
In 2009, President Wilson joined the University of Wyoming College of Law where he served as Professor of Law, Associate Dean of Academic Affairs and Associate Dean of Student Affairs. From 2011 to 2014, he concurrently served as an international scholar at Kyung Hee University Law School. In this capacity, he developed a collaborative relationship with the University and taught international negotiations each summer at its campus in Seoul, South Korea.
President Wilson is a graduate of the University of Utah with a B.S. in Political Science and a B.A. in Asian Studies and holds a J.D from Temple University School of Law.
---
Publications
---