Mark F. Schultz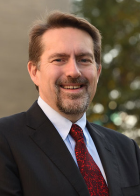 Title: Goodyear Tire & Rubber Company Chair in Intellectual Property Law & Director, Intellectual Property and Technology Law Program
Office: Room 203 C. Blake McDowell Law Building
Phone: 330-972-7972
Email: mschultz@uakron.edu

---
Biography
Professor Mark F. Schultz joined the faculty in 2020. He teaches and writes primarily in the area of intellectual property. Prior to coming to Akron, he was a professor at Southern Illinois University School of Law for 16 years and was co-founder and a leader of the Center for Protection of Intellectual Property (CPIP) at George Mason University in Washington, D.C., where he remains non-resident Senior Scholar. He also serves as a Senior Fellow of the Geneva Network, a UK-based think tank focused on international IP and health policy.
His research concerns the law and economics of the global intellectual property system, focusing particularly on trade secret law. He worked with the Organization for Economic Cooperation and Development (OECD) to co-author a groundbreaking global trade secret protection index (the TSPI). The TSPI is being used to frame policy discussions on this cutting-edge topic in capitals around the world. Through the Akron Law IP Center's Global Trade Secret Institute, he co-chairs and organizes an ongoing public-private multilateral diplomatic dialogue on best practices in drafting and implementing national trade secret laws.
As an influential voice in public policy debates regarding intellectual property, he speaks frequently around the world about the connection between secure and effective intellectual property rights and flourishing national economies and individual lives. He has testified before the U.S. Congress on copyright law at the invitation of the House Judiciary Committee and has briefed the staff of the U.S. Senate Judiciary Committee on trade secret legislation. He has spoken at programs hosted by the U.S. Patent and Trademark Office, the U.S. Trade Representative, the U.S. Copyright Office, the World Intellectual Property Organization, and the World Trade Organization, as well as numerous academic institutions, think tanks, and industry groups.
He is frequently called on to help governments and international organizations with IP policy and capacity building. Such projects have included providing training at the invitation of the Government of India's Department of Science and Technology to its technology transfer managers. He also co-authored a guide to using and protecting trade secrets for small and medium enterprises for the Government of India which has been translated into several regional languages and incorporated into training seminars for Indian entrepreneurs.
Among the awards and recognition he has received for his scholarship was the SIU School of Law's Outstanding Scholar of the Year award in 2008. He has been a distinguished visiting scholar at the University of Botswana and a visiting professor at DePaul University College of Law.
Professor Schultz graduated with honors from the George Washington University School of Law. Following law school, he was a judicial clerk for the Hon. Daniel M. Friedman of the United States Court of Appeals for the Federal Circuit in Washington, D.C., and the Hon. Eric G. Bruggink of the United States Court of Federal Claims. Prior to joining academia, he practiced law for a decade, serving as outside general counsel to several tech startups and helping technology companies to expand their businesses and commercialize their intellectual property in dozens of countries. He holds a B.S. in International Economics from George Washington University and has done PhD level coursework in development economic at Southern Illinois University.
He is active in leadership roles in local and national organization. He has served as chair of the Federalist Society's Intellectual Property Practice Group and the AALS Section on Internet and Computer Law. He has also chaired the American Bar Association's International IP Committee of the International Law Section and served as an officer of the American Intellectual Property Law Association's Trade Secret Law Committee and as an expert and drafting group leader for the Sedona Conference Trade Secret Working Group. He currently is chair of the Academic Advisory Board of the Copyright Alliance.
---