Vera Korzun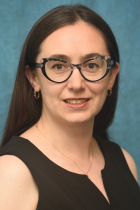 ---
Biography
Professor Korzun joined the University of Akron School of Law in 2018. She teaches International Business Transactions, International Arbitration, and Contracts. Her scholarship focuses on corporate and business law, international trade and investment law, and dispute resolution. Professor Korzun's most recent article explores the impact of international investment law on corporate law and governance and suggests a private ordering solution to the shareholder claims for reflective loss. Her work has appeared in the Vanderbilt Journal of Transnational Law, New York University Journal of International Law and Politics, and Fordham International Law Journal.
Prior to joining Akron Law, Professor Korzun worked for Fordham Law School in New York City, where she taught international commercial arbitration, investor-state arbitration, comparative law, and partnership and LLC law. She previously worked for Erasmus University Rotterdam in the Netherlands and for six years taught as an Associate Professor of Law at the leading University in Belarus. As an attorney, she volunteered for a district attorney's office in the United States and interned with the European Commission in Brussels and the United Nations in New York.
Professor Korzun received her master of laws (LL.M.) degree from the University of Michigan, where she was a Michigan Grotius Fellow. Prior to that, she earned her master in law and economics degree, cum laude, from the University of Hamburg and an LL.M. degree in International Business Law, with merit, from Central European University. Her Doctor of Juridical Science (S.J.D.) degree is from Fordham Law School and her Ph.D. in Law is from Belarusian State University, where she also earned her first degree in law.
---
Publications
Law Review Articles
Shareholder Claims for Reflective Loss: How International Investment Law Changes Corporate Law and Governance, 40 University of Pennsylvania Journal of International Law 189 (2018)
The Right to Regulate in Investor-State Arbitration: Slicing and Dicing Regulatory Carve-Outs, 50 Vanderbilt Journal of Transnational Law 355 (2017)
Arbitrating Antitrust Claims: From Suspicion to Trust, 48 New York University Journal of International Law and Politics 867 (2016)
An Empirical Survey of International Commercial Arbitration Cases in the U.S. District Court for the Southern District of New York, 1970–2014, 39 Fordham International Law Journal 307 (2015), with Thomas H. Lee
Book Chapters
Corporate Interest and the Right to Regulate in Investor-State Arbitration, in Contemporary Issues in International Arbitration and Mediation: The Fordham Papers 2015 (Arthur W. Rovine ed., 2017)
Belarus, in Sources of State Practice in International Law (Ralph F. Gaebler and Alison A. Shea eds., 2d ed. 2014)
---
Education
Fordham Law School, New York, New York, Doctor of Juridical Science (S.J.D.), 2016
University of Michigan Law School, Ann Arbor, Michigan, Master of Laws (LL.M.), 2009 Michigan Grotius Fellow
Belarusian State University, Ph.D. in Law, International and European Law, 2007
University of Hamburg, European Master in Law and Economics, cum laude, 2006
Central European University, Master of Laws (LL.M.) in International Business Law, with merit,2003
Belarusian State University, J.D., with excellence, 2001
---