THE SCHOOL OF MUSIC - HORN STUDIO
Under the
direction of Dr. Margaret Tung
---
About | Faculty | Prospective Students | Student Success | Summer Festivals | Auditions & Jobs | Contact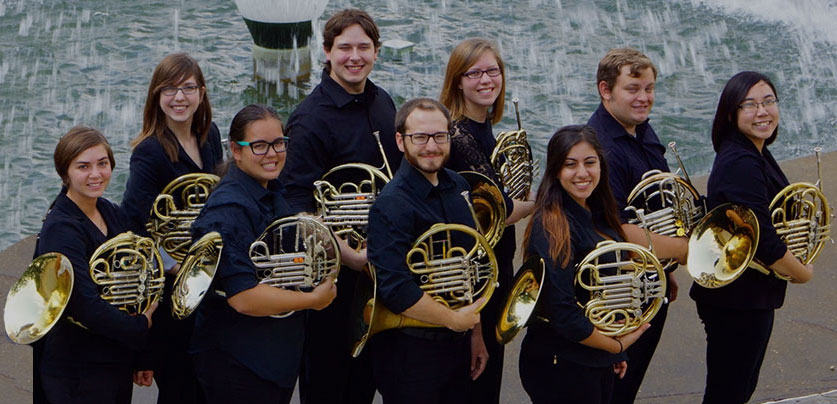 Welcome to The University of Akron Horn Studio!
The horn studio is thriving with members majoring in education, performance, and composition. They are an ambitious group of horn players who sound fantastic, work well together, and have fun in the process.
The horn choir is the pride and joy of the horn studio and the ensemble regularly performs national anthems, gives recitals, and attends horn workshops around the country.
Why Choose The University of Akron?
Performance opportunities: Horn majors at UA have the opportunity to play in band, orchestra, chamber ensembles, jazz band, and brass choir.
Career success: Our music education department currently has a 99% job placement rate.
Dedicated faculty: Dr. Tung is one of many University of Akron School of Music Professors that offer their time and commitment to each student in their program. Prospective students are invited to have a complimentary lesson with Dr. Tung, details below.
---
Interested in pursuing music at The University of Akron?
Learn how to apply, how to audition, and all the degrees The School of Music offers.
Horn Faculty | Dr. Margaret Tung
Dr. Margaret Tung is the Assistant Professor of Horn at The University of Akron. She has performed with the Chicago Symphony Orchestra, Zurich Opera Orchestra, Cincinnati Symphony Orchestra, Baltimore Symphony Orchestra, Jacksonville Symphony Orchestra, and was a member of the Civic Orchestra of Chicago.
Other highlights include working with MusicNOW, the Chicago Symphony Orchestra's new music ensemble and having collaborated with Yo-Yo Ma in Once Upon a Symphony, a CSO children's project. As an avid chamber musician, she is a member of the Solaris Wind Quintet and the Faculty Brass Quintet at The University of Akron. Dr. Tung was the winner of the Colorado College Chamber Music Festival concerto competition and performed Mozart's 3rd Horn Concerto with the festival orchestra.
Dr. Tung completed her Doctorate of Musical Arts at The Ohio State University. She also holds a Master of Music from Rice University and a Bachelor of Music from DePaul University, both in horn performance.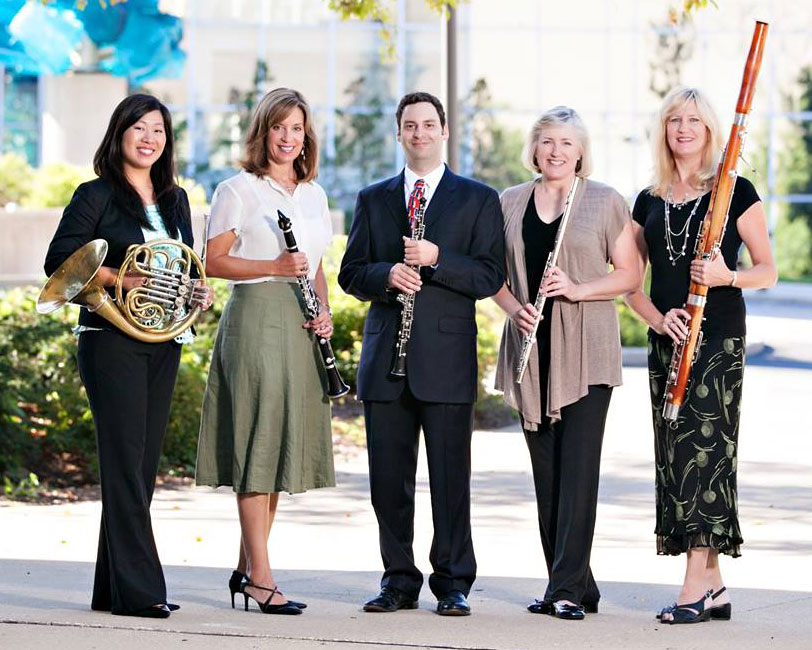 Her teachers include world renowned Dale Clevenger, William VerMeulen, Oto Carrillo, Jon Boen, David Griffin, and Bruce Henniss. As an international teacher, Dr. Tung was the horn instructor at the Zurich International School in Switzerland. Dr. Tung has also been on faculty at Towson University, Kutztown University of Pennsylvania, Olivet Nazarene University, and Wheaton College. During her free time she enjoys cooking and running.

Dr. Margaret Tung can be heard on the following recordings:
Anima: Young Singers of Great Chicago. An Anima Christmas. CD. 2009.
The Ohio State University Wind Symphony. Southern Harmony. Naxos 8.572342. CD. 2009.
DePaul University Wind Ensemble. Forget Me Nots. Troy 628. CD. 2004.
DePaul University Wind Ensemble. Ragtimes and Serenades. Troy 568. CD. 2003.C
Prospective Students
In the School of Music, we offer undergraduate and graduate degrees in music. We are always looking to make new additions to our studio. Prospective students are invited to visit the campus and have a complimentary lesson with Dr. Tung.
To arrange a visit or a lesson with Dr. Tung, email her directly at: mtung@uakron.edu or fill out our interest form.
An example tentative schedule:
9 - 10 a.m. | Lesson with Dr. Tung
10 - 11 a.m. | Shadow student in class
11 - noon | Lunch at the Student Union with students
Noon - 1 p.m. | Play with Horn Choir
1 - 3 p.m. | Play with Symphonic Band
---
Horn Audition Requirements:
Undergraduate
Audition: Required
Accompanist: Not Needed
Repertoire:

Two pieces (solos or etudes) of contrasting style. One should be lyrical and one should be more technical. Major scales up to 4 sharps and 4 flats.
Graduate
Audition: Required
Accompanist: Not Needed
Repertoire:

Two contrasting major solo works and also an etude demonstrating technique. Have prepared a group of 4-5 contrasting orchestral excerpts.
Student Success
Audition Success
New Albany Symphony, Winner
Hawaii Symphony Orchestra, Finalist
Symphony Orchestra Augusta, Finalist
Boise Philharmonic, Finalist
Ohio Light Opera, Winner
The University of Akron Concerto Competition, Winner
International Horn Symposium Mid-North Orchestral Audition Competition, 2nd place
International Horn Symposium Mid-North Solo Competition, Finalist
International Horn Symposium Northeast Horn Quartet Competition, 3rd place
Graduate School Acceptance
Indiana University
Peabody Institute
DePaul University
Temple University
Roosevelt University
Arizona State University
Michigan State University
The Ohio State University
Ball State University
University of New Mexico
The University of Oklahoma
Stony Brook University
The University of Akron
Summer Festival Acceptance (national audition)
Bar Harbor Brass
Imani Winds Chamber Music Festival
Kent/Blossom Music Festival
Marrowstone Music Festival
Pierre Monteux Music Festival
Prisma Music Festival
Renova Music Festival

Auditions & Jobs
Performance Opportunities
Contact Info
The University of Akron Horn Studio is a welcoming community! Please contact us with any questions you may have. We look forward to hearing from you.
The School of Music
Guzzetta Hall 382
The University of Akron
Akron, OH 44325-1002
---
RELATED:
About | Faculty | Prospective Students | Student Success | Summer Festivals | Auditions & Jobs