Mrs Aiesha Lynette Motley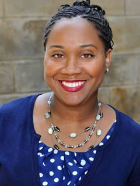 Title: Dir Multicultural Development
Dept/Program: Multicultural Development
Office: Simmons Hall 305
Phone: 330-972-6239
Email: am13@uakron.edu

---
Biography
Aiesha Motley is a native of Akron, Ohio and an alumnus of The University of Akron, where she received a Bachelor of Science in Political Science/Criminal Justice in 2003, and a Master of Arts in Education specializing in Higher Education Administration in 2005. She currently serves as the Director of the Office of Multicultural Development at The University of Akron where she works closely with students, staff and faculty to promote student success. Ms. Motley takes great pride in working with individuals and community stakeholders to support educational advancement. As an advocate for equity and social justice, she has found her passion.
Prior to her position as the Director of the Office of Multicultural Development, she served as the Sr. Associate Director of Operations in the Office of Multicultural Development at The University of Akron. In this position, she coordinated the PASSAGE Learning Community, a structured learning experience that promotes academic success for first year students integrating into the collegial environment. As the Associate Director of Operations, she also oversaw the ADVANCE New Student Orientation Program which is a specialized orientation for underrepresented students designed to acclimate underrepresented students to campus. During her tenure, she created and developed many new and exciting programs, one being the first ever Multicultural Convocation, a tradition that is still in existence at The University of Akron.
Her other positions include Assistant Director of the Upward Bound Classic Program at Kent State University where she worked with first generation college students who participated in the federally funded TRIO program. This program prepared students academically and socially for college success by empowering students through advanced academic and social programming. Her professional career began as an Academic Advisor where she worked with a talented group of students in the Williams Honors College at The University of Akron.
Ms. Motley can best be described as one who has patience, shows attention-to-detail, and is extremely charismatic. Her quiet demeanor and her professional poise are two of her greatest assets---she has the ability to make students feel at ease and she is particularly adept at helping students understand the various aspects of their transition to different environments. She has a passion for student success and community building. Notably, Ms. Motley is the recipient of The University of Akron 2015 Student Success Award as well as the 2013 American Council on Education (ACE) Ohio Women's Network Professional Development Award.
It is said she lives by Maya Angelou's advice "You can only become truly accomplished at something you love. Don't make money your goal. Instead, pursue the things you love doing, and then do them so well that people can't take their eyes off you."
In her spare time she is active in the community as she is a former Court Appointed Special Advocate (CASA) for children in Summit County, Ohio. As a CASA, Ms. Motley worked with schools, families, and social agencies to be the "voice" for abused and neglected children. She is also an active member of the Akron Urban League Young Professionals as she serves as the Treasurer for the organization.
She also loves to travel with her family and friends, whether it is a weekend getaway or a week-long trip count her in. One day she dreams of traveling to the Virgin Islands where the water is crystal clear, the population is diverse, the food is exquisite and the shopping is outstanding.
---
Education
BA Political Science
MA Education
---