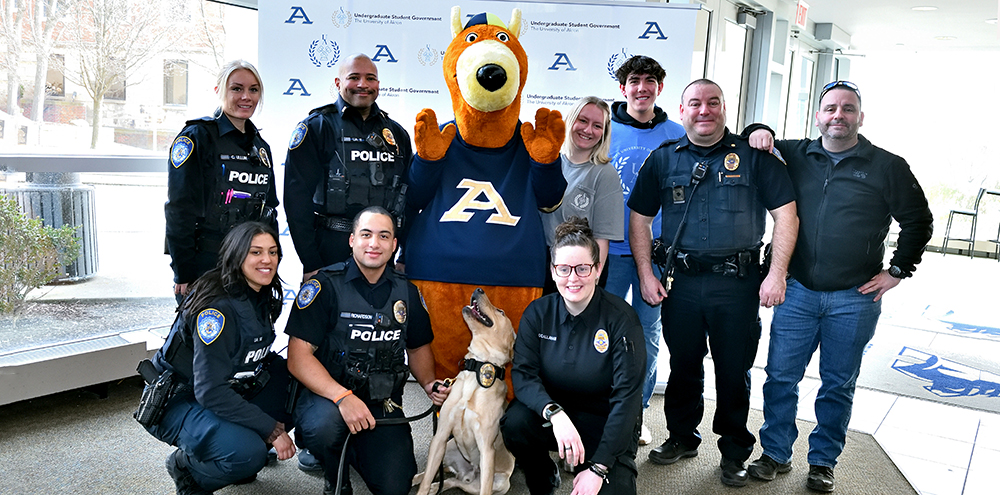 Sexual Assault and Violence Education (SAVE) Team
We develop programs, services and campaigns to educate students about healthy relationships, with the ultimate goal of preventing sexual violence
Campus support for survivors of sexual misconduct
April is Sexual Assault Awareness Month
See our schedule of events. Join us!
Our mission
The Sexual Assault and Violence Education Team is a group of employees, students, and community members who work together to create an inclusive, diverse, and healthy campus community free from sexual violence. We take steps to empower a community response through evidence-based education, support, and training to prevent and reduce the impact of gender-based misconduct, including sexual assault, dating and domestic violence, stalking, and sexual harassment for all those at the University of Akron.
Vision: Create a community safe from sexual violence through education, outreach and support.
Chairs: Allison Gillis and Kelsea Daniluk
Subcommittees and chairs:
SAVE Leadership: Kelsea Daniluk and Allison Gillis
Student Prevention: Stephanie Kiba
Policy and Training: Dale Adams
Faculty and Staff Prevention: Tami Hannon
Student Support Services: Kelsea Daniluk
Assessment: Allison Gillis
SAVE roster
Dale Adams
Katelin Brendel
Kelsea Daniluk
Elizabeth Emley
Barbara Ferrell
Jane Fink
Allison Gillis
Karen Greene
Gordon Holly
Stephanie Kiba
Emily Lenke
Gregory Luli
Juanita Martin
Denise Montanari
Angela Paonessa
Christine Rose
Candace Smith
Mark Stasitis
Michael Strong
Sarah Hamilton
Tami Zupkow Hannon
Jason Hill
Brandon Mikulski
Emily Njus
Michelle Smith
Robert Peralta
John Messina
Stacey Nofziger
Heather Pollock
Lisa Ritenour
Alison Doehring
Thad Doyle
Rebecca Erickson
Eric Green
Melinda Grove
Dawn Johnson
Anne Jorgensen
Kevin Kabellar
Robert Kropff
Jamal Lawson
John Reilly
Marnie Saunders
SAVE Team members in the community:
Kate Abruzzino- OneEighty
Gayle Byrne- OneEighty
Mickey Valdez- Summit County Prosecutor's Office
Elissa Hines- Hope & Healing
Shelby Lieber- Hope & Healing
Megan McGonigal- Hope & Healing
Sandy Parker- Hope & Healing
Sydney Sines- Hope & Healing
---
RELATED:

Be an active bystander!
Be an active, empowered bystander through our POWER campaign.
Toolkit
We created this toolkit so you can better assist survivors and play an active role reducing gender-based misconduct anywhere. Zips supporting Zips!
Awareness months