Stacey Nofziger, Ph.D.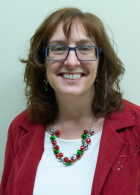 ---
Biography
Ph.D. 1999 Sociology. University of Arizona, Tucson, Arizona.
M.A. 1995 Sociology. University of Arizona, Tucson, Arizona.
B.A. 1993 Sociology. Whitman College, Walla Walla, Washington (cum laude).
---
Research
Professor Nofziger's specialty areas include criminology and gender. Her research encompasses major areas within criminology, including the relationship of criminal justice agencies and communities, the causes and consequences of juvenile violence and victimization, and a theoretical specialization in self-control theory. Her current projects emphasize the role of parenting in developing self-control and the relationship between gender identity and various forms of offending such as bullying and violence on college campuses.
Publications
2019 Nofziger, Stacey. "A return to the girls in the Richmond Youth Survey" Forthcoming. Chapter 4 in Fifty ears of Causes of Delinquency: The Criminology of Travis Hirschi: Advances in Criminological Theory. Barbara J. Costello and James C. Oleson eds. New York, NY: Routledge.
2018 Nicole Rosen and Stacey Nofziger. Forthcoming. "Boys, bullying, and gender roles: How hegemonic masculinity shapes bullying behavior." Gender Issues. Published October 22, 2018 Online first at http://link.springer.com/article/10.1007/s12147-018-9226-0.
2018 Nofziger, Stacey, Katherine Newton. "Self-control, parental crime, and discipline across three generations." Deviant Behavior. 39: 12 (1533-1551).
2016 Nofziger, Stacey and Valerie Callanan. "Predicting Suicidal Tendencies Among High Risk Youth with the General Theory of Crime." Deviant Behavior. 37(2): 167-183.
2016 Nofziger, Stacey, Rachel E. Stein, and Nicole L. Rosen. "Comparing Children's and Caseworker's Reports of Physical Violence." Journal of Interpersonal Violence. First Published September 28, 2016 DOI: https://doi.org/10.1177/0886260516670880.
---
Education
Ph.D. University of Arizona, 1999 - Criminology, Juvenile Violence and Victimization, Criminal Justice and Community
---
Courses
Undergraduate:
330: Criminology
360: Social effects of crime in the media
416: Women and Crime
430: Juvenile delinquency
441: Sociology of law
455: Family violence
---