Daniela Jauk-Ajamie, Ph.D.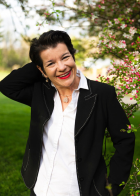 ---
Biography
Daniela Jauk-Ajamie, PhD, is Assistant Professor for Sociology and Criminal Justice at the University of Akron, Ohio. She received an M.A. in Sociology from the University of Graz in her home country, Austria. She started her career as a social worker in feminist contexts and served as Independent Women's Representative of the City Council Graz. She completed her doctoral work in Sociology as a Fulbright student at the University of Akron/OH, specializing in Qualitative Research Methodologies and Sociology of Deviance and Gender Studies. Her dissertation examines gender movements in and around the United Nations. Leading up to her appointment at the University of Akron, she worked as Research Specialist for the largest community corrections nonprofit in NE Ohio (Oriana House, Inc.) gaining in depth experience with community corrections research, mixed methods research projects, and grant writing. Dr. Jauk-Ajamie is a certified Clinical Sociological Practitioner with the American Association for Applied and Clinical Sociology and holds a Certificate in Active Research Methods from the University of Akron.
Her primary areas of specialization are sociology of gender and corrections emphasizing community-oriented scholarship and intervention. She started her career focusing on individual experiences of (trans)gender violence (Jauk-Ajamie 2013a, 2013b), then spent substantial time engaging in and researching gender movements on an international level (Jauk-Ajamie 2014, 2017). She now focuses on a community and organizational level of analysis. As a clinical sociologist seeking to make social change, she initiated a pilot garden project for women in community corrections in 2019 and continues to evaluate and further develop this garden program within the project "Serenity in the Garden – A Local Pilot-Study Utilizing Applied Qualitative Sociology to Improve Social, Environmental, and Food Justice for Incarcerated Women and Their Communities." In this news clip of May 2019 clients share how they benefited from the pilot garden project and here is another article about the program.
She received a Faculty Research Grant for this line of research in 2020 and enjoys to work with two undergraduate student assistants from different disciplines (biology, sociology/criminal justice). She loves working with students generally and enjoys developing new teaching tools. For instance, she records the Corrections Close-Up podcast featuring mini interviews with corrections professionals and recently co-created an innovative unclass on urban bio justice with Dr. Petra Gruber (Art, Biology). Together with Dr. Insun Park she is developing a line of research to improve teaching in corrections (Park and Jauk-Ajamie 2020). She has co-founded the Ohio Innocence Project Chapter on campus for which she serves as faculty mentor. She is also actively involved in the Sociology Club, and the Criminal Justice Honors Society on campus.
A long-term goal for Dr. Jauk-Ajamie is to contribute to a better understanding of gardening and sustainable practices in correctional settings within a feminist abolitionist theoretical framework. She plans to expand this field of research onto an internationally comparative level. Besides the local case study, she is engaged in a national expert interview study with her collaborator Dr. Sharon Everhardt from Troy University, Alabama with the title "Veggies Against Barriers – An Expert Interview Study on Contemporary Gardening Practices in Correctional Settings." Data from semi-structured interviews with professionals who facilitate gardens in carceral environments will be analyzed for a book publication with Springer (Gardening Behind Bars, expected publication in 2022). She actively serves on committees in Sociologists in Women for Society and The International Sociological Association's RC 46 on Clinical Sociology.
Her future research agenda is linked to parallel, and larger efforts to contribute to a strong applied sociology and criminal justice studies program at the University of Akron in order to contribute to social justice, de-carceration, and more egalitarian life chances for all individuals in our communities.
---
Research
Current Research Interests
Sociology of Gender and Sexualities, Corrections & the Penal System, Gardening in Corrections, Prison Abolition, Qualitative Methods, Gender Violence
Internal Sponsored Research Support
"Serenity in the Garden – A Local Pilot-Study Utilizing Applied Qualitative Sociology to Improve Social, Environmental, and Food Justice for Incarcerated Women and Their Communities." The University of Akron Faculty Research Committee 2019-2020 Summer Fellowship. $ 10,000.
Where publications appear
Sexualities
Societies Without Borders
Journal für Psychologie
Brock Education Journal
Sociology Compass
Social Science History
---
Publications
Peer Reviewed Articles
Klinger, S, Jauk, D. & N. Pruckermayr. Teaching with/out the F-Word. Journal für Psychologie 27, no. 1 (November 7, 2019), pp. 30–50. https://doi.org/10.30820/0942-2285-2019-1-30.
Jauk, D. (2017). Feminist Scholar Activism Goes Global: Experiences of "Sociologists for Women in Society" at the UN. Brock Education Journal 27(1).
Jauk, D. (2014). Insiderness, Outsiderness, and Situated Accessibility - How Women Activists Navigate UN's Commission on the Status of Women. Societies Without Borders, 9 (1), 69-95.
Jauk, D. (2013). Gender Violence Revisited – Lessons from Violent Victimization of Transgender Individuals. Sexualities, 16(7), 807-825.
Elman, C.; Feltey, K.; Wittman, B. & Jauk, D. (2013) "Drawn to the Land: the Life Course Consequences of Frontier Women's Settlement over Two North Dakotan Land Booms, 1880-1910," Social Science History, 37(1), 27-69.
Peralta, R. & Jauk, D. (2011). Drink, Gender and Sociology: A Brief Feminist Review & Critique of the Sociology of Alcohol-Use and Substance-Abuse Treatment Approaches. Sociology Compass, 5 (10), 882-897.
Refereed Book Chapters
Jauk, D., S. Klinger & Pruckermayer, N. (2020). Process not product: Rethinking feminist teaching across disciplines with autoethnographic trialogues. In: Rethinking Ethnography in Higher Education, edited by Wieser, C. & Pilch-Ortega, A. Berlin: Springer.
Scambor, E.; Jauk, D.; Gärtner, M. & Bernacchi, E. (2019). Caring Masculinities in Action: Teaching Beyond and Against the Gender-Segregated Labor Market, in Feminist Perspectives on Masculinities. Teaching and Learning beyond Stereotypes edited by Magaraggia, S.; Mauerer, G. and Schmidbaur, M. London: Routledge. pp. 59-77.
Scambor, E. & Jauk. D. (2018). Mander es isch Zeit - Akteur_innen, Denkformen, Diskurse und Argumente antifeministischer Männerarbeit in Österreich. Edited by Peters, U., Lang, J. & Claus, R. Hamburg: Marta Verlag.
Jauk, D. (2016). International Trans*gender Movements. Wiley-Blackwell Encyclopedia of Gender and Sexuality Studies. Naples, N. et al (eds). Malden, MA: Wiley-Blackwell.
Jauk, D. (2013). Invisible Lives, Silenced Violence: Transphobic Gender Violence in Global Perspective. Advances in Gender Research, Vol. 13, Emerald Publishing. Editors: Segal, M. & Demos, V., 111-136. ISBN: 978-1-78350-110-6.
Other Publications in Journals, Newsletters, and Online
Park, I. and Jauk, D. Community|Corrections|Connections. Thinking together (Community)Corrections and Teaching to Create Win-Win Situations. Poster presentation at NEXT. New Explorations in Teaching Conference. The University of Akron/OH, March 12-13, 2020. (postponed due to Covid-19)
Adler-Klausner, E., Jauk, D., Mayer, S., Scambor, E. (2017). Gleichberechtigte Wissenschaft. Fundiert argumentieren für Gender Studies. (Engl: Well-founded Arguments for Gender Studies to counter anti-feminist discourses) Ed.: Koordinationsstelle für Geschlechterstudien und Gleichstellung, Universität Graz.
Jauk, D. and Pruckermayr, N. (2016). Sex (and Genders) in der Seestadt - (De!-) Konstruktionen von Geschlecht im öffentlichen urbanen Raum.
(Engl.: Sex and Genders in Seestadt: De/constructions of gender in public urban space) in fiber. werkstoff für feminismus und popkultur, 25. 117-119.
Jauk, D. (2013). Fact Sheet on Gender, Sexualities, & Human Rights in the context of the UN. Commissioned by Sociologists for Women in Society.
---
Awards
2020 Most Valuable Professor Award, University of Akron Women's Soccer Team
2014 Outstanding Author Contribution in the 2014 Emerald Literati Network Awards for Excellence
2013 Outstanding Peer Mentor Award, University of Akron, OH
2007-2012 William S. Fulbright Study Award, Austria/U.S.
2010 Outstanding Student Service Award, Department of Sociology, University of Akron, OH
Graduate Committee on Research on Women and Gender - Award for feminist scholarship, University of Akron, OH
2008 "Allied Student Activist of the Year 2008," Transgender Illumination Award of the greater Cleveland LGBT community, November
2007-2008 World Fellowship, Delta Kappa Gamma Honorary Society, U.S.
2002 Award recipient of the Styrian Labour Chamber (for master thesis) & best thesis-nominee of the College of Social and Economic Sciences, University of Graz, Austria
---
Education
Ph.D. in Sociology, University of Akron - Ohio, US, 2013
MA in Sociology, University of Graz, Austria, 2002
BA in Social Work, Academy of Social Work Graz, Austria, 1996
---
Courses
3850- 100 Introduction to Sociology (face to face, fully online, and hybrid formats)
3850-365 Sociology of Sex and Gender(online live)
3850-325 Sociology of Women in a Global Society (in person)
3850: special topics Unclass: Urban Bio Justice (with Petra Gruber)
3850:special topics Career Pathways in the Social Sciences (with Rebecca Erickson)
3800-103 Introduction to Corrections(online)
3800-385 Crisis and Trauma: Assessment and Interventions
3800-100 Introduction to Criminal Justice (online)
Dr. Jauk-Ajamie has (team) taught several innovative teaching formats in the areas of gender studies and qualitative methodologies, new media, antifeminism, feminist media activism, gender and public space, as well as international gender movements at several Austrian and US universities.
---