Kathryn Feltey, Ph.D.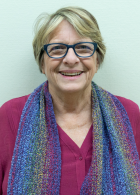 ---
Biography
Ph.D. (1988) in Sociology from The Ohio State University
M.A. (1982) in Applied Behavioral Sciences from Wright State University
B.A. (1978) in Sociology from Wright State University
---
Research
Dr. Feltey's area of specialization is the sociology of gender, which she teaches at the undergraduate and graduate level. Recent work has focused on women in film and she has a co-authored book, with Dr. Jean-Anne Sutherland, "Cinematic Sociology: Social Life Through Film." In current work with Drs. Cheryl Elman and Barb Wittman, Dr. Feltey is studying the lives of pioneer women in 19th century America, using demographic and primary sources to explore work, family, and health outcomes.
Publications
2013. Cheryl Elman, Kathryn Feltey, Barbara Wittman, and Dani Jauk. Drawn to the Land: Women's Life Course Consequences of Frontier Settlement over Two North Dakotan Land Booms, 1880-1910. Forthcoming in Social Science History.
2012. Jean-Anne Sutherland and Kathryn Feltey, editors,Cinematic Sociology: Social Life in Film, 2nd Edition Sage/Pine Forge Press.
---
Education
Ph.D. (1988) in Sociology from the Ohio State University
---
Courses
Graduate courses:
Sociology of Gender, Qualitative Methods, and College Teaching of Sociology
Undergraduate courses:
Introduction to Sociology, Family Violence, Sociology of Sex & Gender, Sociology of Peace & Nonviolence
---