John Zipp, Ph.D.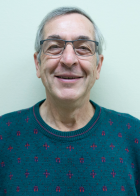 ---
Biography
Ph.D. 1978 Duke University Sociology
M.A. 1976 Duke University Sociology
B.S. l974 St. Joseph's College Sociology
---
Research
Professor Zipp's specialty areas are in inequality, especially class and gender. His most recent research projects center on a variety of topics including class, gender and the family, the sociology of sport, and higher education (e.g. the scholarship of teaching and learning and the corporatization of universities).
Education
Ph.D. (1978) and M.A. (1976) in Sociology from Duke University
---