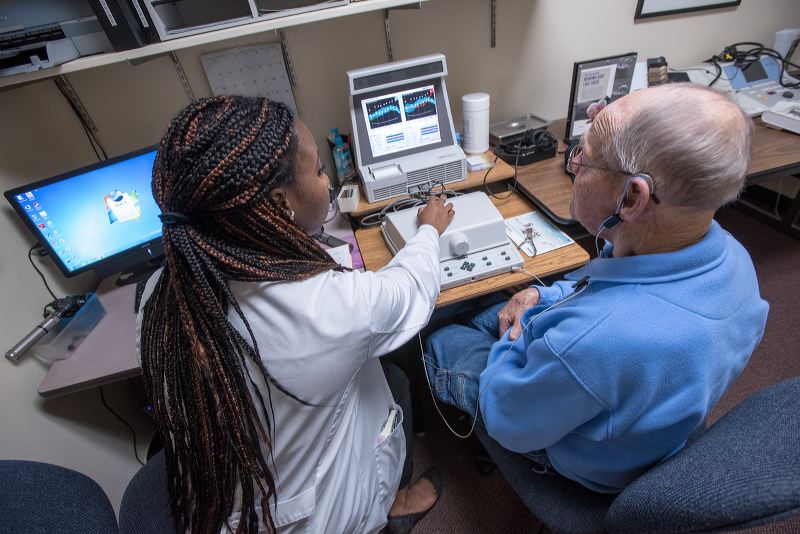 The University of Akron and Kent State University, in affiliation with the Cleveland Clinic Foundation, offers the Doctor of Audiology (AuD) degree through the Northeast Ohio Au.D. Consortium (NOAC).
NOAC merges the strong assets of two university programs that focus on the scientific and clinical bases of audiology with the Cleveland Clinic Section of Audiology to provide students with exposure to the breadth and depth of diagnostic and rehabilitative audiology. We are dedicated to providing World Class Education in Audiology.
The Doctor of Audiology program at the University of Akron, in association with the Northeast Ohio Audiology Consortium, is accredited by the Council on Academic Accreditation (CAA), 2200 Research Boulevard #310, Rockville, Maryland 20850, 800-498-2071 or 301-296-5700.
---
Au.D. student ready for dual careers
Kyle Shepard, left, is congratulated by Dr. Richard Harper, a retired Navy captain, who was on hand for Shepard's honorary commissioning ceremony hosted at the Ceveland Clinic. (Photo courtesy of Jamie DePould of the Cleveland Clinic.)
---
Kyle Shepard knew when he started college that he wanted to work in health care, but it wasn't until he began working with developmentally disabled children and adults, many of them with speech and hearing loss, that he found the right career fit for him.

"The more I learned about the ear, the more interested I became," recalls the Troy, Ohio, native, who worked at Northwestern Human Services on summer and winter breaks from school. "The ear is such a dynamic and complex system, and helping people with communication and hearing impairments can be like solving a puzzle. It can be very challenging, and I like a challenge."

Now, Shepard is about to achieve not one but two career goals — working with patients as an audiologist, and doing so as a commissioned officer in the U.S. Navy.
Shepard will be awarded a Doctor of Audiology degree during The University of Akron's 10 a.m. commencement ceremony on Aug. 17, after completing the four-year program offered through the Northeast Ohio Au.D. Consortium (NOAC). UA, Kent State University and the Cleveland Clinic Foundation are partners in the consortium. Story continues online.
---