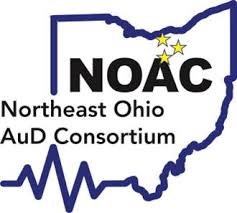 ---
Doctor of Audiology (Au.D.)
Program Overview
Curriculum Guide (Degree (Requirements)
The University of Akron and Kent State University, in affiliation with the Cleveland Clinic Foundation, have united to provide a professional Doctor of Audiology (AuD) degree program through the Northeast Ohio Au.D. Consortium (NOAC).
NOAC merges the strong assets of two university programs that focus on the scientific and clinical bases of audiology with the Cleveland Clinic Section of Audiology to provide students with exposure to the breadth and depth of diagnostic and rehabilitative audiology. We are dedicated to providing World Class Education in Audiology.
MORE: Admissions | Financial aid
---
Virtual and In-Person Visitation Days
Virtual and in-person visitation day dates for the 2022-2023 academic year will be announced in Fall 2022.
Accreditation
The Doctor of Audiology (Au.D.) education program at the Northeast Ohio Au.D. Consortium, is accredited by the Council on Academic Accreditation in Audiology and Speech-Language Pathology of the American Speech-Language-Hearing Association, 2200 Research Boulevard #310, Rockville, Maryland 20850, 800-498-2071 or 301-296-5700.
Please visit the NOAC website for additional accreditation information, including Student Outcome Data
---