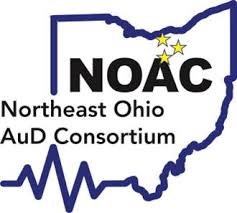 ---
Doctor of Audiology (Au.D.)
Program Overview
Curriculum Guide (Degree (Requirements)
The University of Akron and Kent State University, in affiliation with the Cleveland Clinic Foundation, have united to provide a professional Doctor of Audiology (Au.D.) degree program through the Northeast Ohio Au.D. Consortium (NOAC).
NOAC merges the strong assets of two university programs that focus on the scientific and clinical bases of audiology with the Cleveland Clinic Section of Audiology to provide students with exposure to the breadth and depth of diagnostic and rehabilitative audiology. We are dedicated to providing World Class Education in Audiology.
MORE: Admissions | Financial aid
---
Virtual Visitation Day - November 18, 2022 1-2 PM
Students interested in learning more about the Northeast Ohio Au.D. Consortium (NOAC) are invited to attend our Fall Virtual Open House scheduled for Friday, November 18, 2022 from 1-2 pm EST. You may access the Fall Virtual Open House using the following Microsoft Teams meeting link:
Click here to join the Microsoft Teams meeting
Meeting ID: 217 300 887 362
Passcode: DNuRbB
Download Teams | Join on the web
Or call in (audio only)
+1 234-303-1149,,668901615# United States, Akron
Phone Conference ID: 668 901 615#
Find a local number | Reset PIN
A short presentation will be provided outlining how the consortium operates. Additionally, the Graduate Audiology Coordinators from Kent State University and The University of Akron will be available to answer specific questions about the admissions application process at both Universities.
---
NOAC Visitation Day - February 3, 2023
We will be having our next NOAC Visitation day for select applicants on Friday, February 3, 2023. During the visit, applicants will have the opportunity to meet and talk with NOAC faculty and students.
All CSDCAS verified applicants will receive an e-mail invitation to Visitation Day. When you receive the email from the NOAC coordinator (approximately 2 weeks before the event), please follow the instructions regarding reservations.
---
Accreditation
The Doctor of Audiology (Au.D.) education program at the Northeast Ohio Au.D. Consortium, is accredited by the Council on Academic Accreditation in Audiology and Speech-Language Pathology of the American Speech-Language-Hearing Association, 2200 Research Boulevard #310, Rockville, Maryland 20850, 800-498-2071 or 301-296-5700.
Please visit the NOAC website for additional accreditation information, including Student Outcome Data
---