Dr. Julie Zhao
Engineering's 'Mom' revels in students' growth
Years before becoming assistant dean of the College of Engineering at The University of Akron (UA), Julie Zhao was an engineer in China, studying wireless communication, at a time when the world was shifting from wires to WiFi – when the voices and thoughts of millions, untethered, took flight and raced around the globe.
In the midst of this global conversation, Zhao — tasked with recruitment, retention and marketing for the College of Engineering — is committed to capturing the full range of those voices, casting a net that reaches from the neighborhoods of Akron to the mountains of South Korea.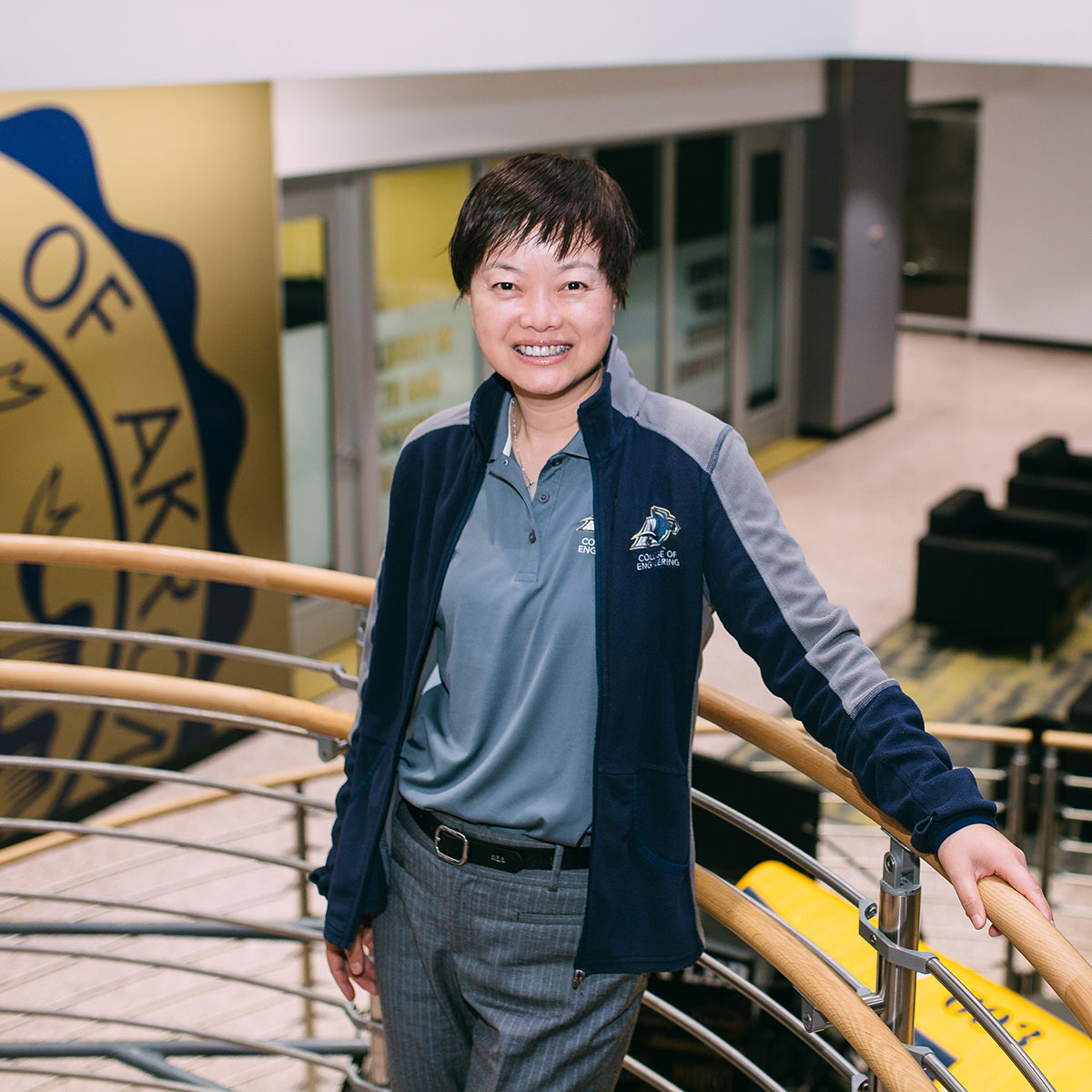 Julie Zhao: "The most enjoyable part of my job is having opportunities to work with students, both inside the classroom and outside the classroom."
Indeed, Zhao manages the college's international initiatives, including its partnerships with 19 foreign universities, attracting students and researchers from India, China and throughout the world – and providing UA students opportunities to study abroad and participate in distance-learning "global classrooms."
She also spent nine years (2007-2016) as director of the Increasing Diversity in Engineering Academics (IDEAs) Program, which supports underrepresented students in engineering through STEM outreach events, scholarship and internship opportunities, peer mentoring, and organizations such as the National Society of Black Engineers (NSBE) and the Society of Hispanic Professional Engineers.
In 2013, in recognition of her efforts to increase the enrollment, retention and graduation of African American, Hispanic and Native American students in engineering majors, Zhao received the Outstanding Minority Engineering Program Administrator Award from the National Association of Multicultural Engineering Program Advocates.
"There are a lot of programs that are older than ours, so being given this award, in my opinion, can only mean one thing: We are doing the right thing," she says. "We are creating a home away from home for students, where they feel a sense of belonging. … The success of this program relies on the teamwork of our faculty."
Zhao helps foster that sense of belonging through retention programs such as the Engineering Tutoring Program – which provides critical academic support to first- and second-year engineering students – and through her ability to impress upon students the relevance and importance of engineering in society.
"Having an engineering degree opens so many opportunities," says Zhao, who received her doctorate in electrical engineering at UA after working as an engineer for six years at a telecommunication company in China. "Whether you want to be a lawyer, a teacher, or an engineer, you will learn all kinds of skills – communication skills, teamwork, problem solving – which are relevant to our lives."
Zhao, who is grateful to her former teachers and mentors for steering her toward engineering, says the most rewarding aspect of her job is being able to transform students into confident and accomplished engineers.
"The most enjoyable part of my job is having opportunities to work with students, both inside the classroom and outside the classroom," she says. "Watching them go from being teenagers to successful engineers is absolutely rewarding."
While Zhao has received numerous awards for her teaching and leadership – including UA's Mentor of the Year Award in 2008, the Outstanding and Distinguished Faculty Member Award from the National Residence Hall Honorary in 2013, and UA's Women Trailblazers award in 2014 – perhaps the best proof of her effectiveness is the praise she receives from students, many of whom go on to prestigious careers.
"The world needs more people like Julie," says Drake Smalley, a 2017 graduate now working as a full-time engineer at Johnson & Johnson, who credits Zhao for preparing him to succeed.
Joshua Thomas, who served two terms as president of the NSBE chapter at UA – and who worked with Zhao to inaugurate an annual STEM outreach event for eighth-graders in Akron Public Schools – also credits Zhao for helping him land a position as a structural engineer at the Cleveland office of WSP, a global engineering firm, which he will begin after graduating this spring.
"Dr. Julie has been a super big help for me, and I actually consider her my mom on campus," he says. "I would say that she's a big reason why I stayed in engineering, and why I'm going to be a civil engineer designing bridges."
And Zhao's work, like communication, has gone "mobile" – breaking out of the classroom and into the community.
She is involved with Project GRAD Akron, which provides programs, support and scholarships for economically disadvantaged children. She has been a member of Leadership Akron and Junior Leadership Akron, serving as a day-chair for the latter for several years. She has also been a board member of ACE Women's Network-Ohio, working with other female leaders in higher education in Ohio.
She received the Partner award from Project GRAD in 2009, the Women of Professional Excellence award from the Women's Network Northeast Ohio and the Greater Akron Chamber's 30 for the Future Award in 2010, and she was recognized among the Women in STEAM Academy of Leaders by the Akron Urban League in 2017, among other awards and recognitions.
And lately she appears to be working on another award, too.
Mom of the Year.
"Outside of work, I am very busy with my 11-year-old son," Zhao says. "He has so many extracurricular activities. Since I don't want to miss his growth, we decided to have a book club just for us. The last series we finished together was Percy Jackson."