Professor of Military Science
42nd Ohio Volunteer Battalion Commander
Welcome to the University of Akron Army ROTC homepage!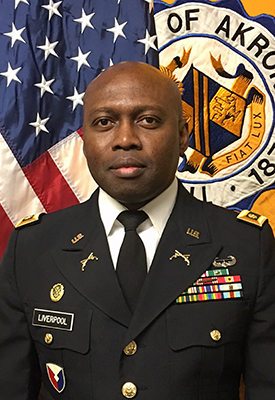 Welcome to all new cadets, future cadets and returning cadets to the 42nd Ohio Volunteer Battalion, Army Reserve Officer Training Corps (ROTC) at the University of Akron. Our mission is straight-forward: "To recruit, educate and develop Cadets in order to commission officers of character for the Total Army". For the last 97 years, since 1919, we have transformed hundreds of students into Army Leaders.
The Army Reserve Officer Training Corps (ROTC) is a distinctive elective course of study, taken in concurrence with any academic major that, upon graduation, leads to a commission as a Second Lieutenant (Gold Bar) in the United States Army. Your ROTC classes will teach you the importance of leadership, duty, respect, selfless service, honor, integrity and personal courage. Also, the Army ROTC provides scholarship support that includes tuition, fees, books and monthly stipends for those who qualify. The leadership training and experiences acquired during your time in Army ROTC will provide you with the foundation required to become a leader in the Army. You will have a normal college student experience similar to everyone else on campus, but in addition to your degree you will become an Officer in the greatest Army...The United States Army.
If you're interested in joining Army ROTC, you can start by taking an Army ROTC basic elective course. You can take Army ROTC Basic Courses without a military commitment. If you have at least two or more years remaining toward your undergraduate degree, but not enough time to complete the Basic Course (first two years), then you can enter the Army ROTC Advance Course by completing the Leader's Training Course held at Fort Knox, KY, during the summer.
University of Akron ROTC prides itself on providing students with challenging training, rigorous physical fitness training, and highly supportive programs centered on the development of scholars, athletes, and leaders.

Thanks for visiting our page and feel free to contact us!

MAJ Trevor Liverpool
Professor of Military Science and Leadership