REQUEST INFO ABOUT A CRIMINAL JUSTICE DEGREE
Bachelor's of Science in Criminology and Criminal Justice
---
The University of Akron is calling on you to fill the growing need for individuals well prepared to fight crime in our 21st century world.
---
Fast growing field
After completing coursework and mandatory internships, graduates will enter fields that are projected to grow faster than average, with an expected 100,000 or more job openings between 2014 and 2024, according to the U.S. Bureau of Labor Statistics.
Salaries for Criminology and Criminal Justice careers range based on location, but the median wage in 2016 was $61,600 annually.
What will you learn?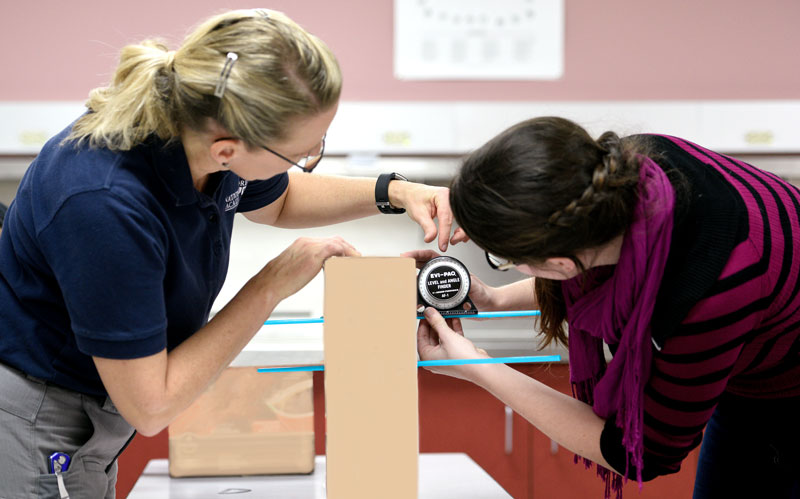 Forensics Lab faculty member, Brenda Butler, shows her student how to examine the direction of a bullet.
The curriculum focuses in policing, the courts, correctional agencies, and business and industry with a balance of the research and professional skills you will need to succeed. After taking core and foundational courses in Criminal Justice, Political Science and Sociology, you then will; choose a concentration in policing, courts and law, corrections, or criminology.
This degree is a good fit if you are new to criminal justice, and already employed in the field but seeking career advancement or new opportunities including law or graduate school.
You will begin your degree requirements with basic courses in each concentration before choosing one of the following as a focus area:
Policing
Courts and law
Corrections
Criminology
Curriculum Guide
/ccj/Criminology and Criminal Justice Curriculum Guide as of 9-17.pdf
Skills you need to succeed:
High moral character

To enforce the law
Administer justice
Be responsible with sensitive information

Excellent communication skills
Ability to work extensively with the public and diverse populations
Tolerance and understanding of human behavior
Practical experience with our extensive internship program with a range of placement options:
Locally
State agencies
Federal government i.e. Washington, D.C.
Part-time or full-time internships
What will you do?
By graduation you will be prepared for employment at any level or specialization in the criminal justice field. The opportunities for you will widely range from local to federal agencies.
Careers include:
Policing and investigation at the local, county, state and federal levels

Police and Sheriff's Office
State Highway Patrol
U.S. Marshalls
FBI, Drug Enforcement Agency (DEA), and Bureau of Alcohol, Tobacco and Firearms (ATF)

Work in the courts

Bailiffs
Victim advocates
Lawyers and Judges

Work in corrections

Correctional administrators
Probation officers
Substance abuse/mental health treatment

Corporate investigation and fraud examination
Homeland security

Counter-terrorism
Critical infrastructure protection
Intelligence analysis
Candidates should be of high moral character, as they will have access to sensitive or confidential information and will likely be subject to a background check before being hired.
---

Students are given hands-on experience in criminal investigation, physical security and forensic methods in our mock crime scene investigation lab also equipped with forensic computer work stations.
---
More information: Faculty & Staff | Scholarships | Research
---
RELATED: