Bachelor's of Science in Criminology and Criminal Justice
Begin a rewarding career in law enforcement, the courts, corrections or public safety with a Criminology and Criminal Justice degree from Akron.
---
Fast growing field
Bureau of Labor Stats data
from May of 2020 indicate the following for CJ careers (Mean Average Salary):
Forensic Science Technician - $65,700
Probation Officers and Correctional Treatment Specialists – $62,400
Detectives and Criminal Investigators – $89,300
All protective service occupations – $62,220.
Is this right for me?
After taking core and foundational courses in Criminal Justice, Political Science and Sociology, you then will; choose a concentration in policing, courts and law, corrections, or criminology.
This degree is a good fit if you are new to criminal justice, and already employed in the field but seeking career advancement or new opportunities including law or graduate school.
Flexible learning options
We offer our degree two ways:
100% online: Concentrations in Policing, Corrections, and Criminology can be achieved completely online.
Hybrid: Courts and Law concentration can be achieved as a hybrid with a combination of in-person and online classes.
Concentrations in Policing, Corrections, and Criminology are 100% online. The Courts and Law concentration is not 100% online but can be achieved as a hybrid with a few in-person classes.
What will you learn?
Curriculum: See the degree requirements for a B.S. in Criminology and Criminal Justice
You will begin your degree requirements with basic courses in each concentration before choosing one of the following as a focus area:
Policing
Courts and law
Corrections
Criminology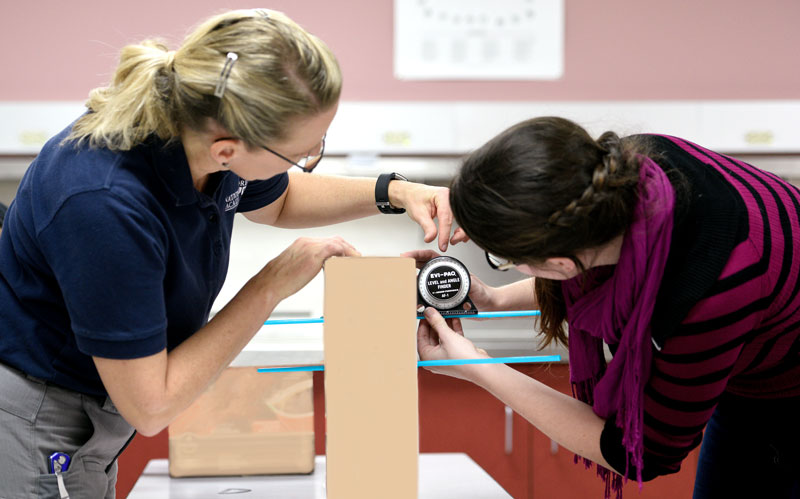 Forensics Lab faculty member, Brenda Butler, shows her student how to examine the direction of a bullet.
Skills you need to succeed:
High moral character

To enforce the law
Administer justice
Be responsible with sensitive or confidential information
Will likely need to pass a background check prior to employment

Excellent communication skills
Ability to work extensively with the public and diverse populations
Tolerance and understanding of human behavior
Practical experience:
You will gain real hands-on experience in our extensive internship program with a range of placement options:
Locally
State agencies
Federal government i.e. Washington, D.C.
Part-time or full-time internships

Students are given hands-on experience in criminal investigation, physical security and forensic methods in our mock crime scene investigation lab also equipped with forensic computer workstations.
What can you do with a degree in Criminology and Criminal Justice?
By graduation you will be prepared for employment at any level or specialization in the criminal justice field. The opportunities for you will widely range from local to federal agencies.
Careers include:
Policing and investigation at the local, county, state and federal levels
Police and Sheriff's Office
State Highway Patrol
U.S. Marshalls
FBI, Drug Enforcement Agency (DEA), and Bureau of Alcohol, Tobacco and Firearms (ATF)
Work in the courts
Bailiffs
Victim advocates
Lawyers and Judges
Work in corrections
Correctional administrators
Probation officers
Substance abuse/mental health treatment
Homeland security
Counter-terrorism
Critical infrastructure protection
Intelligence analysis
Corporate investigation and fraud examination
---
RELATED: