Dr. Ernian Pan, F.ASCE, F.ASME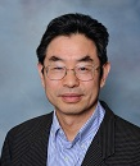 ---
Biography
Education
Ph.D. University of Colorado at Boulder, 1993.
M.S. Peking University, Beijing, China,1985.
B.S. Lanzhou University, Lanzhou, China, 1982.
Research
1. Microelectromechanical systems (MEMS) and magneto-electro-elastic coupling.
2. Mechanics of nanostructures and semiconductor quantum heterostructures.
3. Wave propagation and nondestructive evaluation.
4. Layered structures and composite laminates.
5. Green's functions and applications.
6. Computational mechanics.
7. Geomechanics.
8. MultiSmart3D - A New Software Package for Pavement Analysis.
9. SmartGrowth - A New Software Package for 2D Quantum Dots Growth Simulation.
---