Surveying and Mapping
The art and science of Land Surveying and Mapping has a rich heritage, most recently being a vital part of the settlement and building of America. While relying on the work of past surveyors and cartographers, the Professional Surveyor solves modern land boundary, location and mapping problems by applying knowledge and skills in mathematics, law, local land history, map design, and business, and through the use of some very cool advanced technology. This program is accredited by the Applied and Natural Science Accreditation Commission of ABET, http://www.abet.org.
---
VIDEO: DRONES EXTEND SURVEYORS' TOOLBOX
---
Browse through this site to take a look at what land surveying and mapping has to offer. The University of Akron is THE place to prepare for a rewarding career in Land Surveying and Mapping!
As surveying and mapping functions become more complex and technology based, the demand for highly trained technicians and Professional Surveyors continues to grow at an ever-expanding rate. Career opportunities in today's construction environment have never been more exciting or more challenging!
Industry Advisory Committee
A dedicated group of industry professionals serve as advisors to the Surveying and Mapping and GIS/LIS Programs. The Advisory Committee meets at least once annually to suggest and review changes to the curriculum and to discuss other important developments with the programs. For further information or to inquire about joining the Advisory Committee, call 330-972-7122.
Employment opportunities
Specific employment opportunities are found as
Typical employers of recent graduates

All areas of the federal, state, and local governments
Public and private companies
Surveying, mapping, construction, and civil engineering companies

KS Associates
Federal, state and county offices
Atwell
GPD Group
CESO, Inc.
Ohio Department of Transportation
News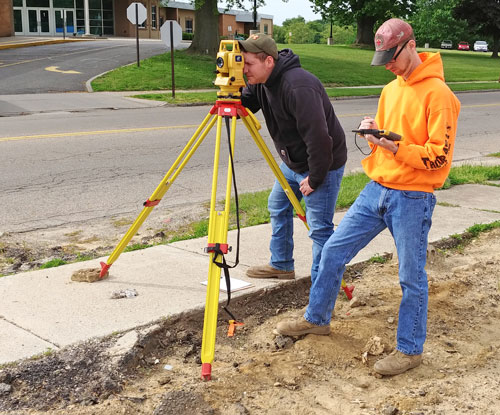 Students in our award-winning Surveying and Mapping Program earned some real-world experience recently by staking out the location for four new homes in Support of Habitat for Humanity of Summit County.
Recommended course sequences
Bachelor of Science
Associate of Applied Science
Certificates
Accreditation
The Land Surveying A.A.S. and Surveying and Mapping B.S. programs are accredited by the Applied and Natural Science Accreditation Commission of ABET, https://www.abet.org, and have specific program educational objectives and student outcomes that prepare graduates to enter professional practice.