From undergrad to doctorate – Akron biomedical engineer has rewarding journey during his time at UA
After Akron native Andrew Ditto received his Bachelor of Science in Biomedical Engineering (Biomechanics Track) from The University of Akron (UA) in 2004, he went on to receive his Master of Science in Biomedical Engineering (Tissue Engineering Track) and ultimately received his Ph.D. in 2010 from UA.
When the opportunity presented itself to continue his education and not seek a job in industry, he knew he had to take it.
At the end of the senior year of his undergrad, Ditto found out that a new professor who specialized in nanotechnology was joining the department. This was a particular area of interest of his, and the opportunity to learn more under the direction of a well-respected and widely known nanotechnology expert appealed to him. He applied to the master's program to study under Dr. Yang Yun.
"My desire to continue learning and my passion for exploring scientific unknowns drove me to pursue both my master's and Ph.D.," says Ditto.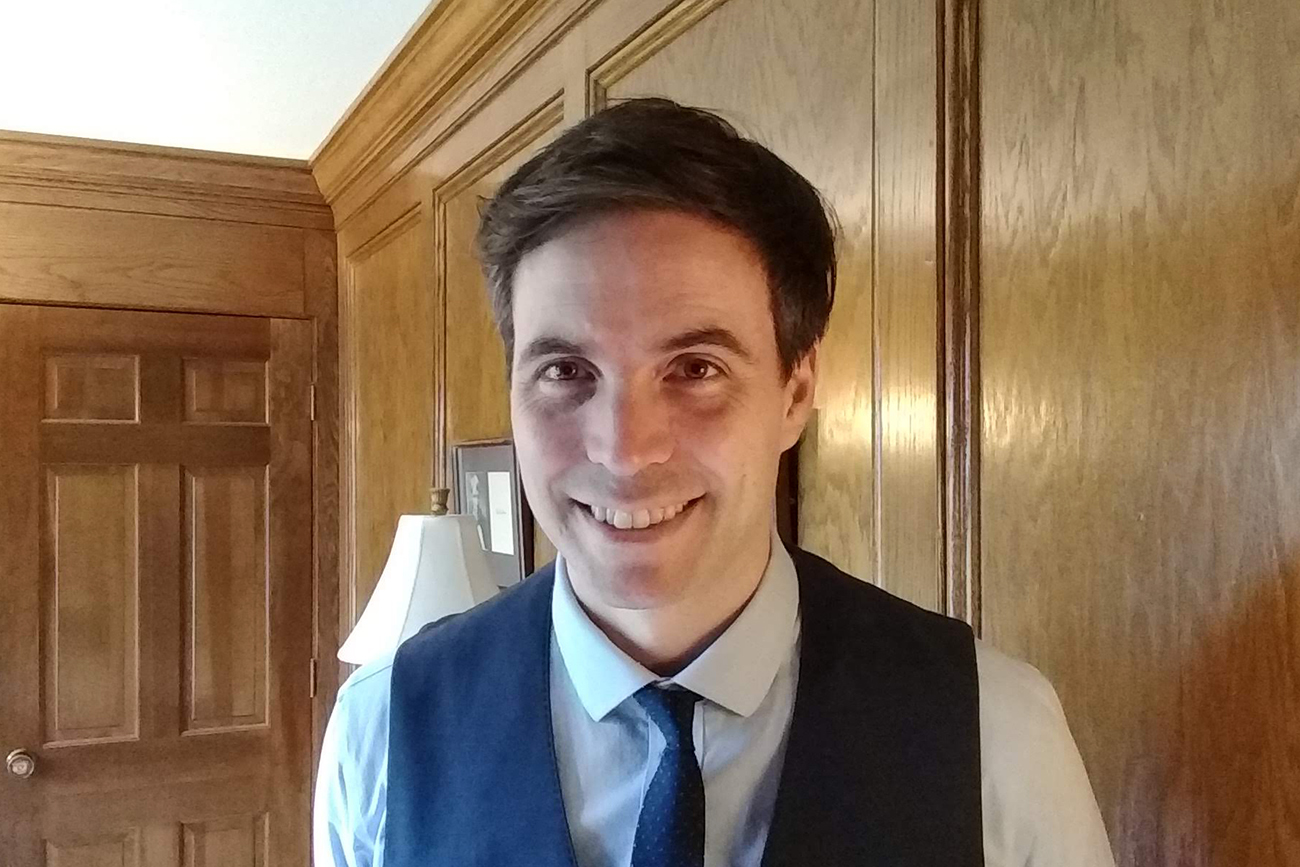 Andrew Ditto is a Senior Scientist at Haima Therapeutics, a Cleveland-based Pharma startup that is developing platelet-inspired nanotechnologies for the treatment of a wide variety of bleeding disorders such as traumatic hemorrhage and thrombocytopenia.
Ditto immersed himself in researching new applications for nanoparticles and continued the research into his Ph.D. program, where he expanded the work to include developing targeted cancer drug and antimicrobial delivery. At The University of Akron he had access to state-of-the art resources and analytical equipment, such as scanning electron microscopes, injection molds, NMRs, dynamic light scattering, MALDI-TOF, and a well-outfitted machine shop. He worked alongside graduate students in all engineering disciplines, plus experienced faculty.
"There was an incredible atmosphere of community in the labs," says Ditto.
As he neared completion of his long-awaited degree, the benefits of the program to Ditto became apparent. An engineering graduate degree gave him the opportunity to explore a particular engineering or scientific endeavor more deeply than would be afforded in an industry setting. It taught him how to become his own project manager in a collaborative environment and to stand out from others in a crowded job market.
"The most compelling aspect was I felt that I was allowed into a larger community of cutting-edge scientific research that is moving forward the human species," says Ditto. "I felt a connection to many other scientists and engineers working on state-of-the-art technologies in their respective fields."
After receiving his Ph.D., Ditto took a post-doctoral position at The University of Toledo Medical School Department of Biochemistry to develop targeted nanoparticles for anti-cancer drug delivery to the brain. The postdoc was followed by a position at Cleveland-based Biotech startup NovelMed and two medical device manufacturers before ending up at his current position at Haima Therapeutics, a company co-founded by his former graduate colleague and UA engineering alumnus, Dr. Anirban Sen Gupta.
Haima Therapeutics is a Cleveland-based Pharma startup that is developing platelet-inspired nanotechnologies for the treatment of a wide variety of bleeding disorders such as traumatic hemorrhage and thrombocytopenia.
Ditto is a Senior Scientist on a 14-person startup team.
"I manage the pre-clinical cleanroom manufacturing, the in vitro and in vivo characterization of our drug candidates, and the development of accurate and repeatable experiments," says Ditto. "We all wear many hats, which allows me to work both in the lab and with business development activities."
As Ditto reflects back on his time spent at UA – 10 years in total – he marvels on how collaborative the environment was. Student and faculty researchers worked together towards a common goal of advancing scientific knowledge for the progress of humankind. His Ph.D. committee was composed of not only engineering researchers, but polymer science and arts and science researchers. Partnership with industry and other universities, including Case Western Reserve University, was common during his time in school.
Ditto's best career advice?
"Long term success on a project can only be achieved in a well-functioning team approach," he says. "You must rely on others and have trust in your team. Also, expand your network and keep these relationships intact. On many occasions, I have had to go back through my contacts list to team-up with individuals and companies to rely on their expertise or make career-changing connections. As highly analytical engineers and scientists, we may not intuitively think about the importance of making connections along our career journey. Time has proven to me again and again how valuable connections are for achieving a unified goal"
Andrew lives in Hudson with his wife and three children.