Master builder: Joshua Thomas bridges classroom to career through College of Engineering's master's program
Joshua E.J. Thomas, while attending high school in Columbus, Ohio, decided he wanted to design and construct rollercoasters.
His altitudinous aspirations carried him, instead, to the Air Force, where he worked as an aircraft electrician for six years – with deployments spanning the globe, from Guam to Qatar – before deciding he wanted something a bit more "grounded."
"My aspiration was to become a civil engineer, and I wanted to be able to have a family someday and spend time with them, instead of worrying about being deployed," says Thomas, who separated from the Air Force to focus on finishing his bachelor's degree in civil engineering, which he had begun several years ago, and had continued to pursue during his service, at The University of Akron (UA).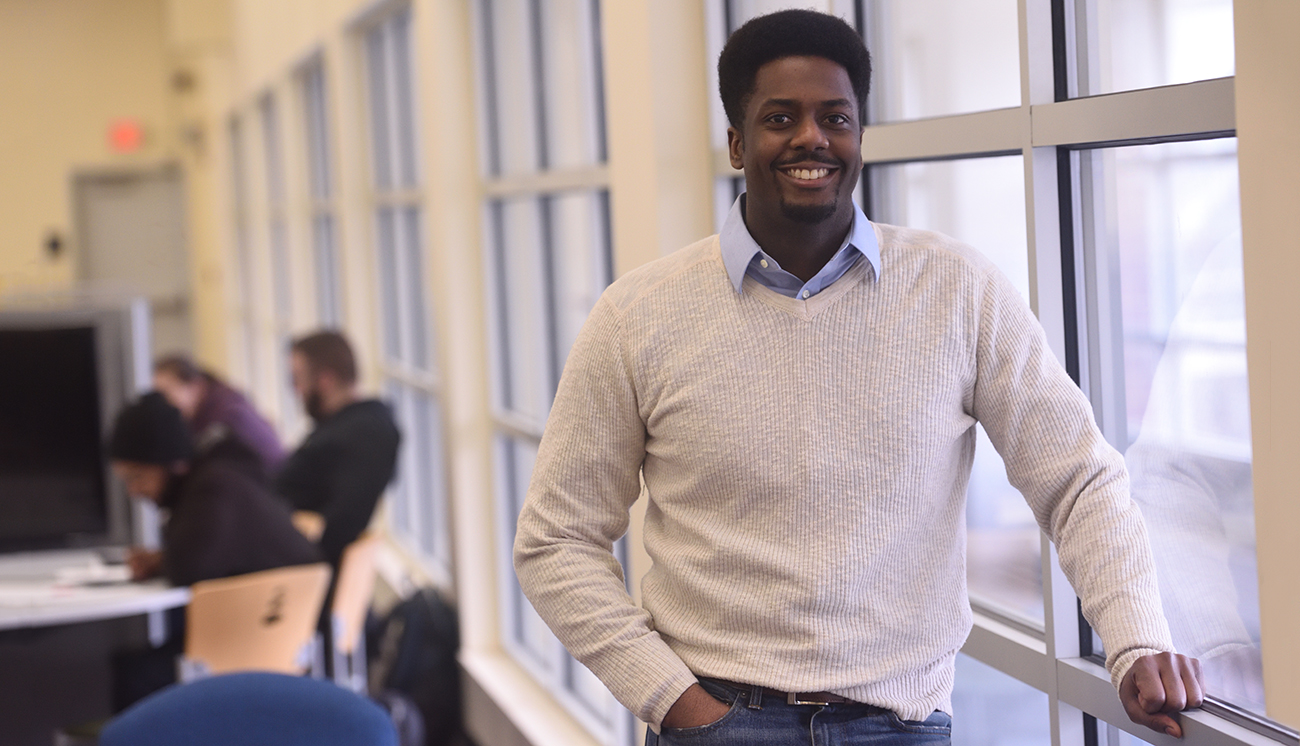 Joshua Thomas, former Air Force serviceman, says "9 out of 10" engineering professionals encouraged him to get his master's degree in engineering.
After graduating, Thomas, taking advice he received from seasoned engineers in one of his co-op rotations, enrolled in the College of Engineer's master's program.
"I was talking to these different professionals, and out of 10 that I talked to, nine of them had a master's degree, and said I should get one," he says, adding that many of the job applications he looked at preferred applicants with a master's degree.
Brent Kollars, vice president of HDR – a global architectural, engineering and consulting business with which Thomas completed an internship last summer – attests to this preference.
"We solve complex problems for clients all around the world," he says. "Many of our practice areas prefer students with master's degrees due to the complexity of the solutions. Some of these areas are structural engineering and water treatment."
In fact, thanks in part to his master's degree, Thomas will be working as a full-time structural engineer at the Cleveland office of WSP, a global engineering professional services firm, after graduating this spring.
He will be designing bridges at WSP, having spent the past year and a half – under the direction of UA's Dr. Qindan Huang, associate professor of civil engineering – working on bridge-related projects for the Ohio Department of Transportation.
His thesis project explores hydrodemolition, a method of using highly pressurized bursts of water to demolish concrete structures, as an alternative to jackhammers, which can induce carpal tunnel syndrome and expose roadside workers to the danger of oncoming traffic. The second subject of his thesis is weathering steel, which forms an impermeable layer of rust, or patina, on its surface, protecting it from further corrosion due to the elements.
Thomas says his master's degree – in addition to providing a bridge, as it were, to his career – will serve as a kind of protective patina, a shield against the winds of changing professional standards.
"Job security is one of the main reasons to get a master's," he says, pointing out that the degree not only makes one more versatile and skilled – and therefore hirable – but also may soon be required to obtain a professional engineering license.
Students with bachelor's degrees in engineering are typically successful in obtaining full-time, entry-level positions in their field: 94 percent of graduates from UA's College of Engineering obtain jobs within six months of graduation, according to Stephanie Schindewolf, interim director of engineering co-ops and placement. Nonetheless, the American Society of Civil Engineers (ASCE) favors the requirement of a master's degree, or at least a minimum amount of graduate-level education, as a prerequisite for licensure and professional practice.
Thomas, in anticipation of such changes, has further reinforced his master's degree with a number of supporting cables, as it were – such as the new Professional Selling Certificate for Engineering Majors through UA's Fisher Institute for Professional Selling in the College of Business Administration, which will enable him to better attract and serve clients, he says.
He has also held a number of leadership roles on campus. He is one of UA's two non-voting Student Trustees appointed by the governor to represent the interests of students before the Board of Trustees; and he served two terms as president of UA's chapter of the National Society of Black Engineers, spearheading an annual outreach event that brings 8th-grade students from Akron Public Schools to the University to participate in STEM-related activities.
Thomas has also been a member of the Engineering Student Council, the College of Engineering Dean's Team, UA's student chapter of ASCE and the steel bridge team; and he was a small group leader in the Christian student organization Campus Focus.
Additionally, the 26-year-old Thomas credits the Air Force for making him a more confident, capable and mature candidate for engineering positions.
"I also think taking that year off from school, especially with it being in the Air Force, allowed me to be a better candidate for different internship opportunities," he says. "It gave me structure and discipline, and it helped me with my time management, and helped mold me into the man I am today. … I was able to get an internship [with Messer Construction Co.] right when I returned [to UA] – they saw my Air Force experience and they took me on."
He may never work on roller coasters or airplanes, but Thomas, standing upon a sure foundation, is readier than ever to launch.
"I have a passion to be a project manager," he says. "I think the master's degree from The University of Akron will help me go far."