92% placement for 2018 graduates
06/10/2019
Today's college students (and their parents) have high expectations when it comes to landing a job after graduation. Career readiness has long been a tradition of The University of Akron, and the outcomes reflect that commitment: 92% of spring 2018 graduates who earned an undergraduate degree reported they were employed or continuing their education within six months of graduating. That's well above the 2017 national overall placement rate of 81%, according to the latest data from the National Association of Colleges and Employers (NACE).
UA makes an exhaustive effort annually to check in with recent undergraduate alumni to learn about career progress via the First-Destination Survey created by NACE. UA's 92% overall placement rate is up from 89% in the same period in 2017. In addition, 80% of spring 2018 graduates who earned an undergraduate degree from UA said within six months of graduating they landed a full-time job related to their majors or chosen fields, or were continuing their education. That's up from 77% a year ago.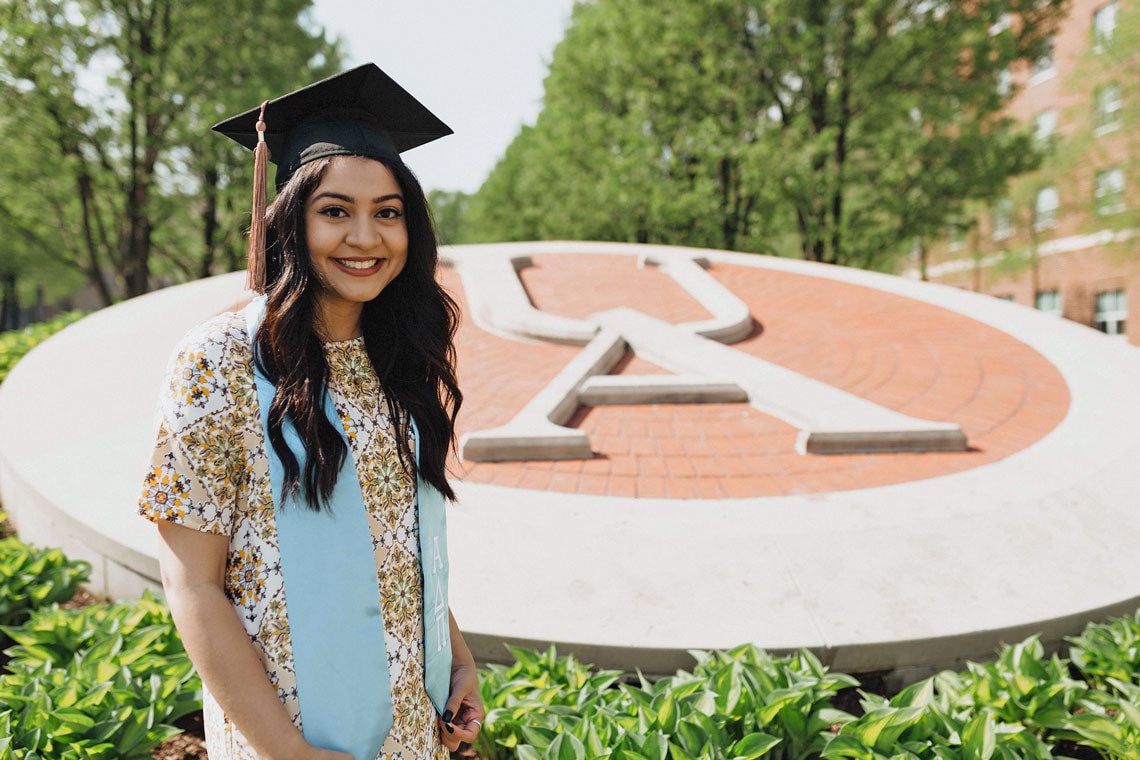 Recent graduate Krishna Thakkar says the internships she completed while at The University of Akron helped her land a full-time job. Ninety-two percent of our May 2018 graduates reported they were employed or continuing their education within six months of graduating.
Learning in and out of the classroom
Laura Carey, UA's director of Career Services, said many factors contributed to UA's placement rate increase, including a focus on offering students experiential, or out-of-the-classroom, learning opportunities.
"Our graduates' success in securing a job or enrolling in graduate school goes beyond the campus-wide efforts among faculty and staff to make our students career-ready," said Carey. "Parents and students are becoming more aware of the importance of career readiness before starting college. And, UA has a strong emphasis on experiential learning, encouraging more 'learning by doing' in all majors. These hands-on experiences are what employers seek out among candidates when hiring."
Experiential learning includes internships, cooperative education assignments (co-ops), practicums, clinicals, student teaching, undergraduate research, campus leadership, and field experiences, among many other activities.
Value in internships
One UA graduate who took advantage of experiential learning opportunities was Krishna Thakkar, who graduated in May 2019 with a bachelor's degree in accounting. The summer after her sophomore year, Thakkar interned in the physical inventory department at Jo-Ann Stores' headquarters in nearby Hudson, learning computer skills necessary for any type of accounting, she said. During the spring of her junior year, she interned at Ernst & Young, one of the world's largest accounting firms, to experience the inevitable busy season in public accounting.
"My internship at Ernst & Young was beneficial because they gave me work of a full-time staff accountant, allowing me to gain valuable real-life experience," said Thakkar. "They also had beneficial activities with the programs, such as one-on-one conversations with company partners to learn more about their experiences in working through different stages of the company. These discussions solidified my decision in majoring in accounting."
Experiential learning opportunities for UA students continue to grow. Of those who graduated with a bachelor's degree in 2018, 83% participated in at least one experiential learning experience before graduating (compared to 78% in 2017). More so, the average starting salary for spring 2018 graduates who participated in experiential learning opportunities while attending UA was $54,014 — $5,418 more than UA students who graduated without such experience.
The College of Engineering's Co-op and Placement Program plays a large role in increasing experiential learning opportunities. In the college, undergraduates typically alternate between a semester on the job and a semester in the classroom, providing at least one year of relevant learning for each student. Upon graduation, most student engineers hire into their co-op company. Of the College of Engineering's 2018 spring graduates, 90% participated in experiential learning. This past academic year, for instance, 1,040 students had co-ops with 415 employers. During the 2017-18 academic year, 1,046 students had co-ops with 355 companies, and during the 2016-17 academic year, 990 engineering students had co-ops with 345 companies.
Employers on campus
Carey also attributed strong relationships with employers to UA's high success rate of graduates being offered jobs before or soon after graduation. "We provide many avenues, such as career fairs and networking events, for area employers to step on campus and connect directly with students," she said. UA works closely with students to encourage them to explore in-demand career paths to help meet the demand that affects many employers today. Some students, especially ones who participate in co-ops and internships, are offered full-time jobs in their fields of study a year or two before they graduate.
"I took full advantage of all the services offered by Career Services, which helped me get to where I am today," said Thakkar. "I began my educational career at UA as an engineering major, but after I completed a full year, I realized that was not my passion. I sat down with a career advisor who helped me to find out what I really wanted to do after college."
Thakkar is currently enrolled in UA's accelerated B.S./M.S.A. program. At the end of the program, she'll have taken enough credit hours to take the necessary exams to become a certified public accountant. Then, after obtaining her master's degree, she is planning to work for Ernst & Young in their assurance line as a staff accountant.
For more
---
Media contact: Alex Knisely, 330-972-6477 or aknisely@uakron.edu.
Facts about our Career Center
Career Services at The University of Akron provides services and support to students, alumni, faculty, prospective students, employers, and community organizations.
The office:
met with about 3,500 individual students in pre-scheduled or walk-in appointments in 2018-19, a 50% increase over the prior period. Career advisors meet one-on-one with students to discuss major and career exploration, internship and job searches, graduate school planning, and career development skills.
offers assistance with the development of resume and cover letter writing, interview skills, soft skills and professionalism in the workplace.
provides students with career planning checklists tailored for each year of study. The checklists include such tips as: build and maintain a LinkedIn profile, consider campus leadership roles, participate in mock interviews, have resumes reviewed, acquire an interview outfit, and obtain references and letters of recommendation.
provides students with unique opportunities, such the JCPenney Suit-Up event where students can purchase dress clothes at discounted prices, etiquette lunches, and a booklet titled "Connecting UA Majors to In-Demand Jobs in Ohio" that aligns majors to current desired jobs and corresponding wages in Ohio.
helps students develop life-long job search skills and encourages students to utilize Handshake, a career networking website where UA students and alumni can search for internships and/or job opportunities. Thousands of jobs are added monthly to UA's Handshake job board with 17,000 employers currently using the site to recruit students.
opened a "Career Closet" where students can borrow a business jacket for free to wear to a job or internship interview.
is located inside the Jean Hower Taber Student Union (map). Satellite offices are located in the Buchtel College of Arts and Sciences, College of Business Administration, and the Polsky Building.
delivers hundreds of presentations each year, reaching nearing 10,000 students and prospective students, especially through tabling events with campus partners such as the Office of Admissions.
CAREER SERVICES
Locations:
Jean Hower Taber Student Union, Room 211
The Polsky Building, Room 451
Buchtel College of Arts and Sciences, Room 126
College of Business Administration, Room 260
Phone: 330-972-7747 Email: career@uakron.edu
On the web: uakron.edu/career/
Share