Alumnus Matthew Cherry's short film wins an Oscar
01/14/2020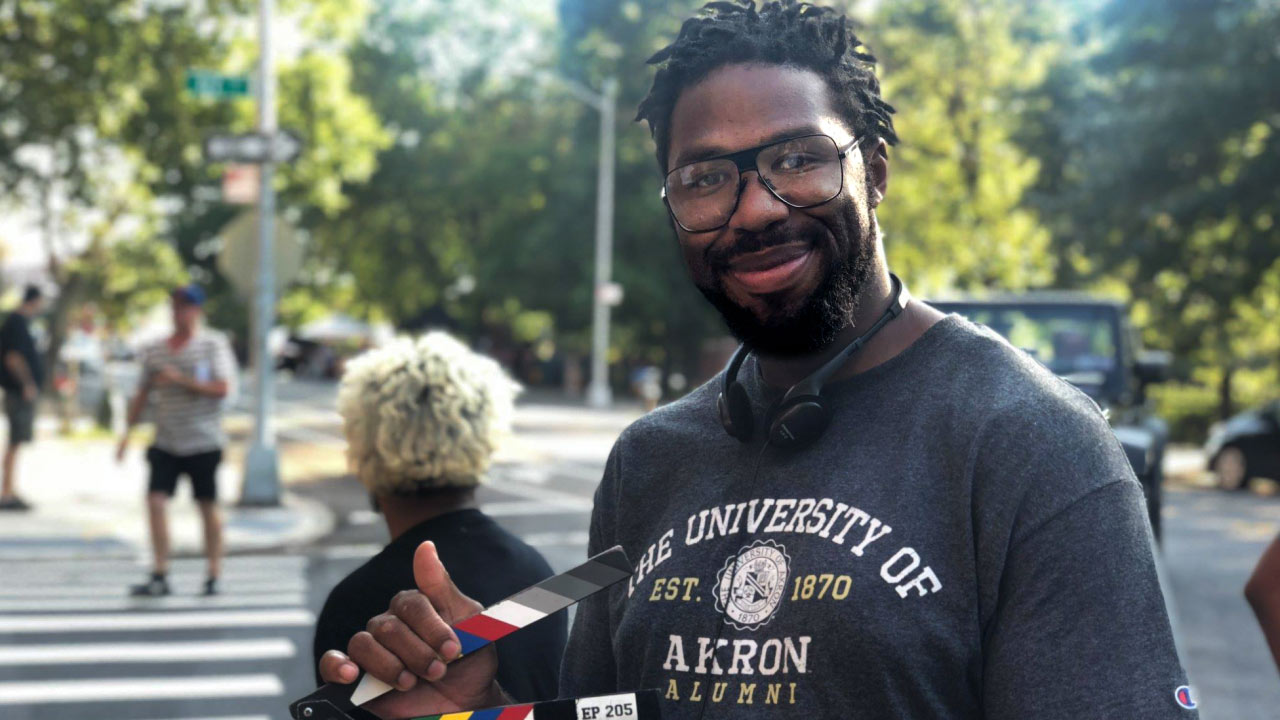 Matthew Cherry, whose animated short film "Hair Love" won an Oscar.
Alumnus Matthew A. Cherry, a former NFL wide receiver who has gone on to a career in film, won an Oscar Sunday for his animated short film "Hair Love." It tells the heartfelt story of an African-American father learning to do his daughter's hair for the first time.
The Chicago native studied mass media, radio and television here at UA, and was a second-team All-Mid-American Conference selection at wide receiver in 2003.
Following his time at UA, Cherry played three seasons in the NFL – Jacksonville Jaguars (2004), Cincinnati Bengals (2005) and Carolina Panthers (2006). He retired from the Baltimore Ravens in 2007.
Behind the camera
After football, Cherry put his studies at UA to use by embarking on a career behind the camera — writing, directing and producing. His early credits included music videos and he has gone on to work on a variety of projects, including the film "BlacKkKlansman" as well as the television shows "Black-ish," "The Last O.G." and "Whiskey Cavalier."
His career path, and success with "Hair Love," do not surprise Dr. Phil Hoffman, who saw Cherry's promise as a director in the studio production class he taught while general manager of Z-TV here on campus. Hoffman is now executive director of PBS's WUCF-TV and FM, based at the University of Central Florida.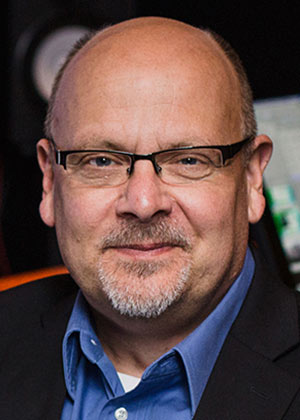 Dr. Phil Hoffman
"A director in live television has 20 monitors and has to see everything," noted Hoffman in a recent telephone interview. "A director has to put himself in the action so he knows what will happen next. Matt was able to see everything all at once and generally predict what was going to happen next. It's not unlike running down the field as a wide receiver, seeing everything that's going on and knowing where you need to be.
"I remember telling him after class one day that he had a facility for this and if he wanted to be a director, he could do it," Hoffman continued. "You're doing it here, and you could succeed in a career doing it."
Embarking on second career
The two stayed in touch over the years, and in 2012, Cherry brought his first film, "The Last Fall," to UA for a screening.
"He is a good human being," said Hoffman. "He is an easy going guy — a good person to deal with. I'm very proud of Matt and of what he's accomplished. He took a risk with his first film, putting all his money into it, and it paid off.
"The responses to 'Hair Love' have been very powerful," Hoffman added. "I'm very thrilled for him."
It was a wildly successful Kickstarter campaign in 2017 that made "Hair Love" possible. Cherry wrote and directed the short with co-director Bruce Smith.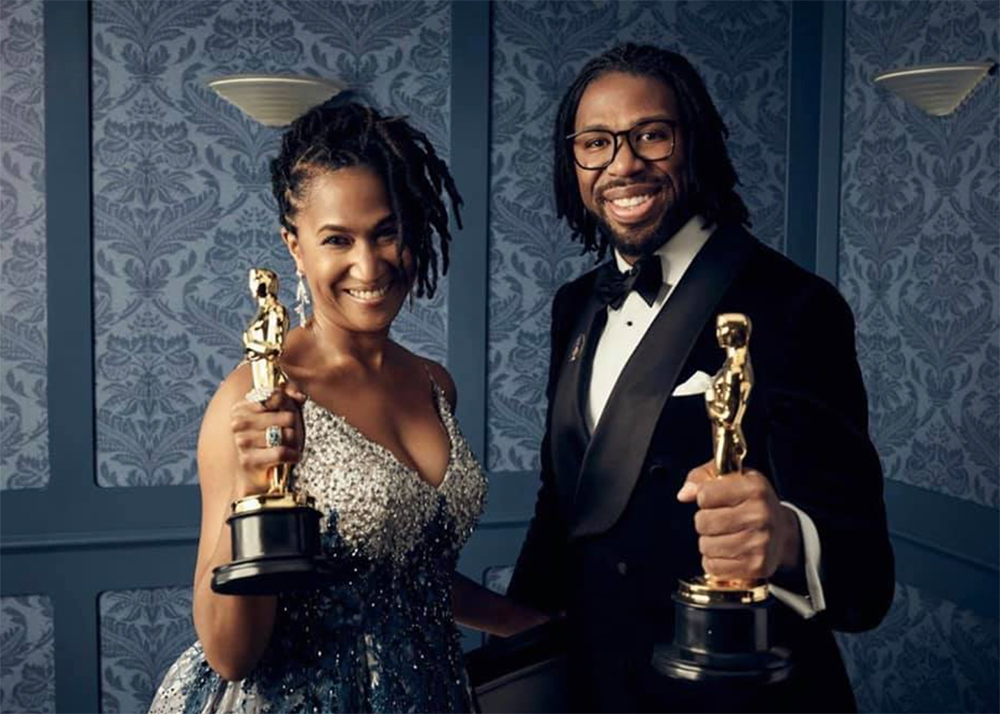 Producer Karen Rupert Toliver and Matthew A. Cherry are pictured backstage at the Academy Awards presentation on Feb. 9 holding the Oscars they won for their animated short film, "Hair Love."
A children's picture book by the same name that was written by Cherry and illustrated by Vashiti Harrison was nominated in January for an NAACP Image Award for Outstanding Literary Work in the Children's category. The winners will be announced on Feb. 22 during a two-hour live special airing on BET Networks at 8 p.m.
The Academy Award nomination has led to "a feeling of joy and a lot of sort of vindication, too," Cherry said in an interview with George Thomas in the Jan. 14 edition of the Akron Beacon Journal. "People kind of feel like athletes can only do one thing. It really felt great to have arrived in a medium that wasn't sports."
And he's looking forward to telling more stories.
"Media is at its most powerful when someone who's not as familiar with a certain slice of life [can] experience that in a dark theatre and come out of it on the end feeling like they can relate to that other person's experiences more," Cherry noted in the interview.
---
"I'm really proud to be a Zip. And I think now's a great time to take advantage at The University of Akron to take that next step in life to where you want to be," Cherry said. "I couldn't think of a better place." #ForeverAZip https://t.co/IjYd4kOP82

— The University of Akron (@uakron) February 9, 2020
---
Congratulations to UA alumnus @MatthewACherry! https://t.co/eHPKZiCFq1

— The University of Akron (@uakron) February 10, 2020
---
.@MatthewACherry on #Oscars, says #HairLove "allowed us to tackle the negative societal stereotypes around natural hair & black fathers, & to normalize the depiction of a loving black family that we know so well & yet have seen so little of in media" https://t.co/dDPiB3KxAg pic.twitter.com/abWqUuwue6

— Variety (@Variety) January 13, 2020
---
Related:
Share