Audio-Technica named exclusive audio partner of esports program
08/02/2018

To give the new esports teams at The University of Akron the best chance of success in communicating crucial information during intense gameplay, the program has partnered with Audio-Technica to help outfit its varsity and team clubs, making the audio equipment designer and manufacturer its exclusive audio supplier for all gaming and broadcasting. The company will also contribute $2,500 in scholarships for varsity team members and another $2,500 in scholarships for student audio-engineers to support UA as it launches its esports program.

"In competitive gaming, being able to communicate effectively, without distraction, and for extended periods of time is essential for optimal performance," said Michael Fay Jr., director and head coach of UA's esports program. "Obtaining audio equipment from Audio-Technica ensures our players have the sound quality, noise isolation and comfort they need to perform at their best. In addition, our 'shoutcasters,' or broadcasters, will be able to commentate on all the action with crisp and clear audio quality, thanks to Audio-Technica's broadcasting headsets."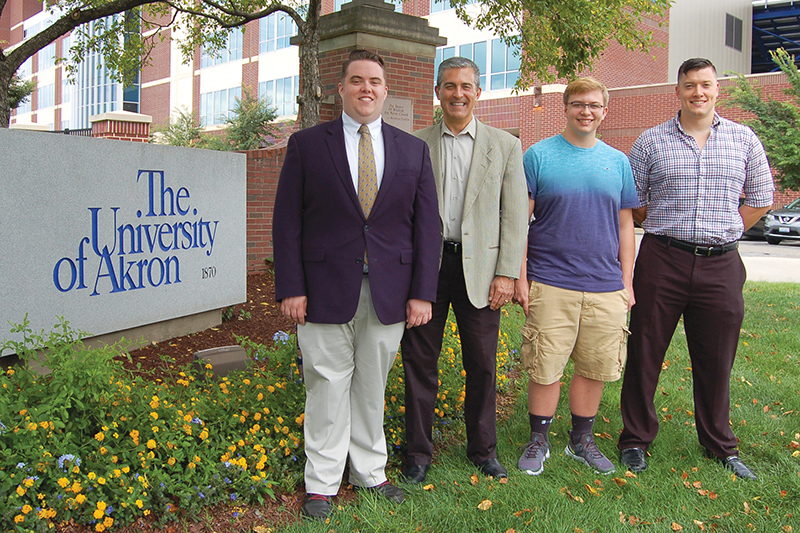 Standing outside InfoCision Stadium, which will house UA's varsity esports team, are, from left, Michael Fay Jr., director and head coach of the esports program; Greg Pinto, Audio-Technica's U.S. vice president of marketing and consumer sales; and students Michael Cook and Ryan Nicolai, who are receiving the inaugural scholarships from Audio-Technica. — Photo by Michael Cicigoi, Audio-Technica.
UA's expansive varsity facilities will feature Audio-Technica's state-of-the-art ATH-AG1x high fidelity headset for each player station, while the recreational facilities will be outfitted with the ATH-PG1 headsets. Competition commentators will use BPHS1 broadcasting headsets with attached dynamic boom microphone, so every member of the audience can catch all the action as if sitting in the front row. Audio-Technica's highest-quality interview microphone, the BP4001, will deliver clear player interviews amidst the excitement.
Scholarships awarded
Students receiving the inaugural scholarships include Ryan Nicolai, the varsity team manager for League of Legends, and Michael Cook, a varsity player for Akron Overwatch Gold, who will be taking on a supportive role for esports broadcasting. Nicolai is pursuing an associate degree in UA's EMT/paramedic program. He is currently serving in the U.S. Marine Corps Reserve. Cook transferred to UA from another Northeast Ohio public university to pursue a Bachelor of Science in Cybersecurity.
"Audio-Technica is proud to be a sponsor of The University of Akron's esports program and its efforts toward excellence in esports competition," said Greg Pinto, its U.S. vice president of marketing and consumer sales. "Like traditional athletics programs, esports teams depend on professional-quality equipment and our headsets provide the highest levels of performance to ensure that the UA players will be able to hear every sonic aspect of the game and play at the peak of their abilities."
Audio-Technica's U.S. headquarters is located in nearby Stow. The company has sponsored a professional gaming team and live streamers including Summit1G, TimTheTatman, GoldGlove, FemSteph and Lirik. Audio-Technica's collaboration with the University marks its first foray into collegiate esports sponsorship.
UA is the first public university in northern Ohio to create a varsity esports program. For more information about it, contact Michael Fay Jr., at mfay@uakron.edu.
---
► Story by Karris McCollum
► Media contact: Alex Knisely, 330-972-6477 or aknisely@uakron.edu .
---