Campus Mental Health
05/17/2022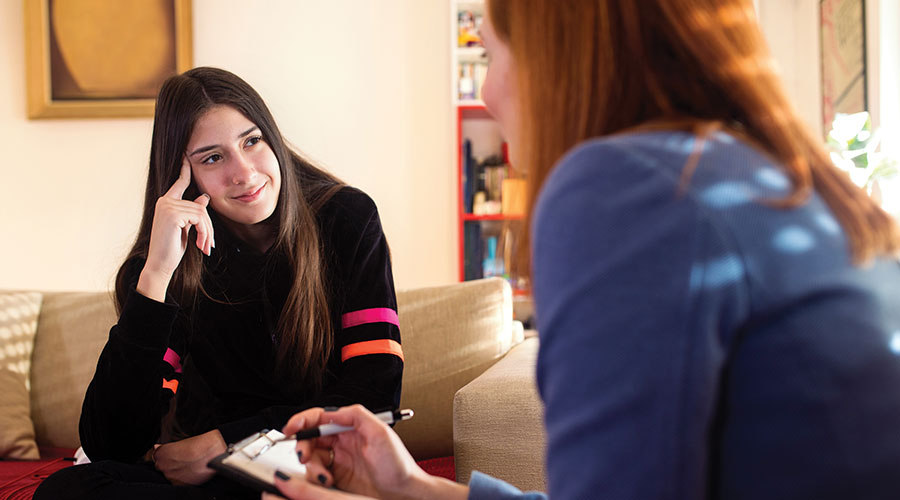 Even without a global pandemic, college life is stressful. In addition to coping with academic pressure, students struggle to pay bills, find affordable housing and eat on the cheap, all while trying to launch a career.

It's no surprise that many students experience the first onset of mental health and substance use problems—or an exacerbation of existing panic attacks or depression—during their initial years of college.
Add in the uncertainty wrought by the COVID-19 pandemic and it's no wonder campuses are seeing an increase in the use of their mental health services. The University of Akron is no exception.
"Considering all that has gone on in the world recently, mental health is such an important topic, especially among college-aged students," said John Messina, vice president of student affairs at UA. "The approach higher education has taken toward mental health treatment and wellness with students has changed significantly, especially during the COVID-19 pandemic."
The results of a National College Health Assessment survey distributed to all UA students in November 2020 indicated that a quarter of respondents were experiencing major depression—and just under half indicated having some form of anxiety. More so, 30 percent of the students said they felt lonely or isolated during the pandemic.
As students continue to navigate through these challenges, UA is ensuring their needs are addressed. In fact, student referrals to mental health services increased from 438 in fall 2019 to 828 in fall 2020.
"Since the time of the survey, there has been an increased focus on identifying students in distress and offering them services," said John Ellis, professor of instruction and addiction curriculum coordinator in UA's School of Social Work.
In keeping with its mission to develop enlightened members of society, UA has launched several campus-wide initiatives, many of them spilling into the Akron community.

One initiative that resulted from the survey is "Mental Health First Aid for Higher Education," an evidenced-based workshop that teaches participants how to identify, understand and respond to signs of mental illnesses and substance use disorders. It equips employees and student-peers with skills needed to recognize when someone may be developing a problem—and how to help the person find appropriate care.
Faculty members, in particular, are stepping up. The survey showed that 92 percent of respondents believe mental health training should be mandatory for professors, lecturers and instructors—the individuals who interact with students every day.
So far, more than 200 people have trained in the last year on how to help their friends and colleagues seek help.
ZipAssist also plays a vital role in improving mental health by helping students with almost anything that may negatively impact well-being. "From food insecurity to financial struggles, anything can affect the mental health of our students," said Ali Doehring, director of ZipAssist. "We work closely with our community partners to make sure there is a system of care in place for each student's needs."
Additionally, the Counseling and Testing Center started open in-take hours for students to be assessed and referred to appropriate services—on campus or through community partners—without having to make an appointment. Psychologists offer individual counseling, workshops and group therapy in person, by video and by phone.

"This has been particularly helpful when students have been sick or diagnosed with COVID but feel well enough to keep their therapy appointment, have a busy schedule, or are in the state of Ohio but too far away to come in for an appointment," said Juanita Martin, executive director of UA's Counseling and Testing Center.
When counselors and psychologists are not available, UA set up a 24/7 response service helpline through IMPACT Solutions to provide immediate care. And thanks to COVID-19 grant funding, UA purchased Kognitio—a virtual, interactive simulation for mental health training to aid student mental health, suicide prevention and increase retention.
"As the pandemic subsides, we are equipped with the right tools to address any additional distress that students may experience," said Messina. "As we know, almost anything can contribute to poor mental well-being. But the University is ready to address those concerns and the entire campus community is here to support everyone with any new challenge.
"As always, our students have proven resilient," Messina added. "We've got groups of students who have emerged very well under the most unique of circumstances. As we say here, 'At UA, We Rise Together.'"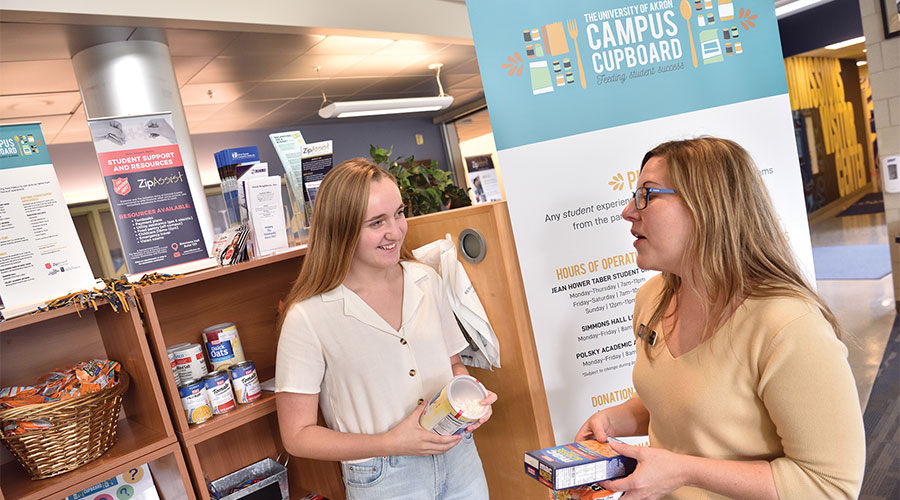 A student visits UA's Campus Cupboard
Always a Full Cupboard
Back in 2017, years before anyone had heard of COVID-19, the Student Emergency Financial Assistance (SEFA) program set up an emergency grant to help Pell-eligible students experiencing financial hardship with one-time emergency support of up to $1,000.
While most students used the funds for rent or utilities, one University of Akron employee heard about a different problem: hunger.
Alison Doehring, director of Zip Assist, said that in 90 percent of the conversations she had with students, food was a concern. Thanks to the university's community of donors and friends, Doehring and her team set up Campus Cupboard in 2018 to provide food and personal hygiene items to students facing immediate hardships.
In 2019, the Campus Cupboard program, which at the time included three grab-and-go cupboards and a walk-in pantry distributed approximately 1,500 items monthly. With the double whammy caused by the pandemic and closure of campus, the program exploded. Between March and November of 2020, approximately 24,000 items were shared.

It currently distributes approximately 5,000 pounds of items monthly.

One key to success has been the slow but steady process of destigmatizing help-seeking behavior. "We have been trying to create a community where it is OK to use these resources," said Doehring.
She realizes that none of this would be possible without the generosity of the Zips community. "The University is one of Ohio's leaders in terms of its robust emergency aid and food insecurity support programs, and that's because of the kindness and willingness of people willing to help."
Related:
---
by Alex Knisely, 330-972-6477 or aknisely@uakron.edu.
---
Share