I PROMISE School students learning rocketry from UA engineering students
03/30/2021
The University of Akron's rocketry team, the Akronauts, has been soaring through competitions since it was founded in 2014. When the COVID-19 pandemic led to the cancelling of the in-person launches for the 2020 and 2021 competitions, the team decided to work on a new project that would support its personal vision of inspiring a new generation of aerospace engineers.
This semester, the Akronauts have partnered with the I PROMISE School to teach fifth-grade students about rocketry. On select Fridays, known as Akronauts Days, members of the team lead day-long virtual workshops in their on-campus design room. Led by Riley Myers, the team's outreach lead, UA engineering students will teach younger students about aerostructure, recovery, payload, propulsion, and avionics — all through Google Meet.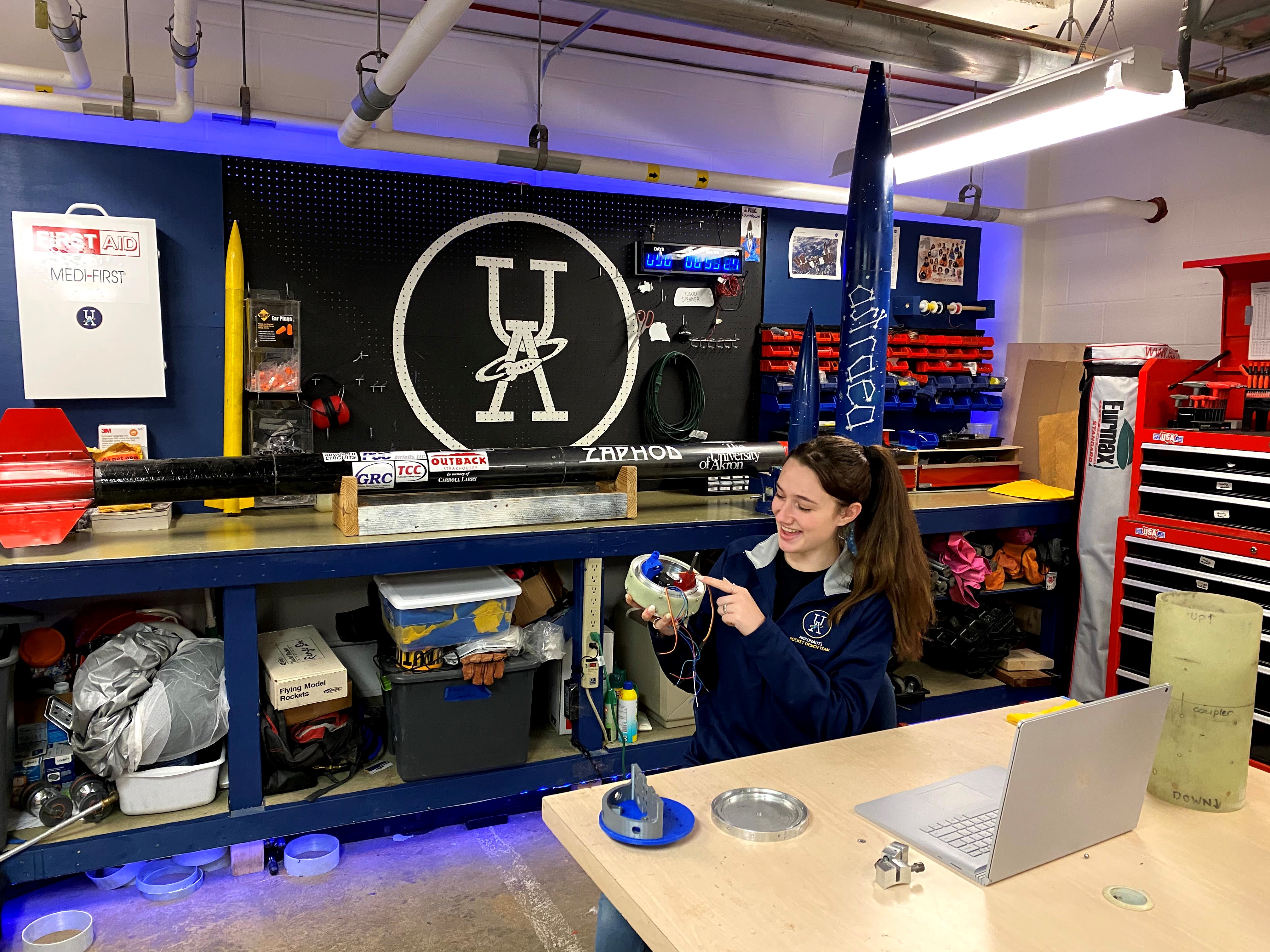 Riley Myers teaching students about rocket components from the team's workshop in the Student Design Center.
"We are so grateful to Akron Public Schools, the LeBron James Family Foundation, and the I PROMISE School for giving us the opportunity to introduce students to rocketry and open doors to pursue STEM careers in the future," says Emily Armbrust, the team's president.
The engineering students will be simultaneously working on the team's rocket while sharing details of the build to I PROMISE School students. They will talk through the engineering problems they are facing and give the students a chance to think through possible solutions. For example, the I PROMISE School students will give input on the team's payload concept. The current mission for the payload team involves the use of a rotating segment of the rocket outfitted with self-opening doors that release a drone for terrain mapping. The students will get to determine the scope of this mission, and the type of data collected.
"We are excited to get the students involved and take them through the process of designing a rocket, while also giving them opportunities to make an impact on it along the way," says Dillon Petty, the team's payload lead.
Though the competition is virtual again this year, the Akronauts are looking ahead to when they will enter the rocket into the 30,000 foot category at the Spaceport America Cup for the 2021-2022 season. When the team's rocket is complete, I PROMISE School students will add a personalized element to the design — their handprints. This will celebrate the partnership and honor the I PROMISE School message of: Nothing is given. Everything is earned.
"A huge shout out to Akronauts for taking the time each day to teach my students all about rockets," says Kelley Pratt, who teaches fifth-grade. "My students had a BLAST!"
Learn more about the Akronauts by visiting their website or following them out on Instagram @uakronauts.
---
Related content:
Share