Aerospace Systems Engineering Undergraduate Program
Outside of the U.S. Air Force Academy, The University of Akron is the only institution in the United States that offers a bachelor's degree in Aerospace Systems Engineering. Our curriculum focuses on designing and building vehicles that fly, like rockets, satellites, and planes along with project management skills.
Admission Requirements
Freshman applying for admission into the aerospace systems engineering undergraduate program must meet the following requirements:
High school cumulative grade-point average of at least 3.50 or
ACT composite score of at least 27 or SAT composite score of at least 1,280 (out of 1,600)
Advancing in your Aerospace Systems Engineering Program
We track your progress to make sure you are ready for the classes you take. As you progress through your classes, your status will be automatically updated so that you have access to the classes that you need, when you need them.
All students gain access to 300 and 400 level engineering classes once you:
Have a cumulative GPA at UA of 3.0
Complete Calculus 2 with a C- or higher
Have a 2.3 grade point average in at least three of the following categories:

in all coursework
in all required mathematics coursework
in all required science coursework (Chemistry, Physics, Computer Science, Biology)
in all engineering coursework
Admissions process: Learn how our engineering admissions process works.
Deadlines: Review deadlines and important dates in the Office of Admissions.
How to apply? See step by step details on how to apply to The University of Akron.
What can I do with aerospace systems engineering?
Aerospace systems engineering is a specialized form of aerospace engineering that studies how the components of flight vehicles work together to create an efficiently functioning unit. It is unique from an Aerospace Engineering degree in that it teaches you aerospace engineering fundamentals, as well as project management skills. This equips you to move quickly into the role of a project manager and to eventually lead multidisciplinary teams.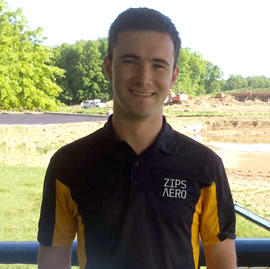 Student spotlight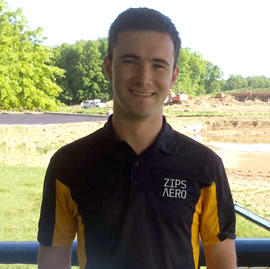 "It may sound cliché, but I feel like my major chose me. Ever since I was young, I always had an interest in building - and also breaking apart - anything I could get my hands on. Watching astronauts in movies and wondering about the depths of space sparked my interest in planes and rockets. When I saw that UA offered a degree in Aerospace Systems Engineering, I didn't hesitate."
—Luke Held, B.S. Aerospace Systems Engineering '19
Careers
Individuals who graduate with a B.S. in Aerospace Systems Engineering from The University of Akron make on average a starting salary of $68,200. Our graduates are working at Meggitt, Lockheed Martin, and SpaceX, to name a few.
Curriculum
To finish this degree program, students must complete several required co-ops with corporations or governmental entities.
International students may not be able to participate in co-ops based on export control laws. Because co-ops are required, you will not be able to complete the degree program.
Accreditation
The Aerospace Systems Engineering undergraduate program is accredited by the Engineering Accreditation Commission of ABET, www.abet.org, and has specific program educational objectives and student outcomes that prepare graduates to enter the professional practice of engineering.