Seven ways UA made the world a better place in 2017
12/22/2017

This year saw University of Akron faculty, students and alumni using their talents and vision to make life better — locally, regionally and around the world. We told many of their stories — here are just a few of the ways they are making a difference.
---
1. Coffee beans = scholarships
Zips for Haiti is a student organization formed after just one service trip to the country. Seeing how much education was valued among people who had nothing, students like Callie and Brenna Mack formed Zips for Haiti to raise funds for an endowed scholarship to enable Haitian students to study at UA.
These young entrepreneurs launched a coffee line roasted right here in Akron — with beans from Haiti — Blue Mountain Haitian Coffee.
The biggest win for these graduates was off the court
---
2. Opiate crisis spurs action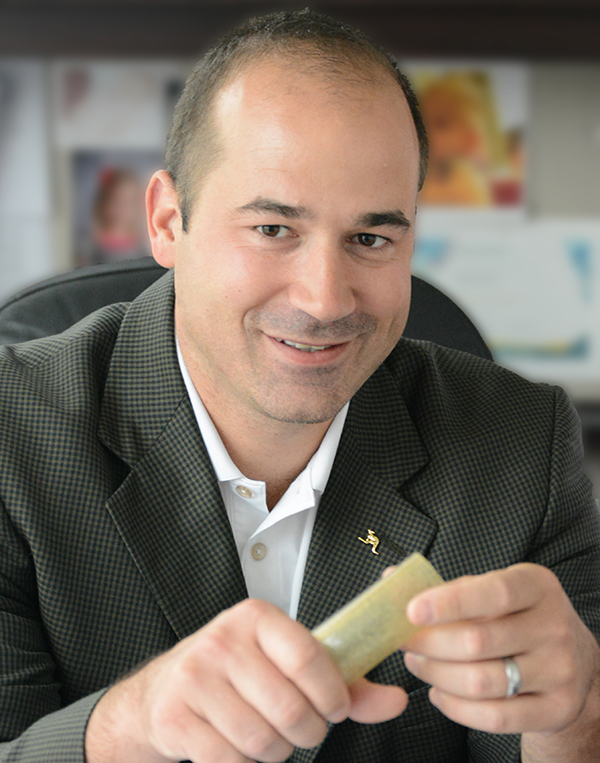 Ohio is one of many states in the country greatly impacted by the devastation of opiate addiction. Polymer professor Dr. Matthew Becker's pioneering research may be one of the solutions to stemming the epidemic.
The implantable polymer mesh Becker developed contains a local non-opiate pain reliever that can be inserted at a surgery site. The mesh releases the pain reliever over time and finally dissolves into the body while remaining non-toxic. Becker thinks the benefit of speedy pain relief will help patients and reduce the number of opioid prescriptions and amount of unused painkillers available on the streets.
Polymer professor awarded $2 million for leading research in fighting opioid epidemic
---
3. Politics with a global perspective
President Matthew Wilson, left, and Bliss Institute Director Dr. John Green at an October news conference to introduce "The Global Classroom." To the right, participating partners from around the world can be seen on the screen.
The launch of The Global Classroom saw UA become one of the sites where the first political science course of its kind will be simulcast on four continents. Faculty and students here and at universities in Brazil, South Africa and France will be learning about current events in real time, and sharing their experiences and perspectives.
UA joins with international partners in 'The Global Classroom'
---
4. Improving lives through engineering
Our student design teams made a big impact in the lives of several local families this year. It took skills, ingenuity and a willingness to work long hours, but they designed a prosthetic leg for a 5-year-old who loves to dance, and a bicycle and tandem wheelchair for youngsters who just want to get outside and be like everyone else.
Stories:
---
5. Pigments that don't fade
Biomimicry — the practice of learning from nature and emulating its forms, processes and systems to solve human problems — has led researchers to study the hair of blue tarantulas.
Why? The vibrant blue does not show iridescence.
The same process could be used to make pigment replacements that never fade, and to help reduce glare on wide-angle viewing systems in phones, televisions and other devices.
Tarantulas inspire new structural color with the greatest viewing angle
---
6. Lost, but not forgotten
News that music not heard in 70 years had been rediscovered here on our campus reverberated around the world. The recording spool found in the archives of our Cummings Center for the History of Psychology led to the recovery of what it contained — songs sung at a refugee camp in Henonville, France. Survivors of the Nazi concentration camps had recorded some of the songs they were made to sing as they ran to their forced labor sites and back each day.
The find has been welcomed by researchers and families who lost loved ones to the camps.
Lost songs of the Holocaust found in UA archives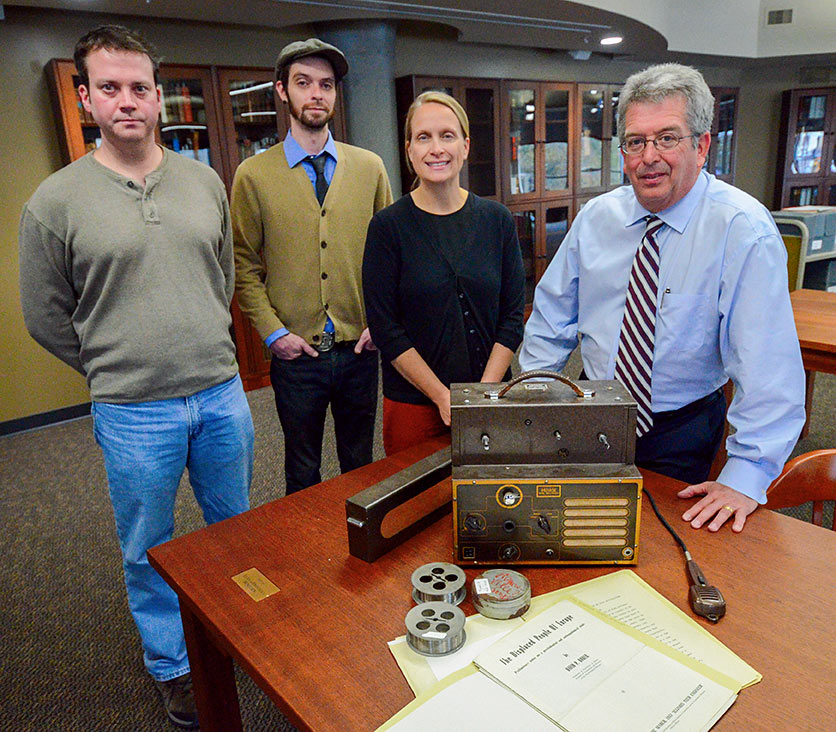 Here with a wire recorder and wire spools that hold the voices of Jewish concentration camp survivors are, from left, James Newhall, who redesigned a useable recorder, along with the Cummings Center's Jon Endres, Dr. Jodi Kearns and Dr. David Baker.
---
7. Bright cityscapes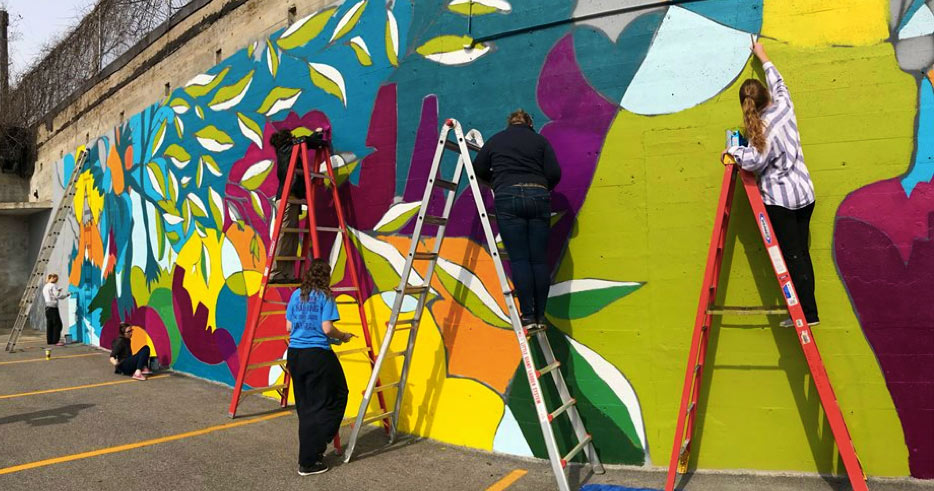 Our Art Bomb Brigade, directed by Elisa Gargarella, associate professor art, is an arts program that includes students and community members breathing "new life into Akron neighborhoods through public art" — one colorful mural at a time.
Four things you should know about the Art Bomb Brigade's latest project